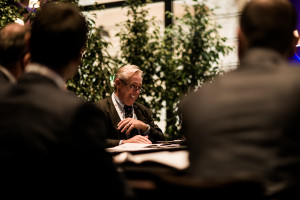 The Monaco Yacht Summit has quickly established itself as a major annual event in its own right, as it takes place again in 2017 alongside the world's leading yacht show.
On September 26, the Monaco Yacht Summit welcomes new potential superyacht clients – or their representatives – to discuss the current issues about first-time charter or purchase of luxury yachts. For the 2017 Monaco Yacht Summit, a team of 11 experts has been selected to share their personal experience and unbiased insights on five topics.
Freddy Desplanques and Sophia Tutino will speak on Charters, Ken Judge, Robb Maass and Anouch Sedef will address the topic of Purchase, John Cook and Charles Dugas-Standish will examine the question of Crew, Stefano Pastrovich and Laura Pomponi will speak on Design, and Xavier Lamadrid and Jonathan Watson will address Management.
The subjects will be discussed in a casual ambiance to enable an effortless flow of dialogue, the organisers say.
"If you are interested in either the first-time purchase or charter of a yacht and are new to the yachting industry, you are welcome to apply for your participation by emailing concierge@monacoyachtshow.mc.
"If you wish to appoint your personal assistant or family office representative to attend on your behalf, please advise concierge@monacoyachtshow.mc.
"We look forward to welcoming you to this exclusive and informative programme."
This Monaco Yacht Summit event is on September 26 at Le Méridien Beach Plaza Hotel, Monaco. The free-of-charge programme is exclusively reserved for qualified and identified delegates with participation upon approval.
Partners for the event are Plendi, the Monaco Economic Board, and Yacht Investor. The Monaco Yacht Summit is organised by the Monaco Yacht Show. More information: www.monacoyachtsummit.com
READ MORE: