The second annual culinary competition for superyacht chefs has been held and won at the Yacht Club of Monaco. This year's event attracted an impressive line-up of participants and a very high caliber jury, who ultimately decided that a female chef was a cut above the rest.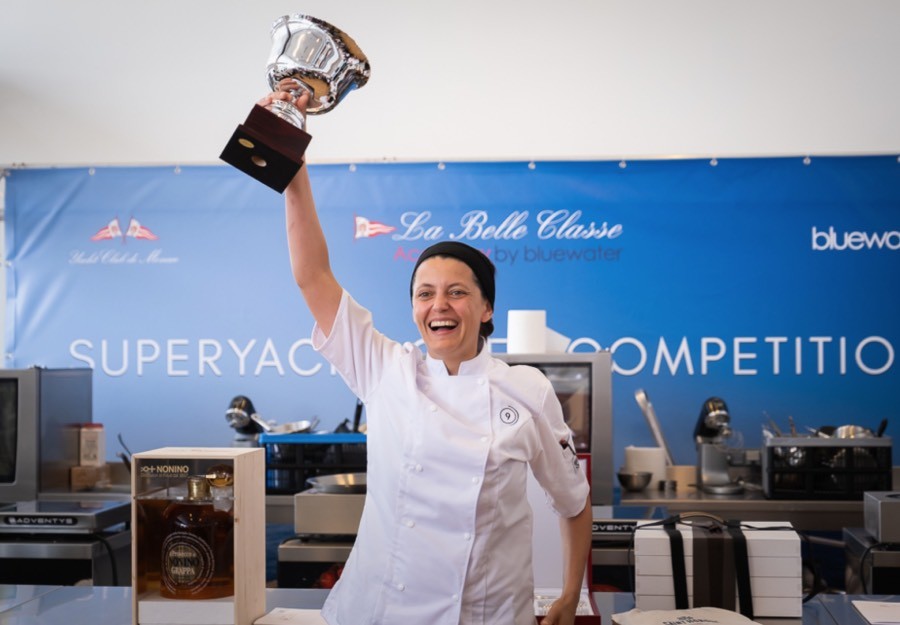 Organised as part of La Belle Classe Academy training centre for those working in the luxury yacht sector, the Yacht Club of Monaco joined forces with Bluewater to organise the competition on 18th April. It was presided by Michelin-star chef Jacques Maximin and the jury comprised of top chefs including Virginie Basselot, Meilleure Ouvrier de Francewith one Michelin star for the Saint James in Paris, Marcel Ravin, another Michelin star and head chef at the Blue Bay Restaurant in Monaco, and Iberian Chef Pablo Albuerne, winner of the 2018 edition.
This year, 12 chefs from different nationalities competed, all working on superyachts over 40 metres in length, with seven flying the Yacht Club of Monaco flag: Mimtee (60m), Madame Kate (60m), E&E (42m), Polaris (50m), Rio Rita(59m), Willow (42m) and the emblematic Black Pearl (107m).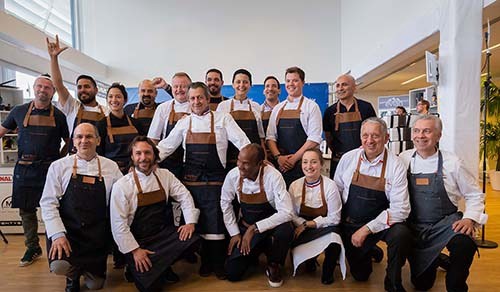 Supervised by the YCM's Executive Chef Thierry Thiercelin, the contest was an opportunity for owners and gastronomy enthusiasts to watch chefs in action at workstations set up to reflect the limited space available in some yachts' galleys.
The contest comprised four 30-minute rounds during each of which three chefs had to prepare an original dish based on a basket of mystery ingredients. These included veal mignon, sea bream, lobster, black radishes, vitellote potatoes, sweet peppers and cep mushrooms. Three chefs made it through to the final, they were Richard Cullen (M/Y Black Pearl, 107m), Stéphanie Gravier (M/Y Planet 9) and Bruno Chailan (M/Y Mimtee, 60m).
Joël Garault, the Michelin-star chef previously at the Vistamar, was behind the workstations to support and advise the three finalists who had 45 minutes to prepare an Easter-inspired main course with lamb, haricot beans and parmesan as the main ingredients, and a dessert based on grapefruit, mascarpone and crushed almonds. Encouraged by the jury and a throng of spectators, including the Prince's Palace Chef Christian Garcia, owners and crew members, contestants had to concentrate hard, not only to meet the deadlines but produce creative, tasty dishes from ingredients they had only just had sight of.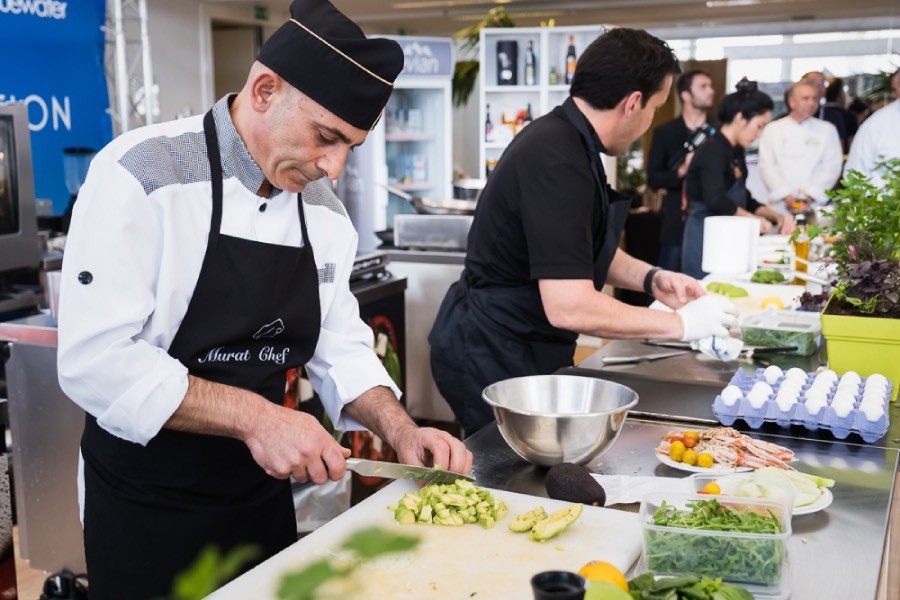 At the end of an intense day, Stéphanie Gravier emerged as the winner: "I was so surprised, I never expected to win, especially as I finished at the very last minute. I love the concept of this competition and the fact all contestants are on a level playing field, whatever the size of the yacht they work on or their experience. And I am particularly proud to be the first lady to win this competition in a still masculine dominated profession. I hope to win more and encourage others to take up this vocation."
The finalists won a selection of gifts while the winner has been given the opportunity to take control of the YCM kitchens for the next Captains' Forum lunch.
The art of mixology
New for 2019 was a Mixology Competition, an initiative organised by the YCM's head barman, Giorgio Rocchino, winner of Best Bartender in Italy and 3rd in Europe.
Nine candidates had just five minutes to mix and present a cocktail on a theme of the sea and its colours under strict rules. Three experts, Ettore Diana, Cocktail World Champion in 2012, Cristina Nonino from the Nonino grappa distillery and Giorgio Rocchino selected the finalists. Martin Stefan Ballas from the Riolo Termo institute took first prize with his cocktail based on Curaçao, grappa and lime called Principe Azzuro in honour of HSH Prince Albert II, followed by Shirley Mortier from the Yacht Club of Monaco with her Libertad cocktail, and lastly Alessia Mirabelli from the Nino Bergese institute who came third and also won the Best Technique prize for his original cocktail. A prize for best garnish went to Luca Perugina from the Riolo Terme institute for his inventive and colourful creation.

"The sea theme immediately gave me the idea for my Libertad cocktail," said Shirley, a young barmaid at the YCM, "as for me the sea is freedom and I imagined a bird that I sculpted out of a lemon as a garnish. I am very proud to represent the Yacht Club of Monaco at this contest. The fact I am competing 'at home' gave me strength as I was cheered on by all my colleagues, although it also added to the pressure."
"We want to position Monaco as a centre of excellence in the Luxury Yachting sector, including training. When an owner buys a boat, getting good crew is their major concern," commented YCM General Secretary Bernard d'Alessandri.
Through these two events, the YCM intends to promote its La Belle Classe Academy which offers two specialist modules: 'Destination Barman' and 'Chef Training' for superyacht crew members and yachting professionals, designed to meet the most demanding requirements of yacht owners and their guests.