In early 1958, Carlo Riva received a special order for a pair of Tritones from a wealthy Milanese textile industrialist, Mr Gianoglio. A close relative of H.S.H. Prince Rainier III, the reigning prince of Monaco, Mr. Gianoglio wished to bestow the prince with a Tritone, as a show of his admiration and gratitude. Thus, hull no. 62, Via, was born.
Via, adorned with red and white stripes, in the livery of the Principality, was powered by two Chris-Craft MCL, 5.5-litre, six-cylinder engines, each capable of 175 hp at 3,400 rpm and both equipped with the automatic diverter dubbed the 'Chris-O-Matic', which was launched at a time when the pushbutton automatic transmission fascinated the American auto industry.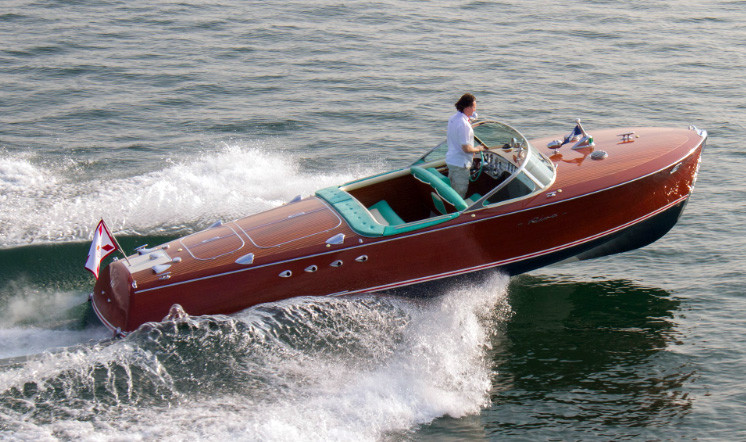 Via proved to provide great fun for the young family that formed after his marriage in 1956 to Princess Grace. A frequent sight in the waters surrounding the Principality, Via served as the prince's flagship in keeping with naval etiquette and protocol, flying both the flag of Monaco and the personal flag of the prince.
Prince Rainier III eventually replaced his Tritone with a smaller Riva Junior, used for short trips and water-skiing with Princess Grace and their children. Yet, Via would continue to remain in its home port, always maintained by Riva in Monaco under the long-term custodianship of its second owner.
Several years ago, after deciding to restore the faded craft to its original condition, a previous owner entrusted Via to a renowned Dutch specialist. An exemplary restoration of several years was then undertaken, returning the Tritone to its original specification, including both original engines, which were completely rebuilt and refurbished. The latest technology enabled the famous Chris-O-Matic transmission to be rebuilt with added reliability. In 2014, the beautifully restored craft was purchased by its current owner and has returned to its home port of Monaco, where it has been regularly looked after by Monaco Boat Service and remains ready to use and enjoy at a moment's notice.
Today, Riva is still a symbol of wealth and glamor, and there is perhaps no more glamorous Riva than Via, which continues to embody the spirit of Prince Rainier III and the stunning Princess Grace.
The vessel will be auctioned at Sotheby's at the end of May.