Responding to the invitation of the Archbishop of Monaco, Monsignor Bernard Barsi, a group of elected officials, led by the President of the National Council, Stéphane Valeri, went to the Vatican for a study trip, during which Pope François granted them an audience.
At this audience, and in response to Archbishop Barsi's message, the Holy Father praised the commitment of HSH Prince Albert II, especially on the theme of the environment.
Pope Francis also emphasized the Principality's commitment to the great principles of solidarity, both in terms of international cooperation and the demand for its social model.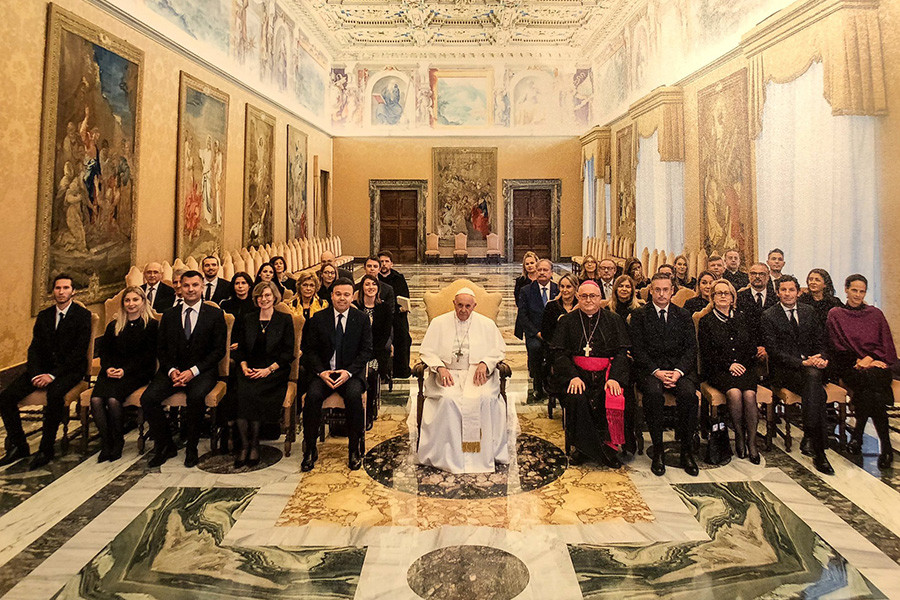 He asked the elected representatives to have "always at heart to promote a future for every inhabitant".
For Stéphane Valeri, who had already been received by Pope John Paul II, "these moments of intense joy are all the more important for us Monegasques, that the Catholic religion is a state religion and that, of course, we we all have great esteem and affection for Pope Francis".
Returning to the messages of solidarity of the Holy Father, the President said: "Our social model is exemplary, that it leaves no one on the side of the road and that it is important to preserve and adapt it constantly. I believe that we are all coming out of this meeting with the Pope, strengthened by the idea that, more than ever, Monaco must be a model of solidarity."
On the occasion of this meeting, the President had the pleasure of offering the Pope a watercolour depicting the church of Saint Devote.
During these two days, several meetings, to better understand the functioning of the Holy See, were organized.
The Monegasque elected representatives met Msgr Paul Richard Gallagher, Secretary for State for Relations of the State Secretariat (the equivalent of the Vatican Foreign Minister) and Msgr Bruno-Marie Duffé, Secretary of the Dicastery for the service of integral human development.
Stéphane Valeri said: "Pope Francis is a Pope who strives, with simplicity and humility, to allow the Church to respond to the challenges of our time. We, elected Monegasques to the National Council, are, in accordance with our Constitution, co-legislators, with the Sovereign Prince."