Natives and friends of Switzerland came together last week to enjoy a lively concert in the Place du Palais, featuring performances by the Streichmusik Alder group and yodeller Martina Enderlin.  
On Thursday 6th July, members and friends of the Club Suisse de Monaco met for at the CastelRoc restaurant facing the Prince's Palace.  
The highlight of the event was a performance by the Streichmusik Alder band, a prestigious musical group from the Canton of Appenzell that can trace its roots back to the Alder brothers in 1884. Over four generations, the band has continued to evolve and has become a much-loved group in Switzerland that is known for its traditional instrumentation of dulcimer, hand organ, violin and double bass. 
"With every note, they transport the audience to the picturesque Swiss landscape and let the hearts of the listeners beat faster with their passionate performance," said Club President Arik Röschke. "The traditional valley swinging as well as the swinging of the big cowbells also fascinated the audience." 
For this part of the live music, the talented yodeller Martina Enderlin stepped into the limelight.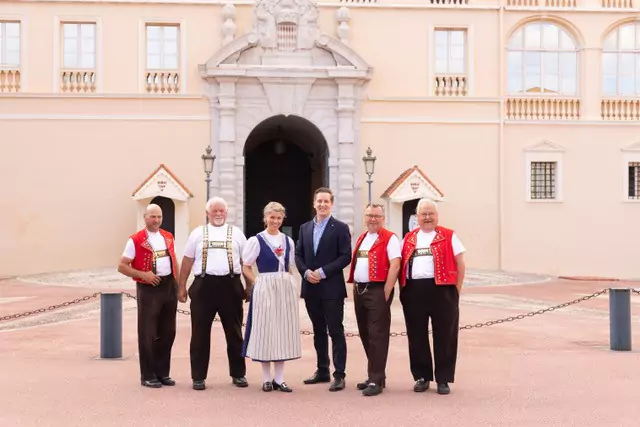 "With her impressive vocal versatility and deep understanding of the yodelling tradition, she amazed the audience," continued Röschke. "Her singing filled the garden at the Prince's Palace with traditional Swiss sounds." 
Among the guests present for this fantastic event were the former presidents of the Club Suisse de Monaco: Roger Bollag, Henri-Claude Salzmann, Philippe Ragaz and Arlène Arquin.  
For more information on the Club and its upcoming events, which are often open to non-members as well as members, please click here.  
The next big engagement will be a Great Gatsby-themed gala night to honour the 50th anniversary of the Club Allemand International de Monaco, in the presence of Prince Albert II de Monaco, on Monday 17th July. 
Make sure you're never left out of the conversation.
Sign up for the Monaco Life newsletter, and follow us on Facebook,  Twitter,  Instagram and LinkedIn.  
Photos courtesy of the Club Suisse de Monaco