ROKiT Venturi Racing and lead driver Edoardo Mortara lost their respective championship leads in New York this weekend after a difficult qualifying session hindered Sunday's race.
Saturday was, however, a contrasting tale. The team earned vital points through an unconventional source – Lucas Di Grassi. Although it is Swiss team-mate Mortara who is in the hunt for the title, Di Grassi put in a stellar drive to secure second place. Mortara could only manage fifth after qualifying in ninth. Nonetheless, the points earned were enough for him and his team to keep hold of their championship leads.
The chequered flag of that race was brought out in abnormal circumstances. As weather conditions deteriorated at the Brooklyn circuit, cars began to aquaplane. Both Venturi's, Nick Cassidy and Stoffel Vandoorne, were involved in separate crashes at turn six, bringing out the red flag.
The damage to the barriers couldn't be repaired and the race was subsequently abandoned. The final standings were based on the positions from the previous lap.
An even worse qualifying for the second race made the prospect of any points unlikely. Mortara would start in 21st after a brake-by-wire issue, whilst Di Grassi's two fastest laps were deleted, meaning he started in 18th.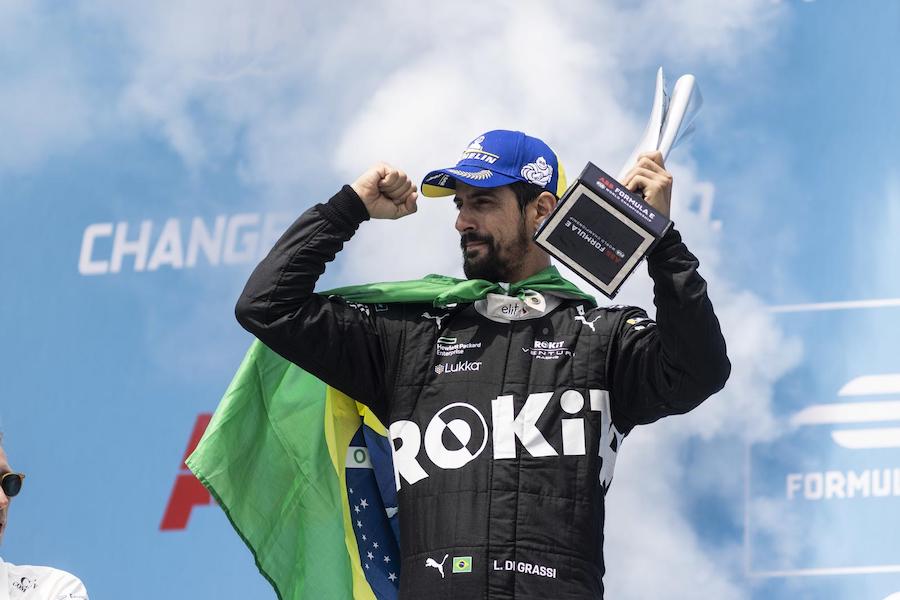 Both drivers managed to cut through the field, and were on the cusp of the points scoring positions. However, Di Grassi made contact with Jean-Eric Vergne in the dying laps, leading to the Brazilian's retirement. His misfortune was to the benefit of team-mate Mortara, who with that dual retirement, moved up into 10th. The former championship leader also scored a point for the fastest lap to further limit the damage from what was a very difficult weekend in the Big Apple.
The lead of the championship may be lost, but he remains within striking distance of Vandoorne, who is just 11 points away. Venturi have also slipped to second; they now trail Mercedes-EQ by 10 points with just four races remaining in the season.
Team principal Jérôme D'Ambrosio reflected on his team's difficult weekend in America, saying, "Today was about damage limitation and we know we have the performance and the potential to fight at the front. We need to learn from this weekend, move onto the next one and optimise all that we can in London."
The Monégasque team cannot afford another weekend like this one. Whilst they remain firmly in the hunt, any further errors could prove fatal for their chances. The paddock heads to the UK in two weeks' time and Venturi will be hoping to retake their lead with two races taking place across the race weekend.
Photo source: ROKiT Venturi Racing