Dominant performances from Lucas Catarina and Valentin Vacherot secured two straight-set victories against the visiting Moroccan side at the Davis Cup on Friday, giving Monaco the perfect start.
Catarina opened proceedings at the Monte-Carlo Country Club (MCCC) in Roquebrune Cap-Martin, as dark, threatening clouds clung to the hills that towered over the court. The possibility of a washout was perhaps the largest threat for a Monaco side, who outclassed Morocco from start to finish on the opening day of competition.
Catarina provides Monegasque momentum
The Monegasque player, ranked 394th in the world, wasted no time gaining the upper-hand. Having held the first service game of the match, he immediately broke Morocco's Adam Moundir serve, albeit on the third attempt. Moundir immediately broke back, but once again was unable to hold his serve. Both players settled into a rhythm thereafter, but for Morocco the damage had already been done, Monaco taking the first set (6-3).
The second set began in a much similar fashion to the first, as both players struggled to hold serve. Catarina, who was quick in pouncing on his opponent's second-serve, broke Moundir twice, but also failed to hold. It wasn't until the fourth game of the set that Catarina began to assert his dominance, saving two break points, in what felt like a pivotal moment in the clash.
Both players held serve, leaving Catarina serving for the match. Moundir may have been down, but he wasn't yet out, as he provided some brilliant shots to save three match points. However, he failed to take his three break-point chances, and Catarina dealt the fatal blow at the fourth time of asking (6-3, 6-4).
An exhausted Catarina emphasised to Monaco Life the importance of winning the curtain raiser. "It is important to start well. To let Valentino (Vacherot) go in at 1-0 mentally is a good thing. The opposition is under a bit more pressure. I have confidence in him and the rest of the team for the matches ahead."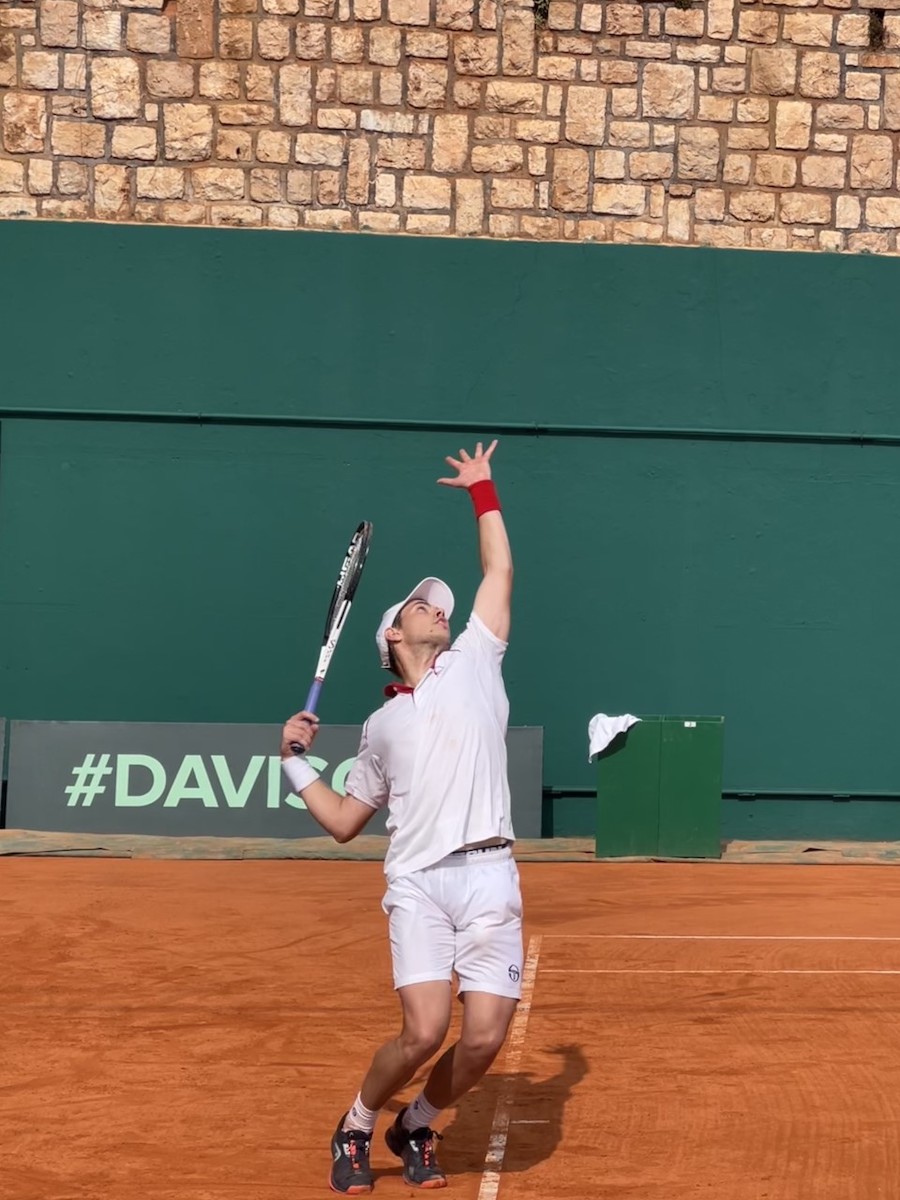 Vacherot goes unbroken
The clay had barely settled before the second, and final, match of the day got underway, the Monegasque fans in high spirits following their positive start. On paper, this was a more difficult tie, as Vacherot came up against Morocco's Number one, Elliot Benchetrit.
This opponent, however, would be swept aside even more emphatically than the last. Key to victory was Vacherot's strength on his own serve, which he told Monaco Life, was the cornerstone of his game. "My serve forms the basis of my game. I work on it a lot."
Not only did Benchetrit fail to break the Monegasque, he wasn't even handed any break points. That frustration at not being able to compete on his opponent's serve occasionally boiled over, as he grew incrementally more annoyed at line-calls that went against him.
Vacherot wrapped up the first set 6-2, having broken his opponent twice. The second set was a much tighter affair, but having kept things tidy on his own serve, the pressure began to mount on Benchetrit. Vacherot seized the first opportunity he had in clinical fashion, handed three break-points at 3-3, he only needed one to deal the ultimately fatal blow.
The largest controversy came right at the death. Vacherot, serving for the match, was tied at 30-30 when his shot was called out, only for the referee to descend from his chair and overturn the decision in the Monegasque's favour, much to the frustration of Benchetrit, who believed that the point should have been replayed.
Vacherot was therefore handed the match point, which was duly taken, queuing jubilant celebrations both in the stands and on-court.
Home is where the heart is
As well as the psychological and competitive advantage that playing on home-soil entails, it is also a welcome relief for players, who compete in what Catarina described to Monaco Life as a lonely sport.
"We spend the whole year playing around the world. We are a bit lonely in what is essentially an individual sport. To play here in front of all these people is an incredible feeling. It is clear that it helped me."
These words were echoed by Vacherot. "We play all year round on our own and with our coach, and so it's great to see your best friends and family in the stands. I've been wanting and waiting to play in the Davis Cup for five or six years, so to play my first match at home, and to win in front of everyone is just fabulous."
Monaco's captain Guillaume Couillard, who supported his players from the courtside throughout play was complimentary of their performance post-match. "My two players have done what was expected of them. I'm very proud of them. They made basically no errors."
Monaco only needs one point on Saturday to ensure victory, but despite this, he is not getting complacent, calling on fans and players to play their part. "The road is long, and tomorrow will be a long day. We need another point, which will be hard to obtain." The 46 year old added, "It's so important to have that atmosphere. It mustn't be like a normal match. The Davis Cup is a team sport and so the atmosphere has to be the same as in a team sport like basketball or football."
Couillard will be hoping that the packed grand-stands of the MCCC will spur his players to grab that all-important win on Saturday, and ensure their play-off progression.
Results:
Catarina v Moundir (6-3, 6-4)
Vacherot v Benchetrit (6-2, 6-4)