AS Monaco Basketball's inability to kill-off games once again proved costly on Thursday, as bottom side Zalgiris snatched victory from the jaws of defeat, having trailed for almost the entire match.
Zalgiris only led for a total of 17 seconds during the fixture. Their timing was impeccable however, as they crucially hit the front for the first-time at the end of the fourth-quarter. Mike James had a chance to win the game in the dying seconds, but under-pressure he couldn't convert his three-point attempt.
It was a match of two-halves at the Salle Gaston Medecin. Monaco largely dominated the first two-quarters (46-36), but let their grasp slip in a crucial third-quarter in which the Lithuanian side closed the gap.
Donta Hall's on–the-buzzer field-goal gave the home side some breathing room going into the fourth, but that failed to reverse the trend. Monaco still maintained a slender advantage, but that was surrendered with minutes to spare. Five unreplied points from Zalgiris' Niels Giffey brought the difference down to a single point. The decisive points were scored by Lukas Lekavicius, his two two-pointers in the final minute sealing Monaco's fate 82-83.
Post-match, Sasa Obradovic bemoaned the lack of cohesion of his side's performance, saying, "They (Zalgiris) played like a team. We did not play as a team. When you just use your talent and play basketball as a team, you give a chance to someone else who is doing this."
The defeat is a huge disappointment for a team that has put in so much effort to reach the top eight in the Euroleague in recent weeks. Roca Team player Yakuba Ouattara said, "This defeat hurts us after all of the work that we have done."
Defeat sees Monaco slump to 11th in the standings, leaving them with work to do in order to catch up to their play-off rivals, many of whom have games in hand. Before that, attention will once again shift back to the domestic competition as they face a trip to Lyon-Villeurbanne on Sunday.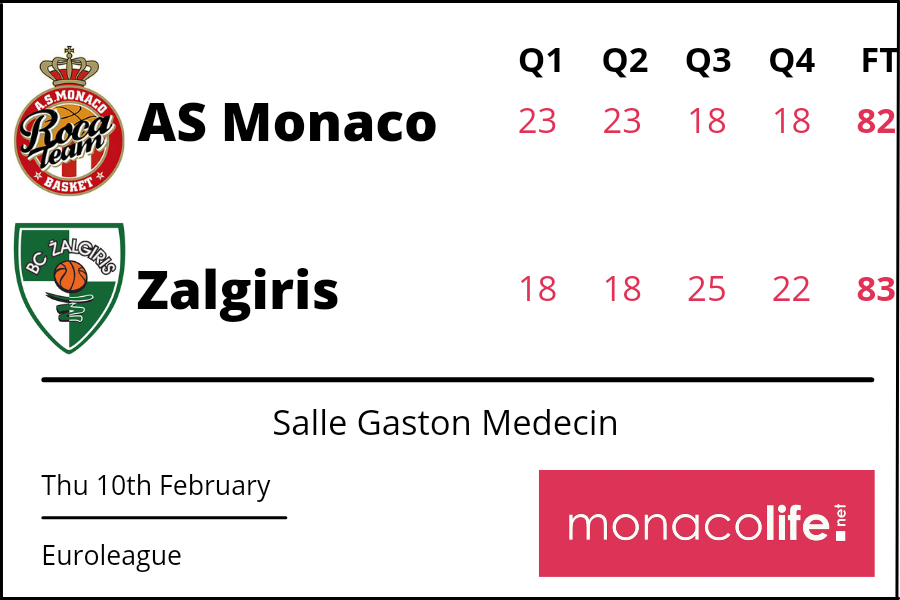 Photo source: AS Monaco Basketball