The President of the Republic of Albania and the Albanian royal couple have paid an official one-day visit to the Principality of Monaco, on the invitation of HSH Prince Albert II.
President Ilir Meta was welcomed to Monaco on Wednesday 16th October. It follows a visit by Prince Albert to Albania in October 2018, during which he met Mr Meta and Prime Minister Edi Rama. Mr Rama made an official visit to Monaco in April this year.
This visit to Monegasque territory enabled talks to continue between the two countries on environmental issues led by the Prince Albert II Foundation and the "Land of the eagles",  in particular the development of a marine protected area, and various other sustainable issues that were raised during previous meetings.
Mr Meta was accompanied by Prince Leka II of Albania and his wife, Princess Elia of Albania.
"I was delighted to have two distinguished and very dear personalities, such as Prince Leka II and Princess Elia, during the official visit to the Principality of Monaco," Mr Meta told the Albanian press. "The traditional friendly ties between the two royal families remain an important bridge in strengthening the relations between our two countries."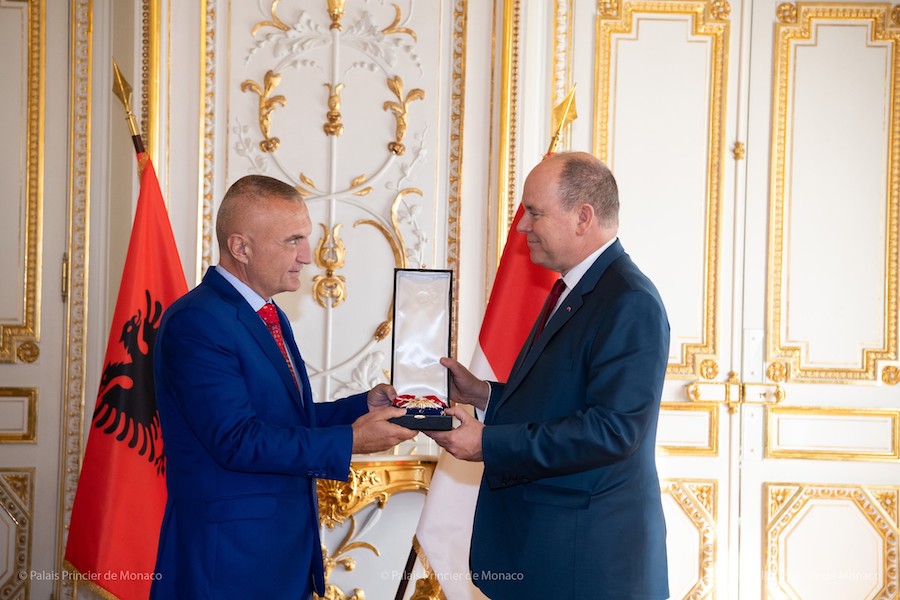 After the bilateral meeting, Prince Albert decorated President Meta with the highest title of the Principality, the Grand Cross Medal of the Order of St. Charles, in appreciation of his concrete commitment to strengthening cooperation between the two countries
Mr Meta also paid a private visit to the Oceanographic Museum.