For the second time in two days, AS Monaco Basketball succumbed to an agonising overtime defeat against a table-topping side, this time falling to Betclic Elite leaders Boulogne-Levallois on Sunday 106-115.
Having displayed an impressive level of defensive fortitude in recent weeks, Monaco were torn open time-after-time against the Parisian side. On Friday, the Roca team limited European champions Real Madrid to just 66 points across the four-quarters, but by the mid-way point on Sunday, they had already conceded 60.
Sasa Obradovic didn't hold back in his criticism of the defensive effort post-match, saying, "It's shameful to lose in this way, it's contemptible, both to our work and to the public. We can't be respected if we accept that. I was shaken."
Although their defence was porous, their attacking combinations were at least well worked. The free-scoring Mike James (23 points), and Friday night's top-scorer Dwayne Bacon (22 points), allowed Monaco to keep pace with their opposition.
A lion's share of the damage was inflicted by the unstoppable Will Cummings, who registered 35 points and 10 assists on the evening, a 7-point scoring-run allowing his side to create a gap in the first quarter.
Yakub Outtara (12 points) stepped up in the second-quarter, decreasing the deficit, before an 11-point scoring streak at the back end of the second-quarter undid all of their good work, leaving Monaco with a mountain to climb (50-60).
Monaco, however, successfully reversed the trend in the second-half. A 12-point scoring streak at the start of the third-quarter brought the chasing Monaco back into contention. Momentum was with the Principality side, and their efforts brought them back level with seconds on the clock.
Neither side could land the winning hoop, and spectators at the Salle Gaston Medecin were treated to a second overtime in as many days. Whereas the overtime against Real Madrid was a cagey, tight, low-scoring affair, this one was anything but.
Cummings came back to the fore once again, blowing Monaco away in the opening stages, dealing a blow from which the Principality side could not recover. The match was over as a contest before the final buzzer, Boulogne-Levallois coming out comfortable victors after overtime (106-115).
Obradovic, perplexed by their defensive showing, couldn't account for their overall inferiority. "What did we lack? You'll have to ask each one of them. It's not by luck that Boulogne are first." The exasperated Serbian coach continued, "It's a lesson for everyone, for all the players. But how many lessons do we need?
Obradovic will hope that it will be his side teaching the lessons on Tuesday as his side travels to Greece for a difficult Euroleague match against Panathinaikos.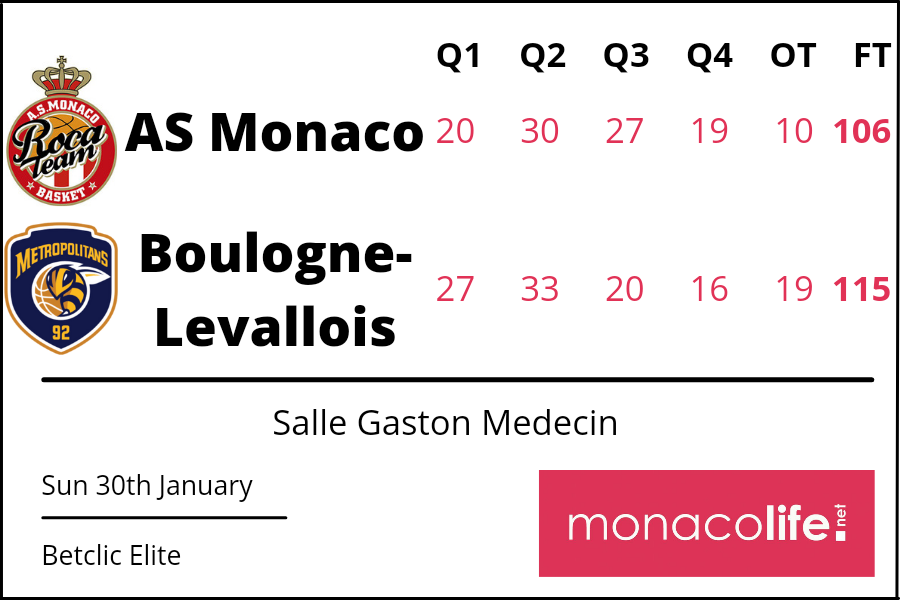 Photo source: AS Monaco Basketball