Everything you need to know about the highly-anticipated Antiquorum horological auction this coming Tuesday at the Yacht Club de Monaco.  
On the back of a pre-sale presentation earlier this month at the Meridien Beach Plaza, the waterfront Yacht Club de Monaco (YCM) will be the scene of a major sale being staged by auction house Antiquorum on Tuesday 25th July.  
The event will bring together 232 "rare and exceptional" watches, many of which are considered collector's items. 
SPECIAL EDITION
Amongst the rollcall of top-end items going under the gavel is a Rolex John Player Special Edition Daytona watch in 18k yellow gold with a "Paul Newman" dial, riveted links and a folding clasp. It dates from 1968.  
This model of watch was primarily made from stainless steel, but about 300 of the 14,000 created were crafted in gold, making them particularly rare and coveted. The John Player Special, a subset of the Daytona line, was named after the cigar brand, whose colours were later adopted by the Lotus Formula 1 team.   
The organisers estimate the sale price of this richly elegant watch to be between €500,000 and €800,000.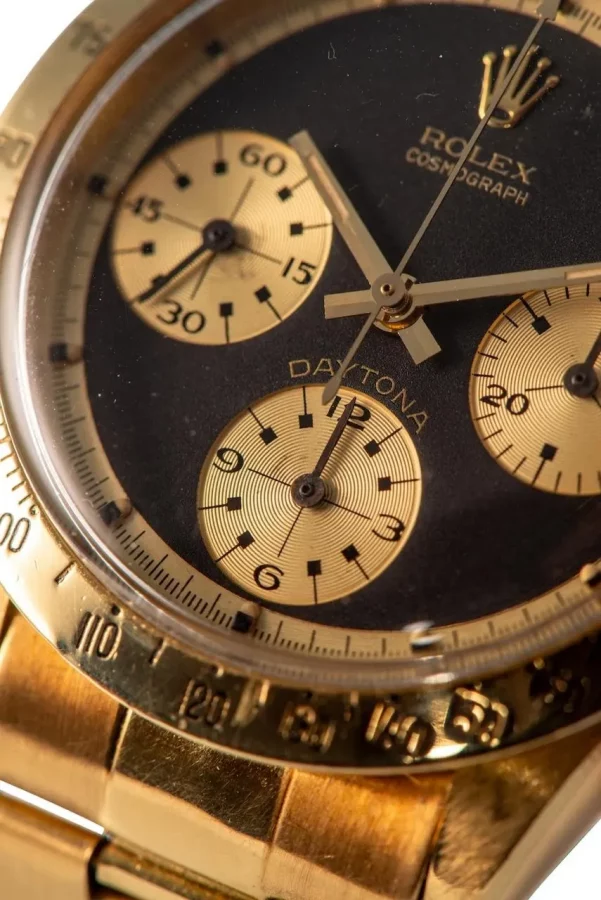 CRASH
Another standout is a 1991 Cartier "Crash" watch, unique for its Dali-esque shape and intriguing backstories.  
This model was launched at Cartier's Bond Street shop in the midst of the Swinging Sixties scene in London. One legend has it that the Crash came about following a car accident and subsequent fire, which left a Baignoire Elongée transformed into a piece of surrealist art in the vein of Dali's The Persistence of Memory.  
Another tale says that Cartier's founder was looking for something utterly new and reshaped a traditional oval design by pinching it in the middle, thus creating the shape.  
Whatever the real story, the watch is a modern classic and this version has an estimated value of €150,000 to €200,000.  
PAUL NEWMAN DAYTONA
For something reaching mythical status, there is also a Rolex/Tiffany & Co. Paul Newman Daytona up for grabs. This stainless-steel beauty has a gorgeous dial and is signed by the world-renowned jewellery firm.  
This 1968 model has a three-colour dial of white, black and red with the Paul Newman face, so-called because of the late actor's penchant for this particular look. The partnership between Rolex and Tiffany ended in the 1990s, but the beautiful piece they inspired lives on.  
For a cool €300,000 to €500,000, this watch will find its new home.  
The Antiquorum auction will start at 5pm sharp on Tuesday 25th July, so be there on time so as not to miss a single thing!  
Make sure you're never left out of the conversation.
Sign up for the Monaco Life newsletter, and follow us on Facebook,  Twitter,  Instagram and LinkedIn.  
Photos supplied by Antiquorum