The Roca Team registered yet another victory on Sunday, this time against a battling Le Portel side in the Betclic Elite. Amongst the European elite, few bolster such impressive statistics in recent times.
The victory against Le Portel (70-82) was the latest in an increasingly impressive streak that stretches back many weeks. AS Monaco Basketball are now unbeaten in all competitions in the last five, have 13 wins in their last 14 matches, and have now registered eight consecutive victories in the domestic division. Overall, their recent record makes fine reading.
Few in Europe, if any, can rival such a record. The only other side to have won all five of their last Euroleague matches is Maccabi Tel Aviv, although the Israeli side succumbed to defeat in their domestic division over the weekend. Euroleague table-toppers Barca are experiencing a dip in form, whilst other European stalwarts, who finished in the play-off positions such as Milano and Olympiacos, have both been defeated by this charging Roca Team. To say that they are the most in-form elite side in Europe therefore isn't a baseless, hyperbolic statement, but a genuinely possible one grounded by hard stats.
The latest victory never really looked in doubt. A strong opening quarter (19-28) laid the foundations for a comfortable afternoon's work. From there, Monaco merely needed to maintain their advantage, a task which they accomplished dutifully with some excellent defending in the second-half in particular.
Will Thomas, who Oleksiy Yefimov recently described as the "glue" of the team in an exclusive interview with Monaco Life, ended the match as top scorer with 17 points. MIke James (14), Alpha Diallo (13) and Dwayne Bacon (12) also made very meaningful contributions as, despite the short turnaround, Monaco fielded a strong side.
The victory (70-82) leaves the Roca Team level on wins with Betclic Elite table-toppers Boulogne-Levallois with seven games left in the regular season. Although their play-off place is all but assured, Monaco will nonetheless want to keep confidence high ahead of the upcoming play-off matches against Olympiacos, and continue their impressive run as they face Dijon on Tuesday.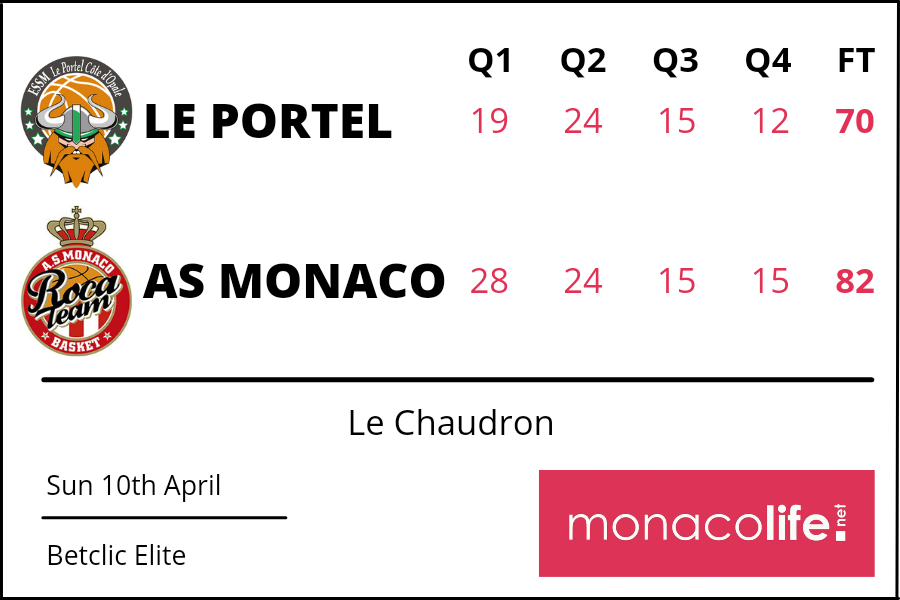 Photo source: AS Monaco Basketball