Ahead of AS Monaco's match against a lowly Metz this weekend, Philippe Clement and Ismail Jakobs spoke to the media on Friday addressing injuries, form and the impact of the international break.
Monaco Life attended training at AS Monaco's training centre in La Turbie on Friday morning and can report an almost clean bill of health for Clement's men. Most have come back from the recent international break completely unscathed.
One of the few to potentially miss Sunday's match is Maghnes Akliouche. Clement told Monaco Life that the French youth international's absence from Friday's training was due to illness.
Cesc Fabregas, who injured his ankle during a friendly with Brentford B in February, a game which was meant to help rather than hinder his return from a muscular injury, is also back training with the group. However, Clement said that he too will not be involved against Metz.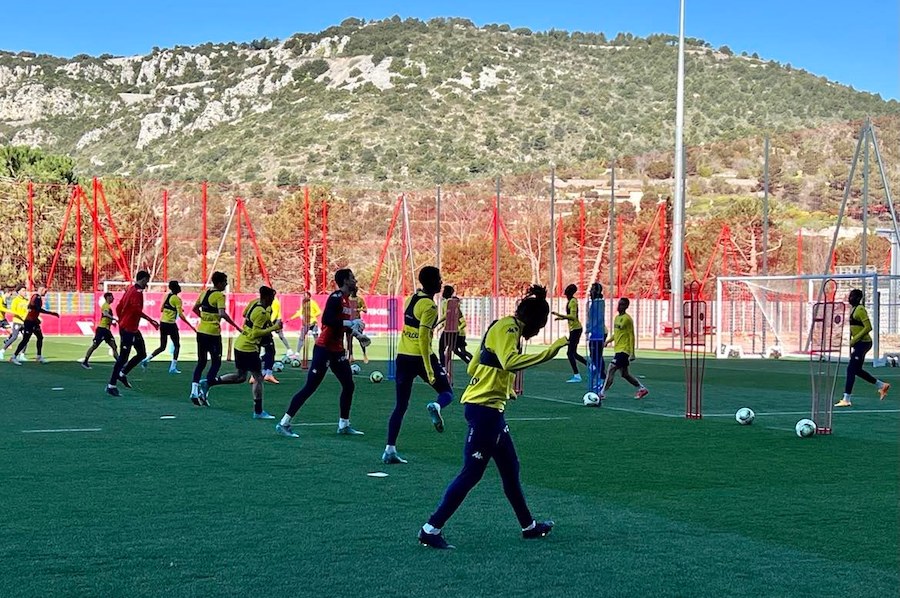 Monaco finished on a high before the international break with a rampant 3-0 victory against PSG in front of a packed crowd at the Stade Louis II. Clement isn't worried about having lost the momentum from that impressive victory almost two weeks ago.
"I don't think you can win a match like that, in that way, without a good dynamic in the group," he said. "It was already there before that success. There is a very good atmosphere."
Monaco defender Ismail Jakobs went a step further, saying that those who remained with the side during the break benefited from it. "I would say the last couple of weeks we have worked more on the physical side of things. We have worked well, and I would even say that since the arrival of Clement, we have reached the next level," the 22-year-old German told Monaco Life.
Despite this progress, there certainly wasn't a sense of complacency from either Jakobs or Clement. The former went so far as to say that the match against the second-from-bottom side in Ligue 1 "may be even more difficult than PSG."
On a tactical level, Clement is already well aware of how Metz are going to approach the match. The second-lowest scorers in the league, it is no surprise that they are accustomed to sitting in a deep low-block and rely largely on quick transitions to provide attacking threat. "There is going to be a wall. We're going to have to break it. It is difficult to get around these set-ups, but we have the qualities to do it," the Belgian told Monaco Life.
Currently sitting in seventh place in Ligue 1, eight points off the Champions League places, a win for Clement's men against Metz on Sunday is a necessity, if they are to remain in the hunt for that all-important podium.
Photo of Ismail Jakobs by Luke Entwistle, Monaco Life