AS Monaco Women's incredible Coupe de France run came to an end against a superior Reims side, the visitors running away 4-0 winners as Prince Albert II and the twins watched on.
The masses descended on a chilly Stade du Prince Hereditaire Jacques on Saturday night to witness the side's first ever appearance in the round of 16 of the domestic cup competition. Amongst the 300 in attendance were Prince Albert II, Prince Jacques, Princess Gabriella and Louis Ducruet, who all hoped to witness yet more history for the side.
Monaco's intentions were clear from the offset. Clearly content with allowing Reims the lion's share of possession, Monaco opted not to press, instead choosing to sit deep in a stubborn low-block.
Despite Monaco's numerical commitment to the defensive effort, Reims' creativity still successfully manufactured space in dangerous areas. The away side had the ball in the net in the opening moments only for the offside flag to come to the rescue of the Principality side.
Against the run-of-play, it was Monaco who had the first big chance of the match, Bree Fuller's strike from inside the box was well-parried by the Reims keeper. To get in level at the break, Monaco would have to survive a late barrage on their own goal. Vicki Becho Desbonne spurned a hat-trick of gilt-edged chances before the break, as Monaco continued to frustrate their superiorly ranked visitors.
That resistance was, however, broken just seconds after the restart. Desbonne finally got on the scoresheet with a neat back-heel into an open net with the keeper found wandering. Reims' wasted no time putting the tie to bed. Just seconds later, Sonia Ouchene's brilliant long-range strike found the back of the net via the woodwork.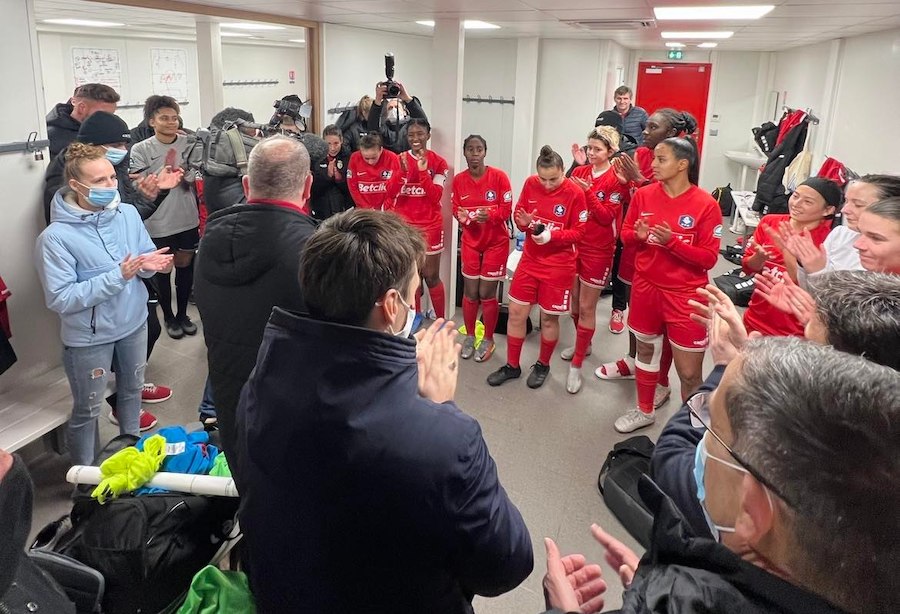 With their stiff resistance broken, Monaco then had to chase the game. In committing increased numbers to the attack, they left themselves vulnerable at the back, and Reims tore them apart time after time. Only Reims' wastefulness prevented a more emphatic scoreline.
Melchie Dumornay added a third just after the hour mark, and the scoreline was completed as Rachel Corboz added a fourth in the final minute. Post-match, the Monaco players displayed their gratitude for the Prince's attendance, presenting him with a shirt signed by the whole squad.
Following the gifting of the jersey, captain for the night Maria Ferreira Sanches told Monaco Life that she was proud of the team, despite the loss. "To play against such a side was a proud moment for us. We played a very good first-half, the second unfortunately wasn't quite as good. I really don't think we can have any regrets, and we deserved to be here tonight against a great team that was worthy of their win," she said.
Monaco have won all of their R1 matches this season, and Sanches says that their focus is now firmly on their domestic division. "Until today we were unbeaten in the championship and in all the cup matches. That was our first defeat, but it doesn't have the same taste. Our objective now is to get promotion into the D2. We're going to learn from this match."
https://www.instagram.com/p/CZXJenoMC6B/?utm_medium=copy_link
Top photo by Luke Entwistle, Monaco Life