AS Monaco Basketball didn't seize the chance to secure their place in the Betclic Elite final on Tuesday, as Pau-Lacq-Orthez hit back (82-76) to reignite the series amidst a fervent atmosphere.
In defeat, Monaco have been pegged back to 2-1, and whilst they will still be considered strong favourites to advance to the five-legged final later this month, they must now react to their first setback in a series that had thus far gone entirely their way.
A reaction from Pau could have been expected. Having lost both ties at the Salle Gaston Médécin last week, their survival in the series was on the line. Their players knew it and so did their fans, who packed into the Palais des Sports de Pau to create a hostile environment for the visiting Monégasques.
In both of the previous ties, Monaco managed to pull away and control the match from an early stage, but it became quickly apparent that they wouldn't do so again here. For the first time in the series, the sides looked evenly matched, and neither side managed to pull away.
For the home side, Justin Bibbins and Brandon Jefferson were prolific outside the key, and allowed Pau to stave off any attack from Monaco, as their clinical efficiency made the difference.
As always, Mike James was the man making things happen for Monaco. He and Dwayne Bacon chipped in with considerable points contributions, but Monaco simply couldn't match the precision of their adversary, whilst a stout rear guard from Pau compacted the space for James to exploit within the key.
Going into the final-quarter, Monaco had a three-point deficit to overturn (65-62), and although the scores remained close, Pau pulled away in the dying minutes with an exhibition in three-point finishing. The home side were deserved winners (82-76) and took the series to a fourth match, once again in Pau on Thursday.
Post-match, Sasa Obradovic praised the level of his opponent: "We must congratulate Pau. They played very well. For me, there was no difference between them and a Euroleague side this evening. When we face them, we must match their energy, and it wasn't easy in this atmosphere. They took confidence."
Obradovic concluded, "We have to be more focused if we want to win this series." The Roca Team coach will be hoping that a strong response from his team can silence the home crowd, end the series and secure a place in the Betclic Elite final.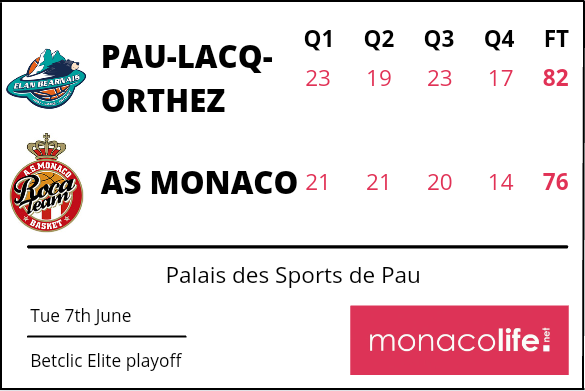 Photo source: AS Monaco Basketball