Images of Beausoleil's future Charlot Village, touted as "a cultural place promoting social ties, encounters and exchanges", have been revealed to the public.
Beausoleil is planning an ambitious new community centre that offers more than just the usual fare. Called Charlot Village, the site – designed by Architect Marc Barani, will be home to several civic spaces, including a library, an exhibition trail, a toy room, a space designated for artistic expressions and endeavours, a restaurant and a philosophy café. Additionally, it will eventually house a digital museum that will be called Micro Folie, where visitors can see works from around the globe in their own backyard.
"This is an operation of the Ministry of Culture with La Villette," said Beausoleil Mayor Gérard Spinelli, according to a report in Monaco Matin. "The place will make it possible to discover the masterpieces of all the museums of the world and the works of art of local actors."
First glimpses reveal an impressive site with large bay windows offering sea views, green spaces, and an airy, open feel. There will be separate "villas" that house certain aspects of the centre's activities. Whilst aesthetically it is beautiful, the primary purpose of Charlot Village is to promote social ties amongst the citizenry and create a place where people meet and discuss ideas, carry out their work and have freedom to come and go.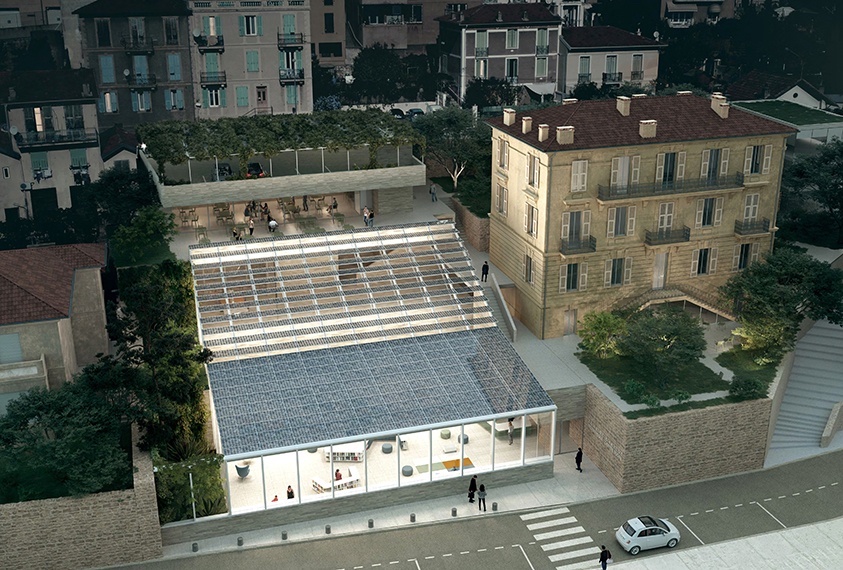 Villa Chêne is being designated as a centre to bring together all the social services of the city, as well as a training space, a mediation area and a digital laboratory. Villa Émilie will be an artist's space with five separate accomodations, a co-working area, and four workshop areas that will be devoted to art and culture.
"We want to create links between artists and people who sometimes encounter difficulties in life," says the municipality.
The project is set to take 25 months to complete and is estimated to cost €15 million. It is a joint effort by the French Ministry of Culture and the city of Beausoleil, and to a lesser extent, by the South Region, the Department of the Alpes-Maritimes, the Agglo Community of the French Riviera, the Family Allowance Fund and the Heritage Foundation.
Image above source: Architect Marc Barani