The Principality offers such a wide variety of restaurants and, considering the size of Monaco, it really is surprising how many cuisine options we have. Each has its own atmosphere and unique offering, and I am happy to share with you my favourites, depending on my cravings and mood!

Cipriani
Classic Italian cuisine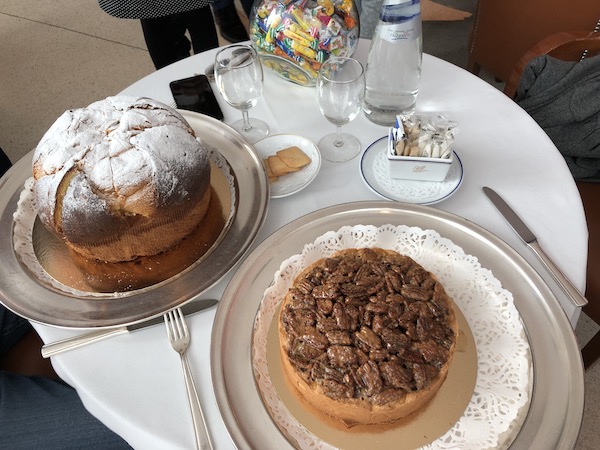 Cipriani is a brand, a restaurant concept, so wherever you go in the world, you know that you will be impressed. In Monaco, Cipriani is located at the bottom of the prestigious building Le Mirabeau. Be welcomed by maître d Pierre Baldelli, who pays particular attention to each guest, passing by every table to make sure everyone is happy. Pierre and the rest of the team are always welcoming guests with open arms and a big smile; you immediately feel at home.
Cipriani has a great ambiance, a constant buzz, and even entertainment by dancers from the nearby Twiga club. It is the place to go when you want to dress up, be seen, and to watch people!
Cipriani is happening every day of the week (except Tuesday when it is closed), all year around. The Sunday brunch is a tradition for local families and is very kid-friendly.
What to eat here?
The avocado and artichoke salad,​ ​salmon tataki,​ all the pasta dishes, but mainly the desserts! The famous m​eringue  cake, home made vanilla ice-cream and pecan pie​ are to die for!
What I wear?
Casual chic for Sunday brunch and dressed up elegant for dinner.

Twiga Sumosan and Crazy Fish
Italian and Japanese cuisine – club – lounge & shisha bar
This is a trendy restaurant that combines party with dining and offers a culinary pairing, where contemporary Japanese and Venetian Italian cuisines meet in a classical setting. Monaco is one of a number of locations across the globe including London, Moscow and Dubai. Twiga Sumosan is an expansion of the Sumosan Brand in partnership with Flavio Briatore.
I love this restaurant on the weekends because you can enjoy great food from two different menus, while watching a show. It is also the perfect venue for private parties.
The atmosphere warms up after dinner with in-house DJ and internationally-famed guest-DJs, when the restaurant transforms into a club.
Alessandro Ristori and the Portofino's started their career here and perform each Thursday per month, and they are a huge success. Ristori became the king of weddings and private parties, and is mostly recognised for his 70s Gucci style and boogie woogie moves! He has captured the attention of fashion moguls (Kering's Marco Bizzarri is a devotee and dresses Ristori in Gucci) and royalties, having the great honour of performing at Charlotte Casiraghi's wedding in Monaco.
What to eat here?
The ​maki rolls,​ the ​spinach salad,​ the ​gnocchetti ai gamberetti a​nd the fresh fish from the seafood counter.Try the l​obster alla catalana​and the ra​w Battuta di gamberi a​nd don't forget the famous F​ruttini​ (fruits filled with sorbet).
What I wear?
Party outfit!

Le Grill – Hôtel de Paris
Mediterranean cuisine – 1 Michelin star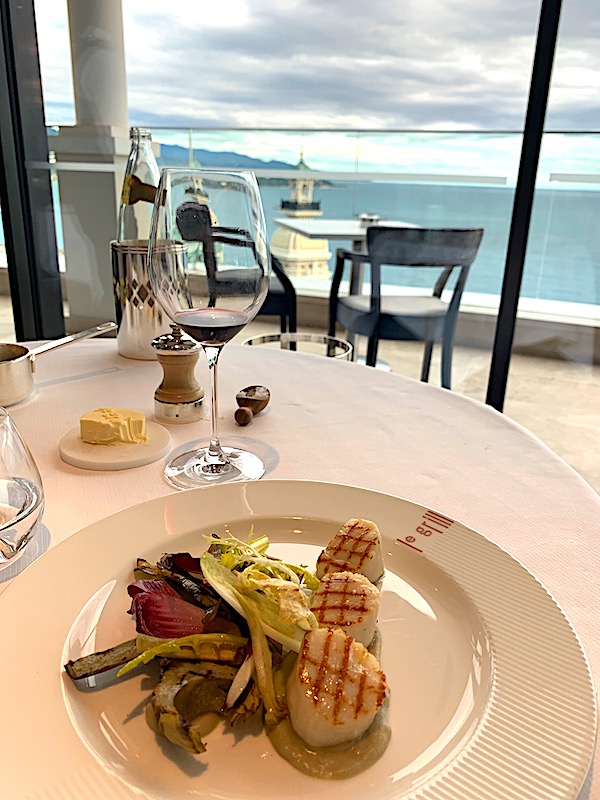 Located on the 8th floor of the Hôtel de Paris, Le Grill offers a panoramic view of the Mediterranean sea and the Principality. The roof opens entirely, so you can enjoy lunch in the sun and dinner under the stars. Chef Franck Cerutti has worked for over 30 years with Alain Ducasse and created a menu that recalls the Riviera, based on local products.
I love the simplicity of the dishes and the quality of the ingredients.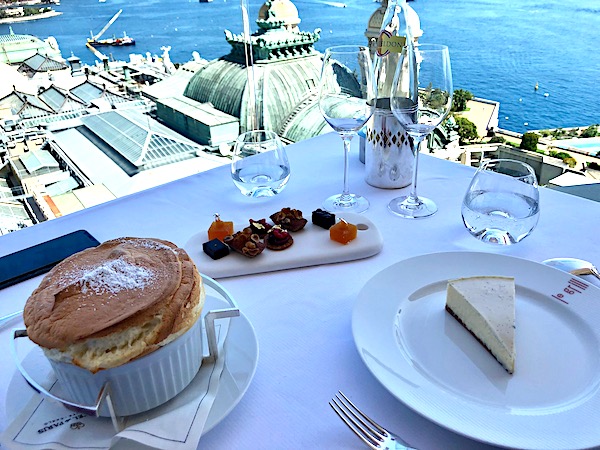 What I eat here?
Le P​oussin, the farm-raised baby chicken slowly cooked over a wood fire, the grilled meats with truffle mashed potato and the five different flavours of soufflé have all helped build the restaurant's reputation. Also try the scallops with purple artichokes.
This is one of my favorite places for an elegant lunch ending with a giant​ Nougat Soufflé. T​he lunch menu is 65€ for three courses and 90€ for three courses including wine and water.
What I wear?
In this refined ambiance I prefer to wear rather formal and elegant cocktail attire.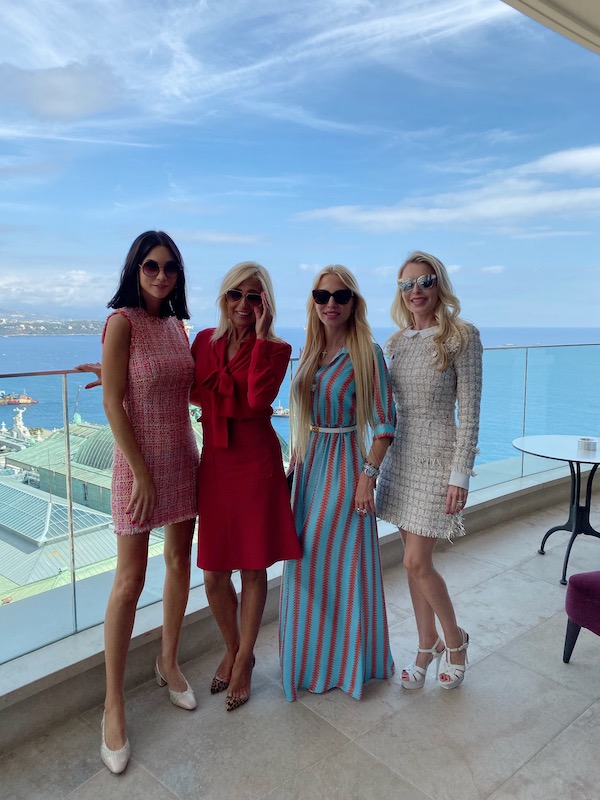 Louis XV – Hôtel de Paris
Mediterranean cuisine – 3 Michelin stars
Chefs Alain Ducasse and Dominique Lory have created a modern and contemporary menu​ ​inspired by the Riviera, featuring regional products, aromas and flavours. The fish is from local fishermen, while the herbs and vegetables come from the hinterland. Tea is presented in plants, and prepared and infused in front of the guests.
Here you will find exceptional food and wine pairings by head sommelier Noël Bajor, who has designed a wine menu revealing the bottles stored in one of the finest wine cellars in the world – the caves of the Hôtel de Paris.
Alain Ducasse's Louis XV was the first hotel restaurant to receive three Michelin stars.
This is a true culinary experience for a refined palate and romantic occasions.
What I eat here?
To start, I always chose the G​amberoni from San Remo, rock fish gelée, caviar and to follow the​ Steamed blue lobster, cime di rapa, hibiscus flower and pink pepper, a​nd to end the​ Warm yuzu and hazelnut from Piedmont soufflé.
What I wear here?
Elegant, cocktail attire.

Joël Robuchon – Hôtel Metropole
French Mediterranean cuisine – 2 Michelin stars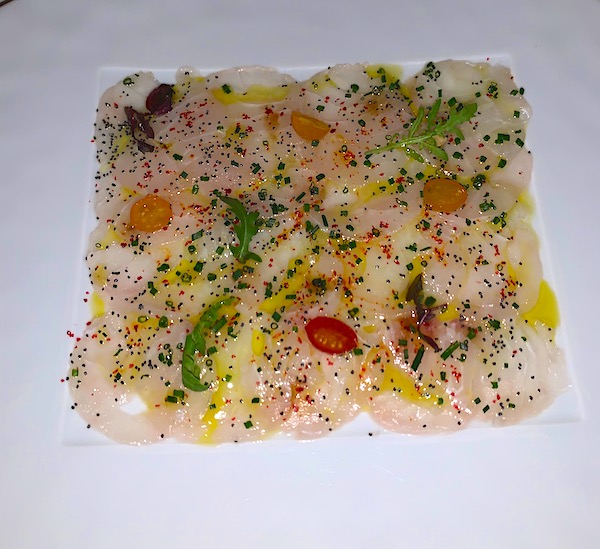 A gastronomic experience by master chef Joel Robuchon in a romantic ambiance, with interiors designed by Jacques Garcia. The open kitchen allows guests to admire executive chef Christophe Cussac and his team preparing the dishes.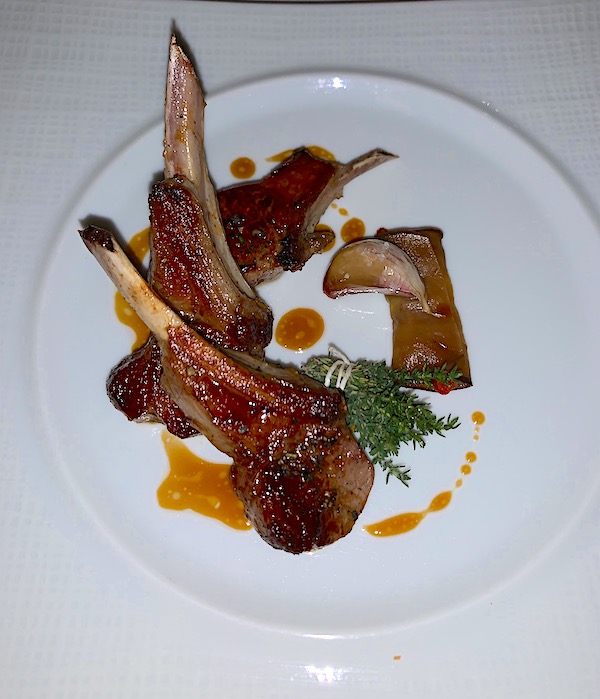 Service is impeccable in a refined setting. Your evening will start with the presentation of an amazing bread trolley with multiple options of bread and a tasty pyramid of salted butter.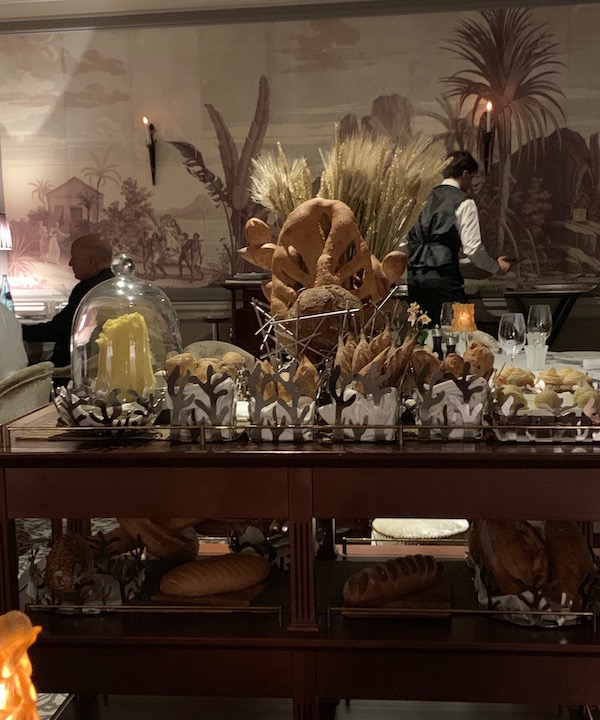 What I eat?
I love the tasting menu. I order many small dishes instead of one starter and one main. The beauty is in trying different plates. Some of my favourite dishes here are the crab-stuffed avocado roll with citrus; milk fed-lamb cutlets; stuffed quail; lobster with burrata and the sole meuniere. End your evening in paradise with the dessert trolley. When guests are leaving, they're generously offered a beautiful box with a cake that I mostly eat the following morning for breakfast!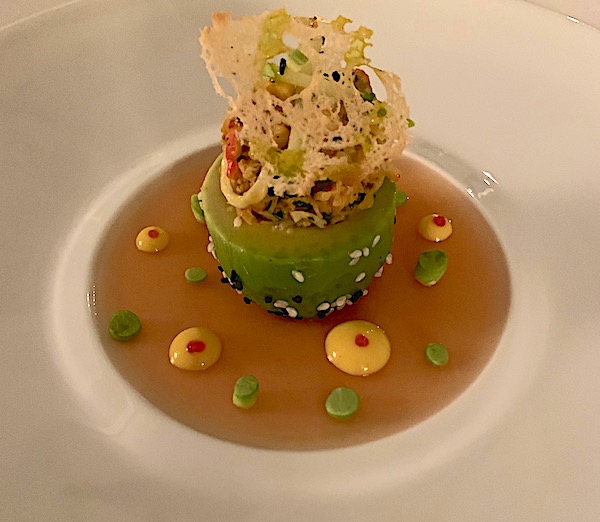 What I wear?
Elegant and chic.

Le Lobby – Hôtel Metropole
Cosy lunch with great quality food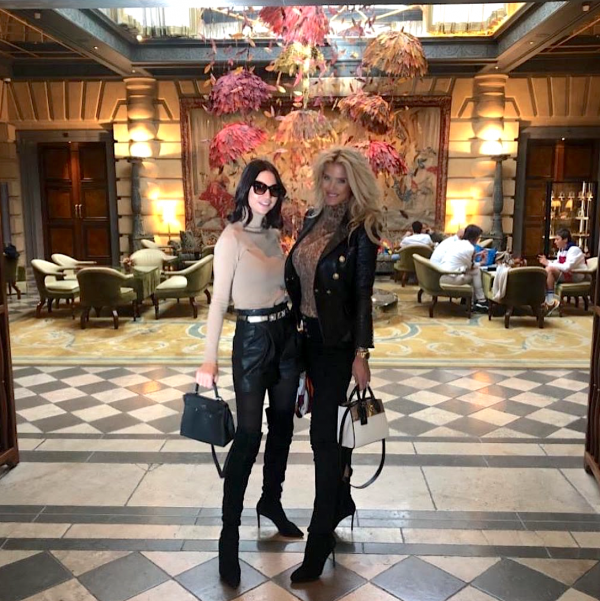 This is my favourite lunch spot on Sundays during autumn and winter. The hotel decorates the lobby with a theme for each season of the year and it is always stunning.
The ambiance is very warm, cosy, chic and comfortable with their sofas. The quality of the food is exceptional, maintaining the high standard of Joël Robuchon.
What I eat here?
P​oached eggs with avocado, minestrone with cod fish, salmon paillard and beef carpaccio.
What I wear?
Casual chic.

Yoshi – Hôtel Metropole
Contemporary Japanese – 1 Michelin star
Yoshi is the first Japanese restaurant by Joël Robuchon, created in an elegant design with noble materials such as stone, silk and ebony wood. The ambiance is very peaceful.
Chef Takeo Yamazaki cooks directly in front of guests in the open kitchen, offering an à la carte menu and a variety of set menus. I like to come here for lunch.
What I eat here?
Salmon belly with caviar seaweed salad
What I wear?
Casual chic.

Sass Café
Mediterranean restaurant – piano Bar – nightclub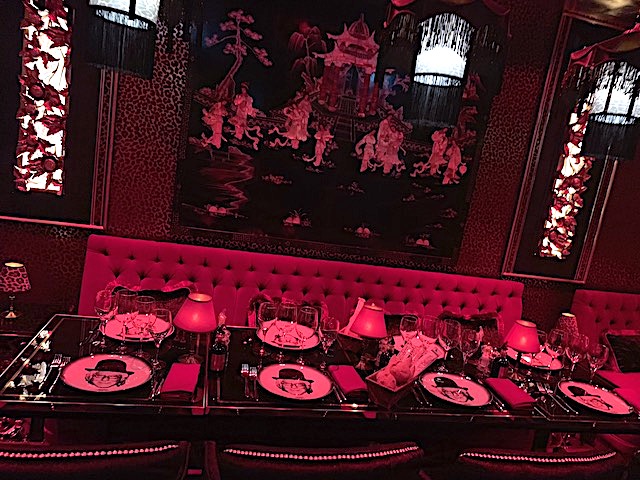 Sass Café, named after the charismatic owner Sassa', was inaugurated in 1993 and has since been an institution in Monaco, renowned internationally for its soirees.
This legendary venue welcomes guests from all around the world, of all generations, and has been the only place in the Principality of Monaco to provide a unique concept that combines a restaurant, piano bar, and club.
The restaurant is family-run and every evening, Sassa, Yolande, and their son Samy welcome guests with open arms. They don't miss one single night. Sassa' is the face of the business – quite literally – with his face printed on the plates. It was recently renovated and revamped by their dear friend Tina Green, the wife of Sir Philip Green, who upgraded the design but kept the same DNA. The lounge décor is chic and warm with dimmed lighting. A heated outdoor terrace is adorned with chandeliers and sheltered by velvety red curtains. On the terrace you can enjoy a great shisha with Moroccan green tea.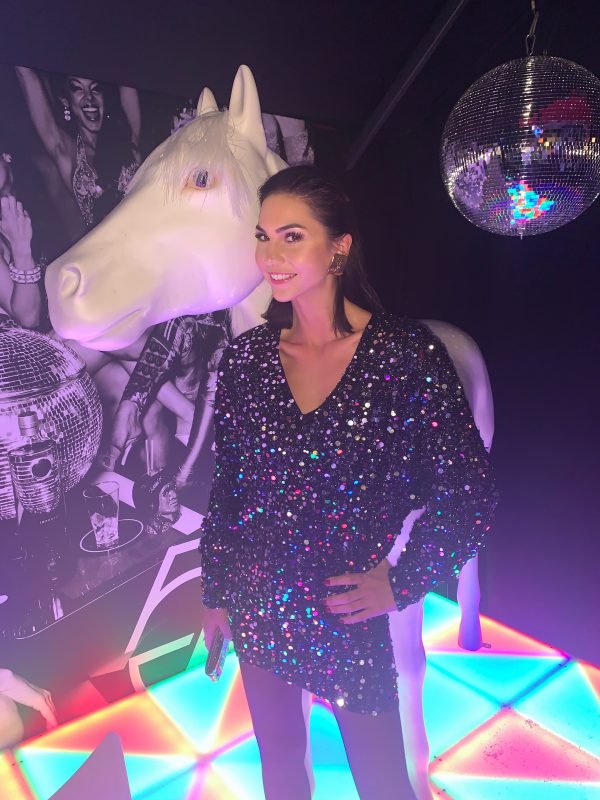 The night starts off with a rather quiet ambience, serving Mediterranean inspired cuisine. Towards dinner's end, the live music starts to warm up the atmosphere and resident DJs, like DJ Reda, accompanies you into the early hours.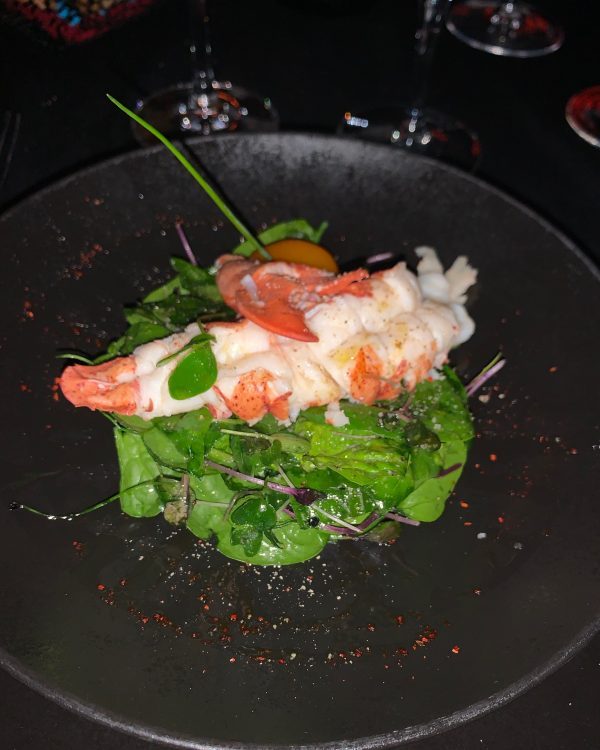 What I eat here?
Avocado and salmon tartare, grilled giant gambas, marinated baby chicken, grilled entrecote with truffle mashed potato and grilled vegetables.
What I wear?
A cocktail dress or party dress.

L'Hirondelle – Les Thermes Marins
Healthy lunch kissed by the sun

Located inside the SBM spa Les Thermes Marins, t​his restaurant is convenient after a spa treatment or for walk ins to simply enjoy a healthy lunch.
I like to come here during sunny days in autumn and winter and have lunch on the open-air terrace. The restaurant has a magnificent view over the Port of Monaco.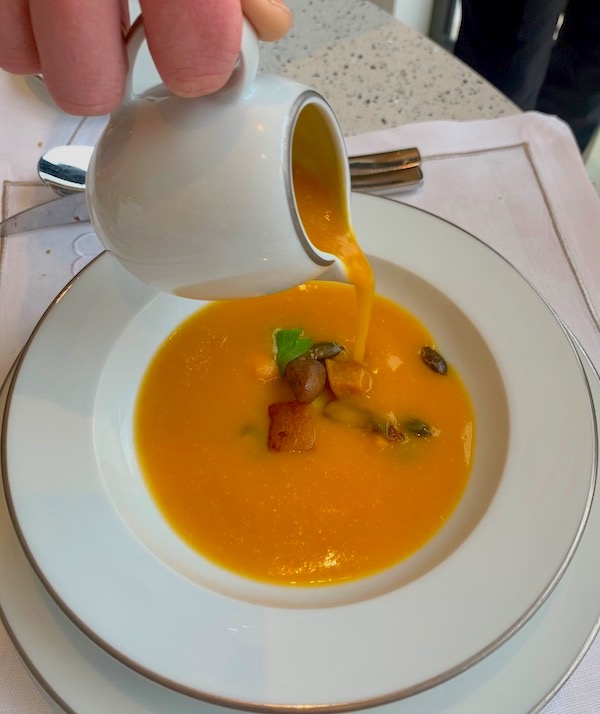 Service is very good and the presentation of the dishes is very creative.
The menu offers a choice of set menus and you can even choose vegetarian, vegan and gluten-friendly options.


What I eat here?
Start with a raw vegetable basket to share and follow with pumpkin soup and grilled cockerel. The menu of the day is always delicious and fresh.
What I wear?
Bathrobe, gym clothes or casual jeans.

Gaia
Greek cuisine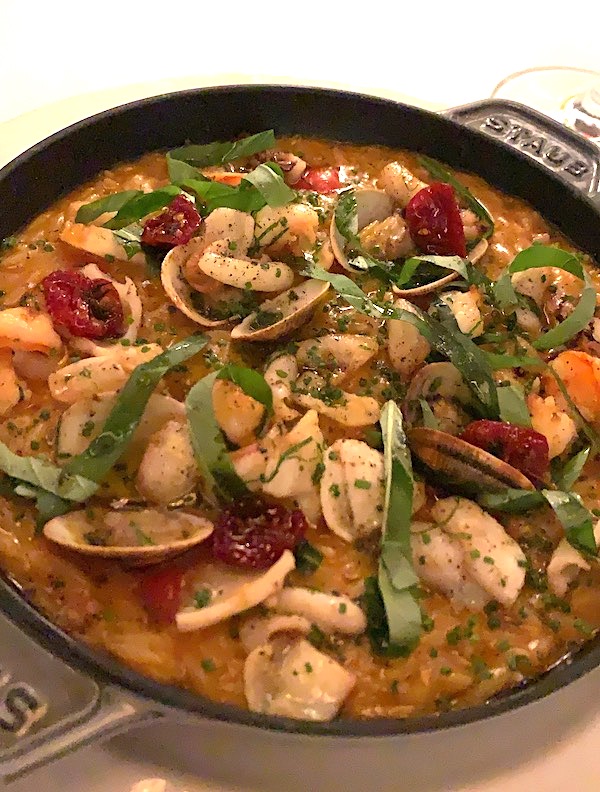 A contemporary Dubai-originated taverna serving Greek-Mediterranean cuisine with a modern touch. Chef Izu Ani is the culinary mind behind the concept, offering flavoursome dishes, which are designed to be shared with family and friends. It is the perfect venue for a dinner in the company of many.
The typical taverna-style interior and seafood bar take your mind directly to the Greek islands. Grab a drink at the bar before dinner, it is very cosy!
What to eat?
The plates are very generous, so share everything with the table. My favourite dishes here are lamb chops, crab salad, moussaka and grilled octopus with hummus.
What to wear?
Casual chic.

La Piazza
Homemade traditional Italian food
I like to come here for a casual lunch, when I want to eat good homemade food and when I don't feel like dressing up. It's a family-owned restaurant and the staff are very friendly. The food is always delicious.
What I eat? ​
Octopus and avocado salad, beef tagliata, artichoke salad and pappardelle al ragu' di vitello.
What I wear?
Casual with jeans.