Nearly 4,000 skippers, captains, sailors and owners of classic yachts headed to the south of France for the Classic Yacht races, and we were lucky enough to steal Carron II skipper Angelo Mazzarella for a quick interview on the port of Saint Tropez.
Designed by William Fife and built in 1935, and originally owned by the Aga Khan, Carron II is considered one of the most elegant Bermudian sloops in the world.
This classic Fairlie eight-meter yacht is now docked in Geneva, at Société de la Nautique.
Concentration, helvetic precision and team spirit are key factors in the daily training concept run by helmsman Jean-Luc Levequemn who meticulously supervises the sails top level (Swiss-made only), the boat maintenance and regular tests on Leman lake, known for its strong and extremely challenging winds up to 90 knots per hour.
This year, Carron II raced in both traditional glamourous awards in Cannes for Régates Royales and in Saint-Tropez for Les Voiles, walking off both times with first prize.
The 2021 edition once again enthralled on the water, and those on shore – and certainly seafarers and sailing fans across the world – were warmed by the hundreds of dazzling images of the most elegant yachts on the planet.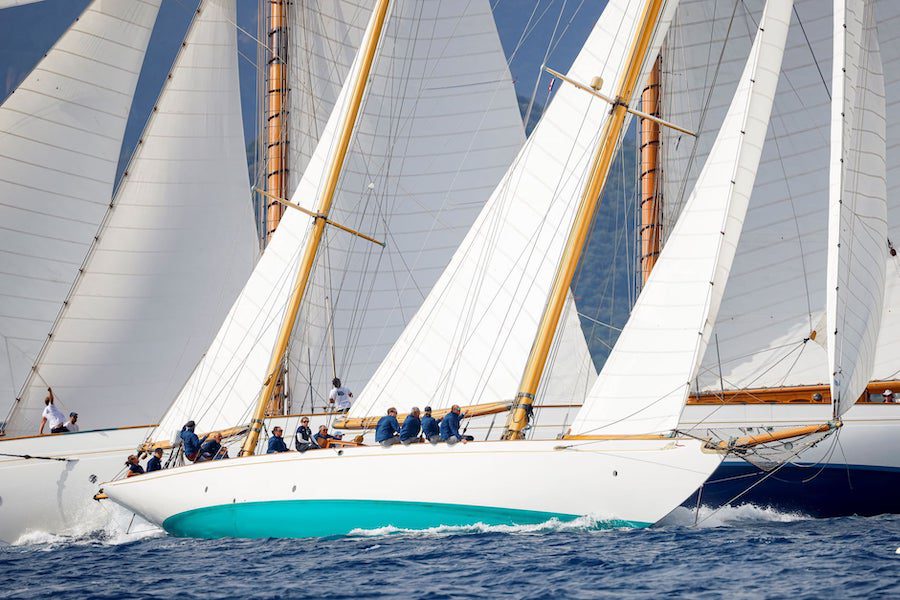 "We enjoyed very good conditions throughout the week in Cannes, and though sometimes a little boisterous according to some, the wind was a constant player," Angelo MAzzarella told Monaco Life. "There were no serious conditions to lament and victory was easy.
"In Saint-Tropez, however, it was a different story. On Wednesday, winds were up to 35 knots per hour and we had to go back to the harbour with broken spreaders calling a rescue boat, with a very high risk to break the mast. We were so lucky, as Thurdays are free from racing and we could repair all damages, working intensively 24/7 to go back to serious racing on Friday. We tried to make the most of every last puff of breeze to play to our strength and finally we won again, grabbing the cup on Saturday!"
It is no surprise to see Carron II constantly adding prestigious cups to the existing palmares, counting five podiums at the 2018 and 2019 World Cups, Lake Constance's victory, and first places in the Cowes and Norway renowned races.
So no wonder we are looking forward to watching the next Geneva World Cup in 2022.


Top photo by Studio Borlenghi