Lieutenant-Colonel Gilles Convertini has officially handed over command of the Carabinieri Corps to Commander Martial Pied, marking the end of 38 years of service under two Princes of Monaco.
It was in the court of the Prince's Palace on Thursday 20th January where, to the rhythm of the Orchestra of the Prince's Carabinieri, Prince Albert II, Minister of State Pierre Dartout, members of the Prince's new Cabinet, senior Monegasque authorities and military families came together for the change of command ceremony between Lieutenant-Colonel Gilles Convertini and Commander Martial Pied, under the orders of Colonel Tony Varo, Senior Commander of the Public Force.
Lieutenant-Colonel Gilles Convertini joined the Prince's Carabinieri Corps in 1984 at the age of 22. For four decades, he rose through the ranks to become Chief of Corps in 2017. Throughout his 38 years spent in the Compagnie des Carabiniers he was able to serve both Prince Rainier III and then Prince Albert II.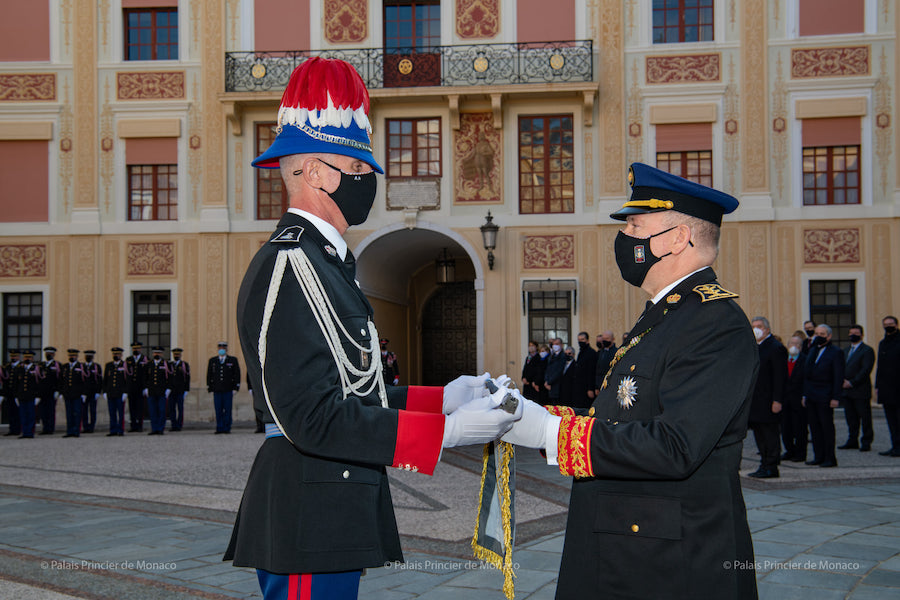 Meanwhile, Commander Martial Pied began his career in the French army in 1994 at a military school in Saint-Cyr. After several experiences in the field of maintenance, security, the fight against terrorism and event management in the French army, he joined Monaco in 2017 to assist Gilles Convertini as Deputy to the Chief of Corps of the Company of the Prince's Carabinieri.
The change of command ceremony was symbolic in that it took place on the day of Saint Sebastian, Patron Saint of the Carabinieri, celebrated that morning in the Cathedral of Monaco.
Photo by Gaetan Luci / Prince's Palace, Stéphane Danna / Government Communication Department