From flambéed Crêpes Suzette to the traditional barbagiuans of Monaco, the menu of the Café de Paris is a veritable window into its history and heritage, but there are also plenty of new gourmet additions to tempt you through the doors of this 'just opened' address.  
Monaco Life was among the lucky few guests at the much-awaited grand reopening of the Café de Paris on Tuesday 14th November, and aside from being entranced by the beauty of the €55 million – or more – renovations, it was the new menu from Chef Victor Marion that really blew us away. 
At an exclusive lunch hosted by Monte-Carlo Société des Bains de Mer, Monaco Life was treated to dishes including finely sliced red tuna with lemon and smoked salt (€29) from the raw bar, Deviled eggs with caviar and sucrine lettuce (€35) and an exquisite plate of Viennoise scallops with tarragon and mushrooms (€46), but these are just a taste of the glories that await diners. 
FROM TRADITION TO INNOVATION
If it's tradition that you are after, try the regional favourite pissaladière (€20) or a plate of Monaco's barbagiuans (€19), which both feature on the 'Pour Patienter' section of the extensive, but certainly not overwhelming, menu.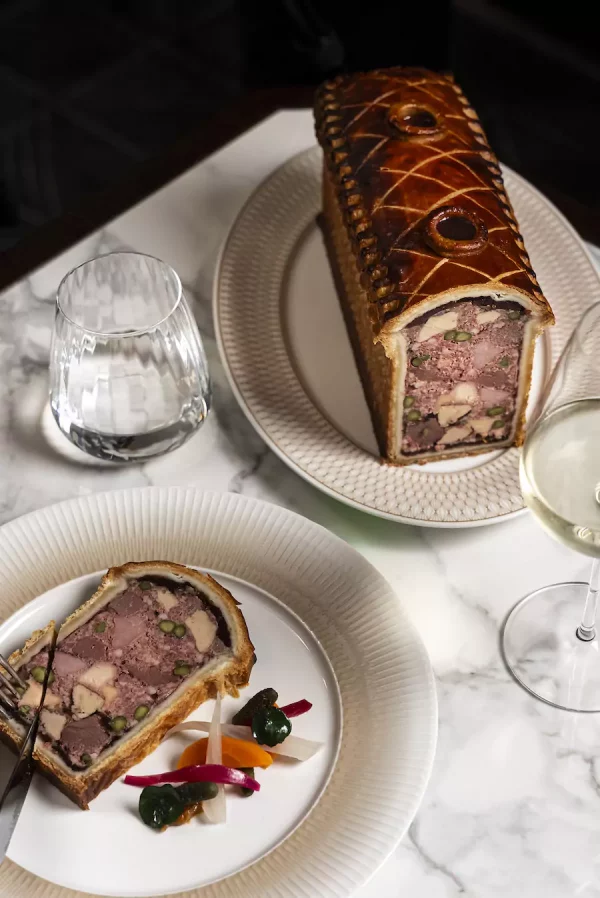 For an appetiser or entrée, the fondant leeks with Gribiche sauce, croutons and capers (€21) or the signature Café de Paris paté en croûte with chicken, duck, pork and pistachios (€29) will go down a treat.
There's lots to choose from at the raw bar too, from a range of oysters, including some from Les Perles de Monaco for €42, to a sea bream ceviche with rosemary oil and a citrus-dill dressing (€27).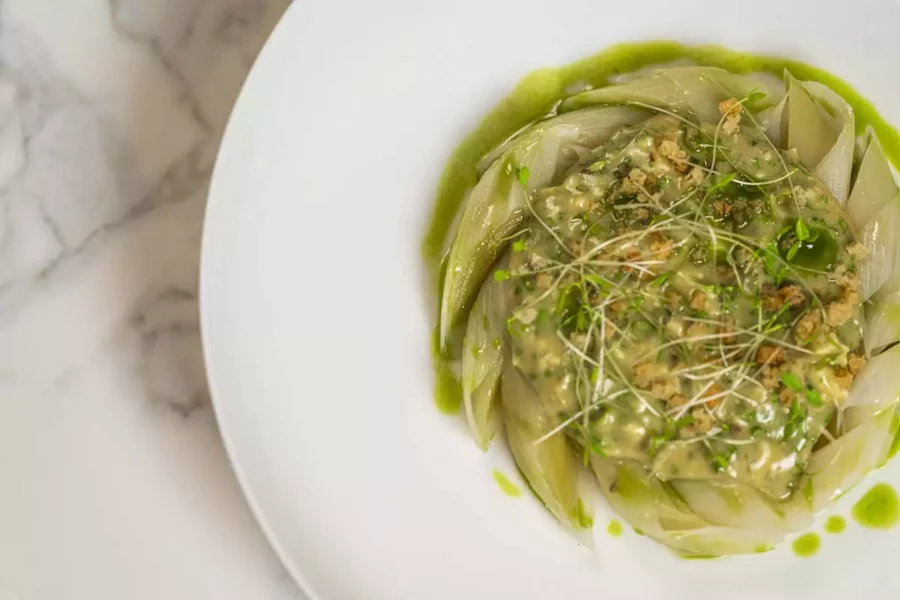 The standout dishes from the pasta portion of the menu have to be the truffle tagliolini (€47) and the mouthwatering tarragon-infused lobster macaroni gratin for €69.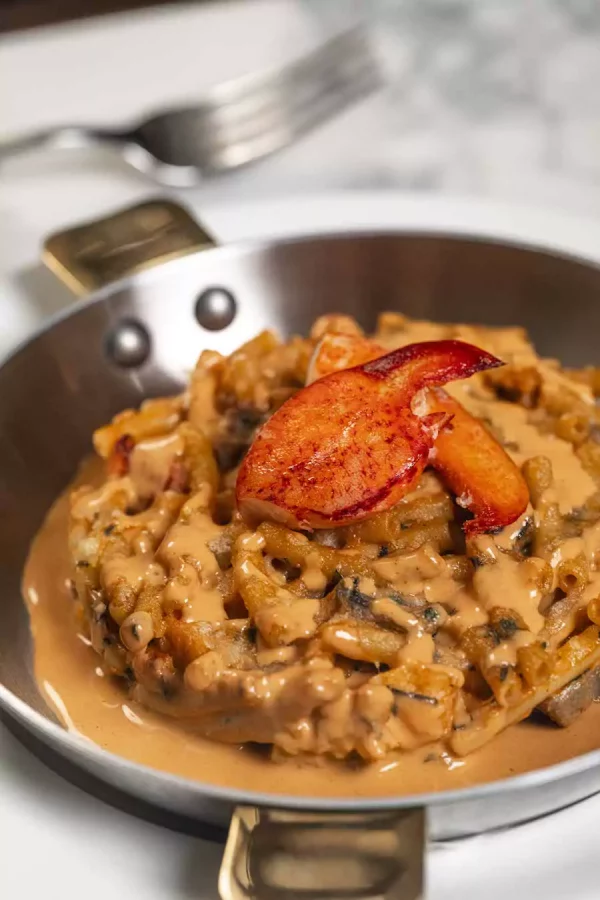 Moving on to meat and fish and the menu reads like an advertisement for the finest produce of the region. Curried lamb from the Alpilles (€37) sits alongside Mediterranean bar with fennel (€65) and rock octopus with candied garlic and a Chimichuri sauce for €42.  
See more: The story of Monaco's legendary Café de Paris in photos
The selection of desserts is just as fancy, from a crème brulée with Sicilian pistachios – another Café de Paris signed dish – to a stunning île flottante with custard and caramalised almonds, both for €13. There are also desserts to share if you don't want to take on the full responsibility, but you may still want to keep the lot for yourself.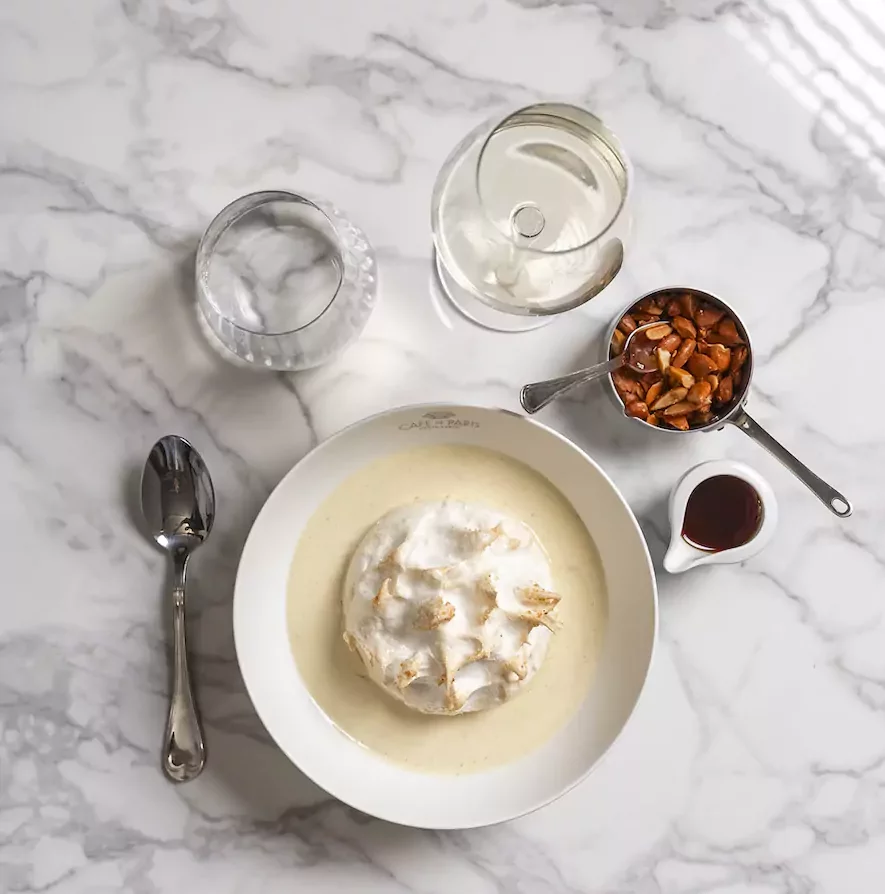 And we cannot forget the famous flambéed Crêpes Suzette (€22), an iconic dessert at the Café de Paris that was once a favourite of a Prince of Wales and is a dish that is a rite of passage in Monaco.
DAILY SPECIALS
The brasserie menu, already diverse and plentiful, is also complemented by a daily special, such as the veal with Gribiche sauce and vegetables for €39 on a Thursday or the seafood bourride with saffron braised fennel equally for €39 on a Friday.  
Chef Marion sums the new gourmet offerings of the Café de Paris up as "a canaille cuisine that appeals to everyone".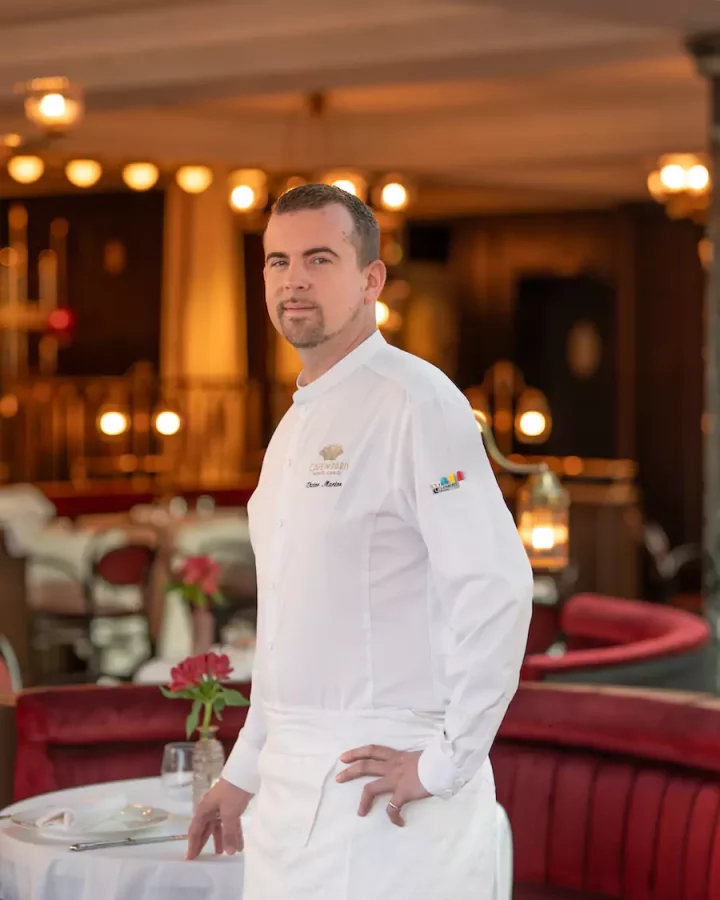 "The Café de Paris Monte-Carlo is a Parisian brasserie on Mediterranean soil," he says. "It is a restaurant which has been open since before 1900, built on the great brasserie codes. It is of course a question of maintaining continuity in this great culinary history. It seems to me that there is a marriage of reason to be created between Italian and Monegasque culture, and the codes of a Parisian brasserie… It's all about simplicity and living moments." 
To see the menu for yourself, click here.  
See more in Monaco Life's Instagram video below:
View this post on Instagram
Join the Monaco Life community – the largest English media in the Principality.  
Sign up for the Monaco Life newsletter, and follow us on Facebook, Instagram  and  LinkedIn.    
All photos courtesy of Monte-Carlo Société des Bains de Mer