Prince Albert II met with Chinese President Xi Jinping on Sunday in Beijing, where the president praised Prince Albert's Olympic achievements while encouraging more enterprises in Monaco to invest in China.
In a video captured by state media CGTN, Prince Albert II of Monaco is gifted a dough figurine of Bing Dwen Dwen, the Beijing Winter Olympics mascot, at the Great Hall of the People. The head of state then says politely, "Can I ask you a big favour, can I have a second one, because I have twins, so if I only bring back one…"
It is a moment that clearly delighted Chinese President Xi Jinping when the pair met a short time later.
"You chose a pair of lovely Bing Dwen Dwens as souvenirs for your children," said the president affectionately. "We hope your children will grow up to be as talented and passionate as you about winter sports in the future."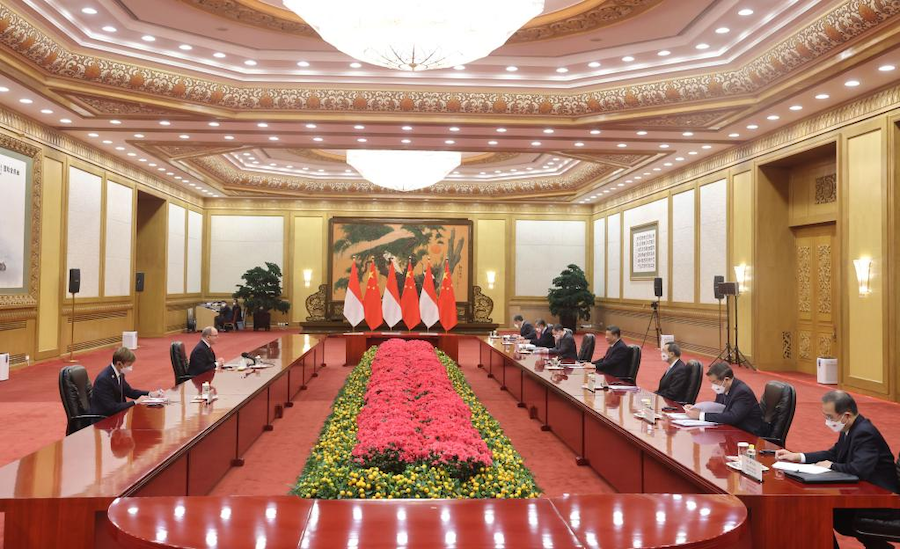 The relationship between the Chinese President and Prince Albert was strengthened during a state visit to the Principality in 2019. On Sunday, the president reportedly pointed out that since that visit, bilateral ties have moved forward with fruitful results including environmental protection, sports, arts and telecommunication, primarily the joint establishment of a 5G telecom network that covers the whole of Monaco, the first of its kind in the world.
The Chinese president also reportedly stressed that the two countries should consolidate the traditional friendship and political trust, strengthen communication and coordination in the United Nations and other multilateral institutions and international affairs, and jointly safeguard multilateralism.
Meanwhile, President Xi Jinping encouraged more enterprises from Monaco to attend the China International Import Expo in November, to increase investment in China, to actively participate in the Belt and Road Initiative, and explore cooperation in third-party markets.
He also welcomed Monaco's participation in the second phase of the 15th meeting of the Conference of the Parties to the Convention on Biological Diversity, which will take place in Kunming from 25th April to 8th May.
Prince Albert II said that China's successful Winter Olympics opening ceremony has sent a strong message of peace and solidarity, which is exactly what the world urgently needs.
Photo source: Xinhua News Agency