Every single lot at the recent Christie's online Marc Chagall auction was sold. It was a resounding success that saw the total sales comfortably top the €5 million mark against the conservative pre-auction estimate of just over €1.5 million.  
All-in-all, the 50 Chagall pieces that went under the gavel between 27th March and 11th April by auction house Christie's pulled in an astounding €5,370,750 in sales.  
Marc Chagall was a huge influencer back in the days before anyone even knew what that meant.  
An early modernist, he was associated with several major artistic styles and his works covered several artistic formats, including paintings, drawings, book illustrations, stained glass, stage sets, ceramics, tapestries and fine art prints. 
The Russian-French artist made Saint-Paul-de-Vence his home for the last two decades of his life, dying there at the ripe old age of 97 in 1985. Alongside other renowned artists of his time, such as Picasso and Matisse, he found the light of the south of France irresistible and created some wonderful masterpieces whilst living there.  
Exceeded expectations
Most of the works auctioned came from the latter part of the artist's life, after he returned to France having lived in exile in the United States during World War II. Even as he grew old, his themes remained light and whimsical, though never same-same, with colour and light determining the contours and contrasts of each work.  
Ahead of the event, sales estimates were set at between €1,523,700 and €2,288,700, but as the last of the bidding ended, it was clear those numbers were far from the reality. Every item sold and sold above the individual expected prices.
One example is the painting Violoncelliste rouge et bouc jaune dans le ciel sombre from 1981, which sold for an astounding €352,000, far above the expected €120,000 to €180,000.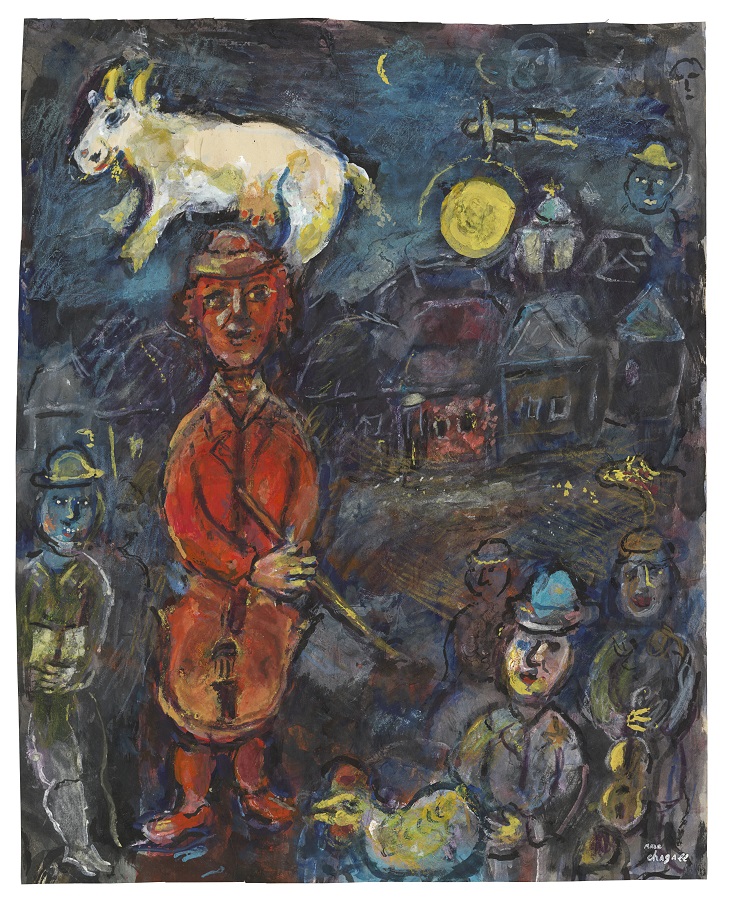 Another, the 1958 Étude pour "Commedia dell'arte" pictured in the main image and created for the foyer of the Frankfurt Theatre, was thought to be worth between €4,000 and €6,000. In fact, it went for 10 times that at €52,920. 
A second auction planned for later this year
Another auction will take place in October, when Christie's New York will present Chagall anew with Colour of Life: Prints and Artist's Books Formerly from the Artist's Estate. Celebrating Chagall's life-long love of printmaking, the sale will feature works from the 1920s to the 1970s, and will include several rare hand-coloured proofs. 
Do you have an event in Monaco or the French Riviera that you would like us to include in our What's On section and events calendar? Please email editor@monacolife.net.   
Photos courtesy of Christie's