Autumn sees the annual Les Voiles de Saint-Tropez bringing together some of the world's most beautiful modern and classic sailing boats to race in what is one of the most the prestigious regattas on the racing circuit. Miriam Cain looks at a handful of the finest classic sailing yachts, and replicas, available for the yacht aficionado to be part of the action.
The perfect backdrop for a classic sailing yacht regatta, Saint-Tropez has been hosting Les Voiles de Saint-Tropez for over 40 years. Originally known as La Nioulargue, the annual rendezvous of beautiful, traditional and modern sailing yachts is held in the bay of Saint-Tropez each autumn. This year, it will take place from Friday 29th September to Sunday 8th October.
The history of Les Voiles de Saint-Tropez
The event was launched in 1981 when an owner and skipper of two classic yachts raced each other from the foot of the village of Saint-Tropez around the Nioulargo to arrive opposite Club 55 on Pampelonne beach. Today it has become an exciting regatta for owners to enjoy the power and performance of over 300 sailing yachts in every size and shape racing across several performance classes.
The Voiles de Saint-Tropez, and other classic regattas hosted in some of the world's favourite cruising grounds, capture the attention of not just yachtsmen and dedicated racing fans, but of owners, their captains and crew worldwide. The yachts themselves are awe inspiring but add to this the passion and skill of their crew together with the festival like atmosphere that surrounds a racing event both on the water and on the quayside, and you have the making of an exciting few days that is accessible to owners worldwide.
A world of tradition
For those wanting a genuine sailing experience or to take part in some of the finest racing action, the enduring appeal of a classic yacht is second to none. Admired for their beauty and desired wherever they go, owning a classic sailing yacht is not just about acquiring a vessel, it's about becoming a part of a rich legacy.
The French two-masted Schooner Weather Bird, for example, was built in 1931 for Sara and Gerald Murphy, a high-society American couple whose well-known families flourished in fortune. After settling on the French Riviera, the couple launched Weather Bird, which served as inspiration for numerous artists that they hosted on board. Some of her most notable guests included Cole Porter, Coco Chanel, Ernest Hemingway and Pablo Picasso, not to mention Murphy's good friends Zelda and F. Scott Fitzgerald. It is rumoured that Fitzgerald characterised the main characters in his novel Tender is the Night after the Murphys.
Weather Bird has received many updates and upgrades over the years, including a complete refit in 2021. Her interior spaces showcase the classic 1930s styling, with a timeless, romantic feel, while her exterior deck spaces are spacious and offer seating areas for guests to socialise and relax while cruising, or racing in regattas, such as Les Voiles de Saint-Tropez.
Another classic is the legendary sailing yacht Tamory. The 26.58m (87') wishbone ketch was built in 1952 and will be familiar with classic yachting enthusiasts in the Riviera, having been moored in the Monaco Palace's berth in Fontvieille for the last few decades. She is a yacht of special character and strong heritage; any new owner would be owning a piece of yachting history. Despite having undergone a number of refits over the years, including her most recent in 2000, Tamory has managed to retain her classic, elegant styling with her teak deck in excellent condition and below deck, her charming interior comprising a wood and cream finish with polished brass accents.
The timeless Bermudian schooner Armide is another fine example of a beautifully restored classic. Built in 1938 and meticulously restored between 2016 and 2018, her exterior radiates timeless elegance with her classic design and flush decks. Adorned with beautiful bronze deck fittings, reconditioned spruce masts and booms, and a new bow sprit to enhance performance, she is now part of the South of France's maritime patrimony. Although she was not initially built as a race boat, thanks to her new sails and rigging, Armide would be a formidable contender on the regatta circuit.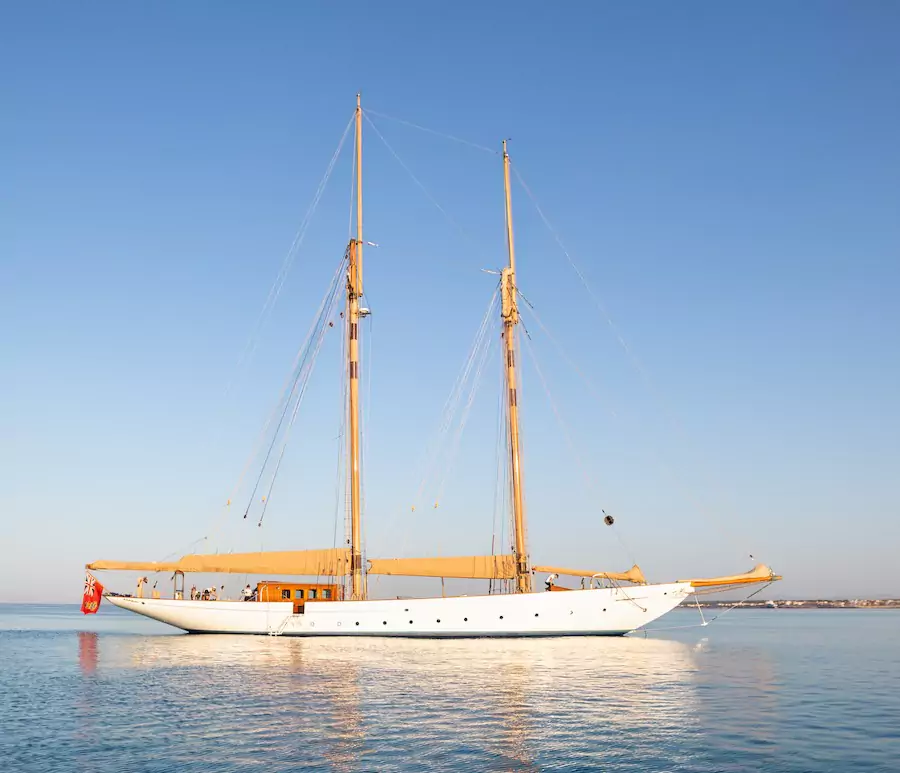 For those looking for a classic design but with all modern amenities, there are a number of replica vessels and classically styled but modern builds. The topsail zchooner Naema, for example, is classic to all appearances, but she is in fact a replica of the famous Alfred Milne design Panda, which was launched in 1938. Built in 2006 and refit in 2015, Naema has been created with authentic schooner rigging, but with modern sail handling systems and electric winches.
For those looking to race, she has a proven record having won the 2019 Classic Schooner Association Regatta. She has also been engineered to deliver all amenities for luxury living aboard, including superb guest entertaining areas.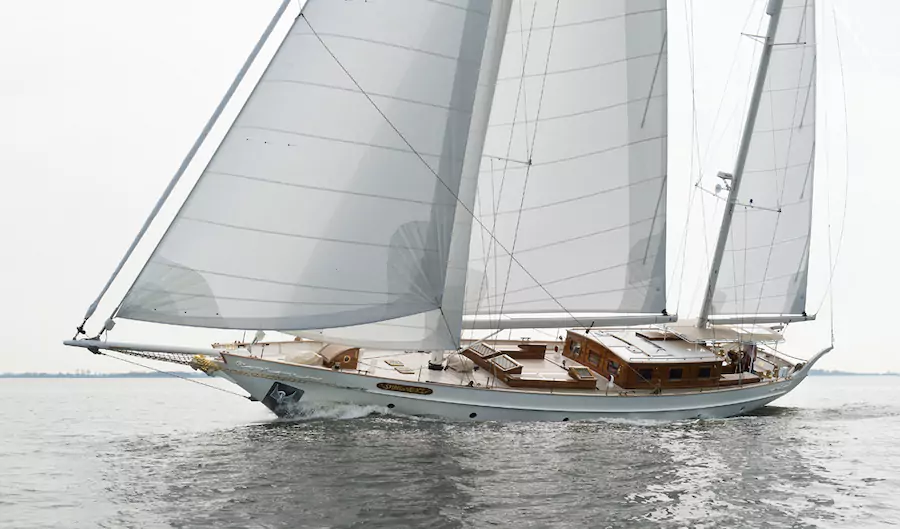 Alternatively, the 2018-built Spirit of Venice is a classic masterpiece combining modern elements and the latest technology with an authentic classic style. She was built with all the features to be sailed single-handedly around the world with the utmost comfort and updated technology.
Whatever your preference, be it a restored classic with a special pedigree or a modern day replica, the immediacy of ownership is a distinct advantage as you can sail away on your classic yacht without having to wait for a new build –  see you on the finish line.
Make sure you're never left out of the conversation. Sign up for the Monaco Life newsletter, and follow us on Facebook, Twitter, Instagram and LinkedIn.   
Feature photo: The 31m (101'8") WEATHER BIRD is available to purchase through Northrop & Johnson with an asking price of €3,370,000. All photos supplied.