Marianne Mathieu has dedicated her career to Claude Monet, and now she's returned to her home country to put together 'Monet in Full Light'. Monaco Life spoke to the art historian and curator about what the public can expect from the Grimaldi Forum's most anticipated event of the year.
Marianne Mathieu has lived and breathed Claude Monet for much of her life. She is an art historian and Scientific Director of the Musée Marmottan Monet in Paris, and has curated heritage exhibitions in France and abroad for more than 20 years. She has also authored several essays and books devoted to Claude Monet and Impressionism.
But it is this exhibition at the Grimaldi Forum that Marianne Mathieu is perhaps most proud of. For the first time, the Monegasque has had the opportunity to return to the country where she was born, and present to the world the artist to whom she has devoted her life.
Marianne Mathieu gave Monaco Life a sneak preview of the 'Monet in Full Light' (Monet en Pleine Lumière) exhibition that has technically been a long time in the making, and is set to grace the Grimaldi Forum this July and August.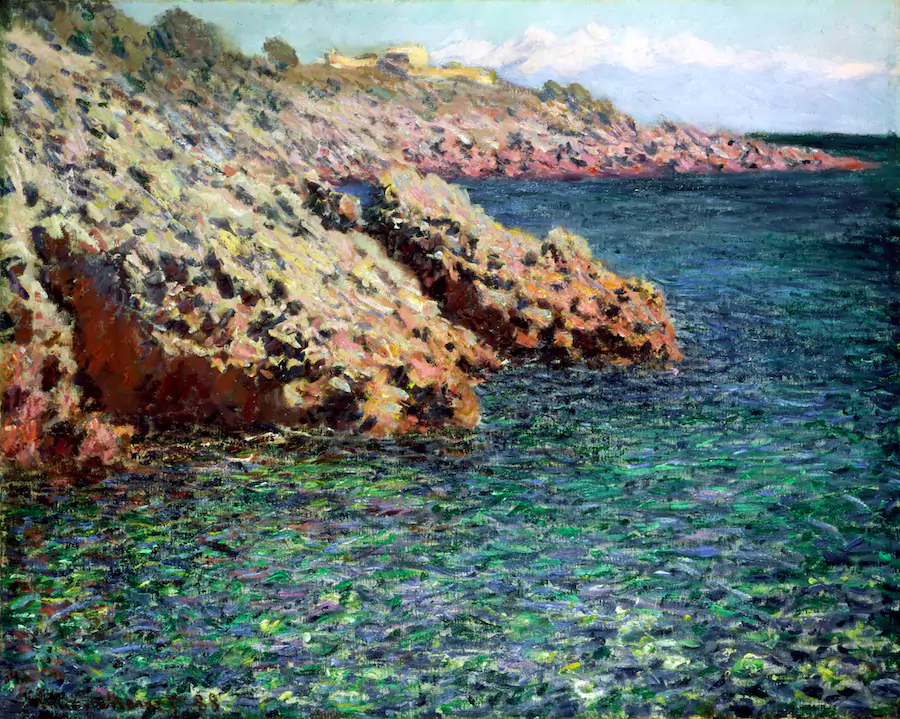 Monaco Life: The Monet exhibition is obviously a big coup for Monaco and the Grimaldi Forum, but what was it like for you as a curator to put together such a large exhibition of one of the most famous artists in the world?
Marianne Mathieu: I have had the opportunity to create many Monet exhibitions, but I would say that this one is unique. It has been conceived for and around Monaco and the Riviera. To give sense to an exhibition, you must first have a great place to exhibit, and in the last 20 years, the Grimaldi Forum has become the most important cultural exhibition hall in the Riviera and beyond.
Secondly, we are here in Monaco and we're in 2023. 140 ago, Monet came to Monaco for the first time and painted two major pieces. He never exhibited these paintings in France because he wasn't famous. So, for the first time ever, these paintings are being shown here, close to the places that were being painted.
It is a unique opportunity to study and to point out new information about Monet's process. That is the reason why we had the support of the most important lenders in the world. We have almost 100 paintings from 30 lenders (editors note: including three from Prince Albert II) because this exhibition is major for us, major for them, and major for Monet.
Can you tell us about the concept behind the theme, 'Monet in Full Light' (Monet en Pleine Lumière)?
For three years, we've been working with local historians to understand what happened when Monet was here in Monaco and the Riviera, how he proceeded, and where he put his easel. My idea is to give a precise overview of Monet's artistic process, and my aim as a curator is to make it simple and obvious to all.
I divide Monet's career of 86 years into three different moments. For each moment – and we can do this here because the Grimaldi Forum is so big that we can build exactly what is needed for the exhibition – we decided to have three different rooms in order to communicate with people how to look at the paintings as Monet did.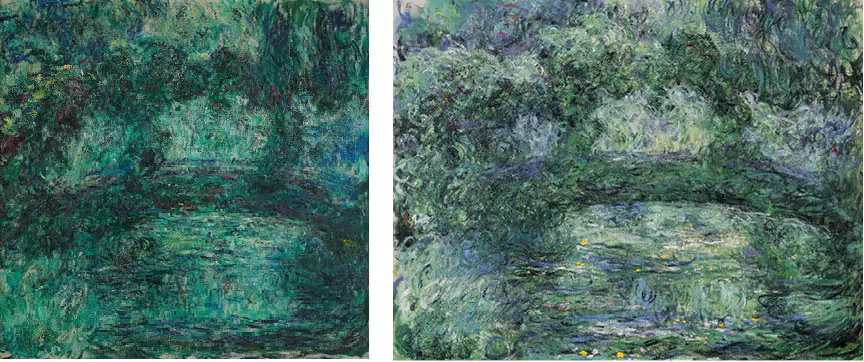 For the first period of Monet, when we're talking about light, Monet doesn't want to depict a place, he wants to depict a moment. So, when people arrive in room '0', they will see an image of a sun and they will hear the wind, they will hear the sea, and they will hear the atmosphere. Then when they enter the first room, they'll see four masterpieces and they will still hear the wind, the sea and the atmosphere.
The four paintings will be shown as pairs, two with a small house and two with small bridges. The difference between the two of them is 30 years.
Now, in addition to the sound of the wind and the sea, you'll hear a voice saying "If Monet paints the same subject 30 years apart, it means that his interest is not in the topic, but elsewhere."
This is extremely important because the connection between the sound, the audio and the masterpieces will give viewers an idea of what they will experience when they make their way through the rest of the exhibition.
They will be encouraged not to ask 'what', but 'when'.
What is your interpretation of what happened within those 30 years to Monet's artistic process?
It's not what happened between those 30 years, it's what happened between two moments. Monet wants to depict what he sees between himself, the easel and the subject: the atmosphere. He wants to depict the informal, and that's extremely difficult.
In 1883, Monet arrives in Giverny, but he has nothing to paint there because the house has no garden yet, so he decides to travel. The first place he travels to is here in Monaco. So, we have an entire room devoted to his journey in the Riviera. We have a multimedia table where people can push a button on a map and see what Monaco looked like in the 1880s and where Monet put his easel. That's the same for all the places he went to.
Monet wants to depict the moment, so you have two versioons of the Tête du Chien and Monaco from La Vigie. For the first time, thanks to our local historian André Labarrère, we were able to say that he put his easel at La Vigie (editors note: the site of Karl Lagerfeld's Belle Epoque villa that was constructed in 1902), and as a result we are able to date that painting at 1883, when he visited Monaco in December of that year.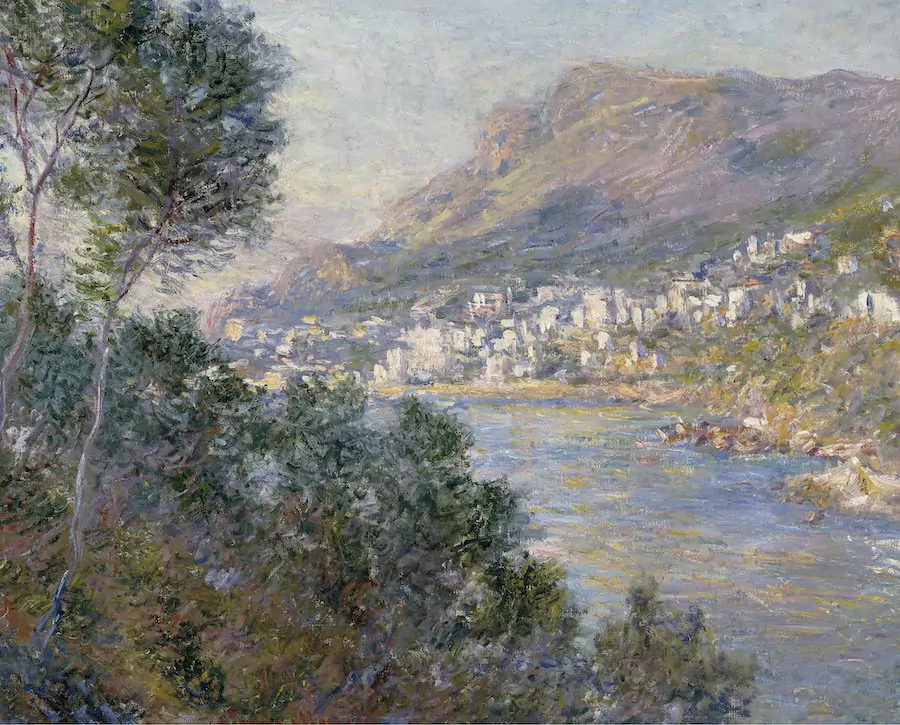 In 1888, Monet decided that if he was to understand the moment, he had to depict the moment and not the subject. So, he started a new series, and we have three paintings that he did from the Cap d'Antibes. We are at the end of this moment of his life, the Impressionism.
What's beyond Impressionism with Monet? That's very difficult to explain because Monet didn't want to depict a landscape anymore, but rather the atmosphere, the elements, the space and the light; to give a sense of infinity.
To explain this switch in Monet's life, in the next room, people will sit down before three masterpieces, painted at Giverny on the Seine, in which he depicts the water as a mirror. On the opposite side of the room, we will show the Garden of Giverny, and when the time comes, we will light up what Monet depicts. It's only a fragment of nature, only a detail, and thanks to this fragment, it suggests the Infinity. This way, people will understand, I hope, that there is another way to look at the painting; that this is yet another creative moment in Monet's life, and that's why he is a genius.
In the end, there remains one question: why did Monet switch from easel painting to oversized painting?
So, in the final room, people will be invited to sit down, like Monet did in his garden, and they will see his paintings of water lilies. They will hear music by Debussy and a voice explaining how Monet started working on oversized paintings because painting was not only a visual, but also a physical experience. Monet wants to create a space with his paintings where people could take a rest and find a place for meditation. He took his inspiration for this floating world in the garden of Giverny.
This was also Monet's answer to the disaster of the war. He started painting the oversized water lilies at the beginning of WWI. The last painting is a symbol of peace, a way of saying that art is not different to life, it is a part of life.
So, in these three major moments, we want to give people an opportunity to see the paintings as Monet did.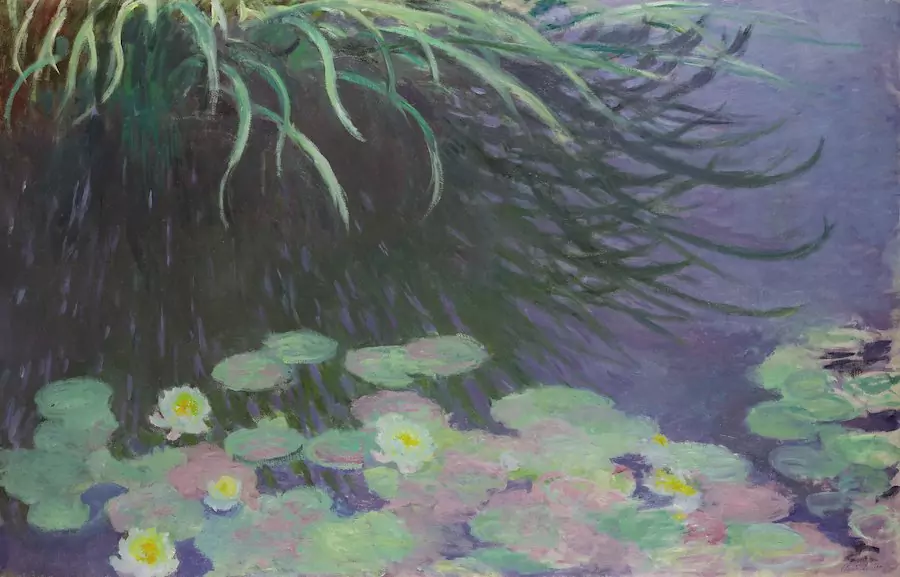 You mentioned that this exhibition was three years in the making?
Yes, but we [have] wanted to do it for 15 years now. Borrowing paintings is extremely difficult; if you ask people for their painting, you must be sure that will they will say yes. But we were able to say that we are doing an exhibition at the most important cultural exhibition gallery in the south of France, an exhibition in Monte-Carlo for the anniversary of Monet's journey on the Riviera, we have the opportunity to work with local historians to find information on your artwork… Then people are happy to be a part of it, and it is thanks to their support that we can do it.
Tell us what you love about Monet?
Well, now that we're an "old couple", I would say that he still surprises me. I call him a forever-young artist. That's what I love in Monet, that there is always something to discover and this ability to reinvent his work and his way of painting all of his life is very rare. There are very few artists like him.
And finally, you were born in Monaco and lived here for most of your life. Does it make you proud to present this Monet exhibition at the Grimaldi Forum?
Yes, obviously, and each time I called a colleague or a collector I would say, "and don't forget I was born there!".
When I was born, the cultural activity in the Riviera in general was not so intense and today it is a major part of cultural life. I'm very happy and very proud of the opportunity to come, to work, and to discover my country in a new way. And I'm excited to see the exhibition become a reality now!
Monet en Pleine Lumière runs from 8th July to 3rd September. Discounted tickets of 7€ are available now until 30th June.
Sign up for the Monaco Life newsletter. For the latest news, follow us on Facebook, Twitter, and Instagram.
Photo of Marianne Mathieu by Monaco Life