Detailed plans for Monaco's ambitious Pavilion at the next World Expo in Dubai 2020 have been revealed. The giant structure will showcase the opportunities available in the Principality and feature an exhibition area, a souvenir shop and a restaurant.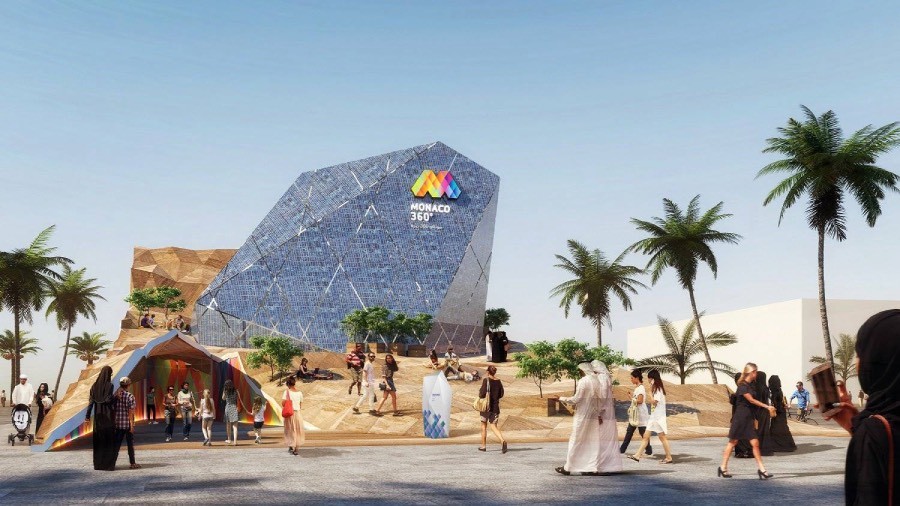 The pavilion, which will highlight the Principality of Monaco next year, was presented in the presence of HSH Prince Albert II and Sheikh Abdallah Ben Zayed Al Nahhyan, President of Monaco Inter Expo Mireille Pettiti, and Commissioner General of the Monaco Pavilion in Dubai Albert Croesi.
The general theme of the expo is 'Connecting minds, creating the future!', while the theme specific to the Principality will be 'Monaco 360 °, a world of opportunities'. The Monaco Pavilion will occupy more than 1,700 m2 of space and it has been designed to surprise and fascinate. Built by Olivier Deverini in collaboration with the OOS agency, and led by the company Facts & Fictions, it will have a polygonal shape symbolizing all facets of Monaco, including the Prince's commitment to the protection of the environment. In this respect, the exterior of the pavilion will have photovoltaic panels, ensuring its energy autonomy, and it will be equipped with a gray water recycling plant.
At the entrance visitors will be greeted by a large iconographic fresco on the history of Monaco. They will then enter the 'Garden of Opportunities' composed of 6 stations: art and culture, science and research, explorations of Monaco, protection of the oceans and biodiversity, extension at sea, and innovation and technologies. In the center of the garden, a kaleidoscope will immerse the public in the atmosphere of the Principality in 360 °.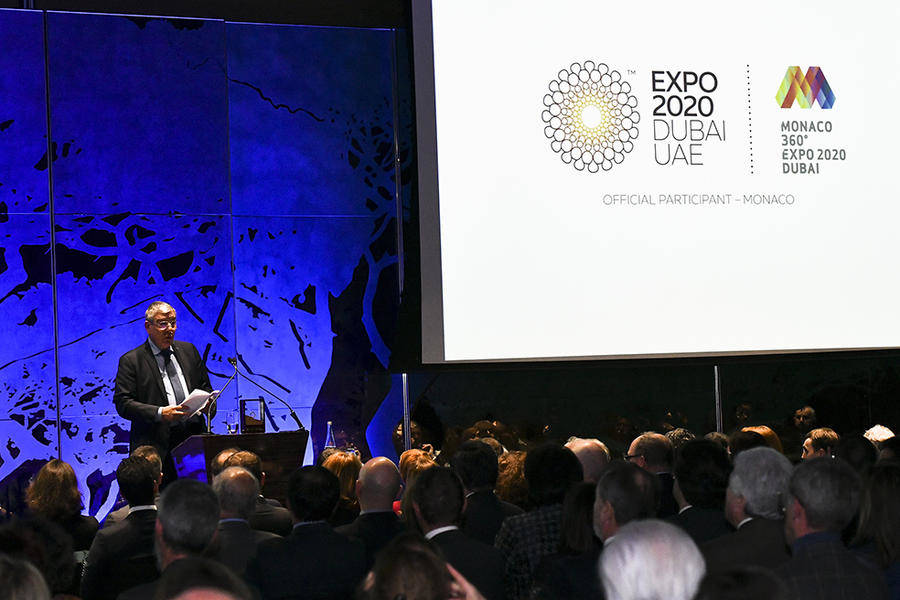 On the first floor, a private and flexible space inside the Rock enables the organisation of events, conferences and meetings to accentuate the participation of the Principality.
As visitors enter the Garden of Opportunities they will experience signature smells of the French Riviera such as pine, the sea and the sun, with the visit ending with an experience in the Kaleidoscope.
Next to the pavilion's exit, a souvenir shop will offer a varied range of items from the principality of Monaco before giving way to a restaurant and takeaway area that will offer Mediterranean and Monegasque cuisine.
Outside the pavilion, visitors will be able to rest on the gentle slope named Chemin de la Porte Neuve full of typical trees and flowers designed by the urban development of Monaco, which leads to the Rock and the first floor.
In revealing the plans, the Monaco Government also announced that the National Day of Monaco will be celebrated on Wednesday 13thNovember in 2020.