Monaco Ocean Week is an event where ocean experts are discussing everything from innovation and scientific research, to ocean health and blue economy development. One participant, the MERI Foundation, highlighted the role that whales play in mitigating climate change and why their conservation should be a top priority.
"People may not know that the oceans are one of the main sources of nature-based solutions to mitigating climate change," Patricia Morales, CEO of Cortés Solari Philanthropy tells Monaco Life. "In Chile, we are working around what we call 'marine ecosystem services', in particular from whales. Do you know that each whale captures around 33 tons of carbon, which is equivalent to 1,500 trees? It is much more efficient to protect whales instead of killing and selling them for food."
Cortés Solari Philanthropy is part of the Melimoyu Ecosystem Research Institute (MERI) Foundation, a private, non-profit institution that seeks to highlight the importance of ocean conservation due to its valuable "ecosystem services" and its role in mitigating climate change.
During Monaco Ocean Week (MOW), the foundation teamed up with the Scientific Centre of Monaco for a series of panels which brought together scientists, business people, politicians and economists to look at the value of marine ecosystem services and innovation technologies for community environmental awareness raising.
One main area of MERI's research has been the Melimoyu Elemental Reserve and the conservation of the blue whale, a species which has returned to the Corcovado Gulf after years of absence.
Within eight years, researchers were able to identify that this whale species is capable of capturing enormous amounts of carbon, 1,500 times more than a tree, making it a valuable nature-based solution for climate change mitigation and worthy of increased conservation efforts.
Together with the Chilean Ministry of Environment, the MERI Foundation is now leading the Blue Boat Initiative, which seeks to alert vessels of the presence of whales through early warning systems.
"We are trying to promote the conservation of whales through this initiative," says Patricia Morales. "It is a national project where we install intelligent buoys on Chilean coasts in order to prevent a collision between ships and whales."
Through an acoustic system, the buoys send out a signal to the ships alerting them to the presence of whales, thus reducing the risk of collisions with boats, one of the main causes of the dramatic decline of this species.
According to MERI, between 2007 and 2019, it is estimated that more than 1,200 whales died due to collisions with cargo ships or smaller vessels.
"This is why the Blue Boat Initiative seeks to address the problem, taking care of the species and guaranteeing the generation of blue carbon," says Morales.
Blue carbon refers to C02 that is naturally stored in aquatic ecosystems. The habitat with the largest deposits is the ocean, which absorbs 25% of the atmosphere's C02 annually. It plays a fundamental role, and therefore, whales play a key role.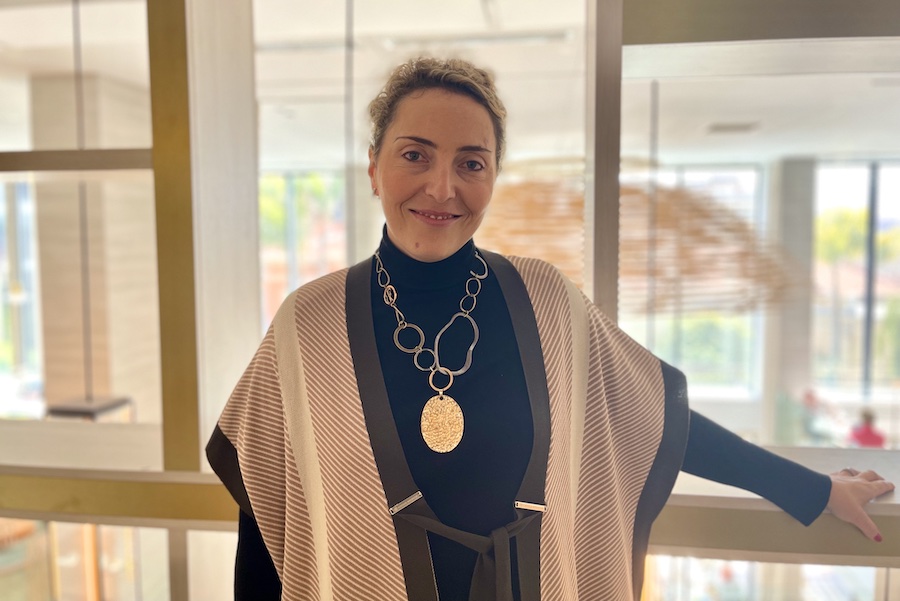 Morales says the foundation is also economically evaluating the marine ecosystem services of these whales in order to attract investment to the project as well as similar conservation initiatives.
"We have been backed by philanthropy for many years now, but science is not rentable, and we are a bit invisible from the banking side," says Morales, who is also an economist. "We aim to connect with those that really want to invest in a green solution. We aim to find as many natural solutions as possible, and try to monetise them, but first, we have to evaluate them. So, we identify a technology, a natural solution, then we try to understand it and see how much carbon are we capturing, and then we evaluate this carbon and certify it."
The Foundation is now starting to work closely with the private banking industry and companies that would like to invest in the initiatives backed by MERI, of which there are about 50.
In October 2021, MERI participated in the Blue Economy Workshop, organised by the CSM and FPA2, which aimed to draft Monaco's national proposal on nature-based solutions and marine ecosystem services, that was presented at the COP26 in Glasgow.
The next step?
"Each country has its own economic exclusion zone, but then the ocean is no man's land. Even if you cannot kill whales, there is no marine traffic regulation. What we need is to work together with the International Whale Commission in order to promote traffic regulation, not only for whales but all the marine ecosystems, the main source of nature-based solutions in the mitigation of climate change."