The Historic Grand Prix of Monaco was an enormous success on the weekend, despite fears that the health crisis would dampen spirits.
The 2021 Historic Grand Prix was dazzling from start to finish with beautiful cars, exciting races, and even a dramatic crash. The event saw a hundred cars compete in seven races, broken down by age of the vehicles.
Race A, featuring pre-war cars, was Patrick Blakeney-Edwards' for the taking, until his 1935 Frazer Nash ran into technical problems, leaving the door open for Christian Traber in his sky-blue Talbot-Lago. Ewan Sergison took the bronze.
For Race B, with cars dating from post-war to 1961, the winner was Spaniard Guillermo Fierro-Eleta in his Maserati 250 F, which incidentally raced in the Monaco Grand Prix in the 1950's, followed by Max Smith-Hilliard in his Lotus 16. Third place went to Alex Birkenstock in his Ferrari 246.
Next up were those in Race C, featuring front engine race cars from 1952 to 1957, it was again Fierro-Eleta in a Maserati 330S who won top spot on the podium, followed by the Jaguar D type driven by Niklas Halusa and Nicholas Bert in a Jaguar C type.
Race D saw Grand Prix F1 cars from 1961 to 1965. Lotus reigned as Mark Shaw took the gold in his Lotus 21. Nick Taylor came in second in a Lotus 18, followed by Lotus again, this time a Lotus 24, driven by Stephan Jobstl.
In Race E, three litre Grand Prix F1 cars from 1966 to 1972 took to the course. Michael Lyons came first in his Surtees TS9, followed by the McLaren M19A driven by Stuart Hall and Jamie Constable in a Brabham BT37.
Race F, a race with Grand Prix F1 cars from 1973 to 1976, saw a bit of drama as a crash shuffled the winners around. Despite being in the lead most of the race, Jean Alesi and his Ferrari 312B3 were taken out with only three laps to go as three-time Le Mans winner Marco Werner in a Lotus 77 clipped him, sending him into the barriers. This accident cost Alesi the race, but also penalised Werner, who instead of the top spot, landed in third place. This gave Michael Lyons his second victory in his McLaren M26 with Julien Andlauer and his March 761 in second.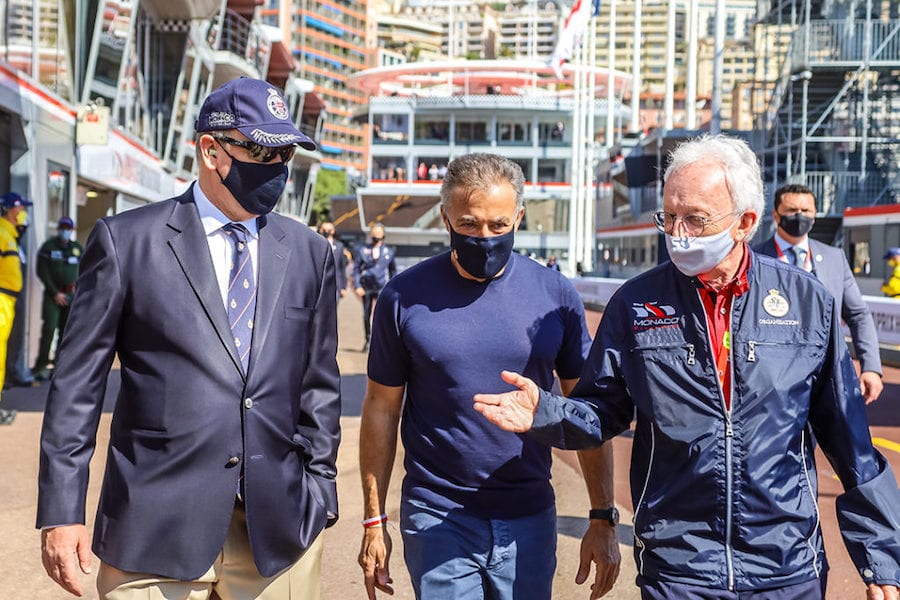 Finally, Race G featuring Grand Prix F1 cars from 1977 to 1980 saw Michael Lyons pull a hat trick, winning three for three on the day. In this race he drove his Hesketh 308E to victory, with Mike Cantillon in second driving a Tyrell O1O. Matteo Ferrer-Aza rounded out the podium in his Ligier JS11/15.
Prince Albert II got in on the fun on Saturday when he was spotted in the paddock just prior to the Race E qualifiers. There he spoke to several drivers, including René Arnoux, Jean Alesi and Monegasque driver Frédéric Lajoux.

Photo by Olivier Caenen / Stephane Demard / ACM