A valiant Roca Team comeback wasn't enough to prevent them trailing in their Euroleague playoff tie against Olympiacos (83-87) on Wednesday, leaving Sasa Obradovic's men with an uphill struggle to reverse the deficit.
AS Monaco Basketball must now win both legs, starting with Friday's match at the Salle Gaston Medecin, if they are to avoid a premature end to a series that Olympiacos manager Georgios Bartzokas described as "a difficult series, maybe the most difficult in Euroleague right now."
Having blown Olympiacos away in the last leg at the Peace and Friendship Stadium, Monaco could have expected a reaction from historically one of the most prolific European sides. Defences reigned supreme in the opening quarter, with Monaco only managing one, unsuccessful attempt from outside the key.
Indiscipline from Olympiacos allowed Monaco to stay within touch, as Mike James' 100% accuracy from eight free-throws gave the home side a slender lead. Experience began to count in the second-quarter. The much-decorated Kostas Sloukas took the reins and began to orchestrate the match as Olympiacos went into the break with a slender lead (41-45).
The game looked to have definitively got away from the Roca Team in the third-quarter. Having managed to reign in their opponents throughout the night, Olympiacos' 15-point advantage looked impossible to overcome. Experience, but also defensive solidity looked amiss, and Obradovic told Monaco Life, "For a lot of guys, this is the first time experiencing this, the first time they are playing such an important game in such pressure…Second thing, what who missed a lot today from my side is Alpha Diallo, a defensive stopper, who we needed in some moments."
But the Roca Team can never be written off. An 11-2 streak at the beginning of the fourth-quarter ignited the Salle Gaston Medecin, who once again believed in the exploit. Back from the brink, Paris Lee restored parity with a magnificent three-pointer, before another just moments later handed his side a slender lead (80-79).
However, in moments of hardship, Olympiacos managed to find that extra gear, and they did so again in the dying stages here. Far from a flashy performance, a clinical Olympiacos prevailed on the night (83-87), leaving Obradoivc's men with plenty of work to do.
Post-match, Olympiacos manager Bartzokas complimented Monaco's fighting spirit. "I respect Monaco who deserve to be here, who never give up," he said. Those words will be of little consolation to Obradovic, who told Monaco Life that he is already moving past this defeat. "Everything is secondary now. Let's think about how to regenerate now and take the next match."
It may be an uphill battle, but Monaco's astonishing run to the play-offs is indicative of a team capable of climbing the highest peaks, and they will have to do so again if they are to prolong their European adventure.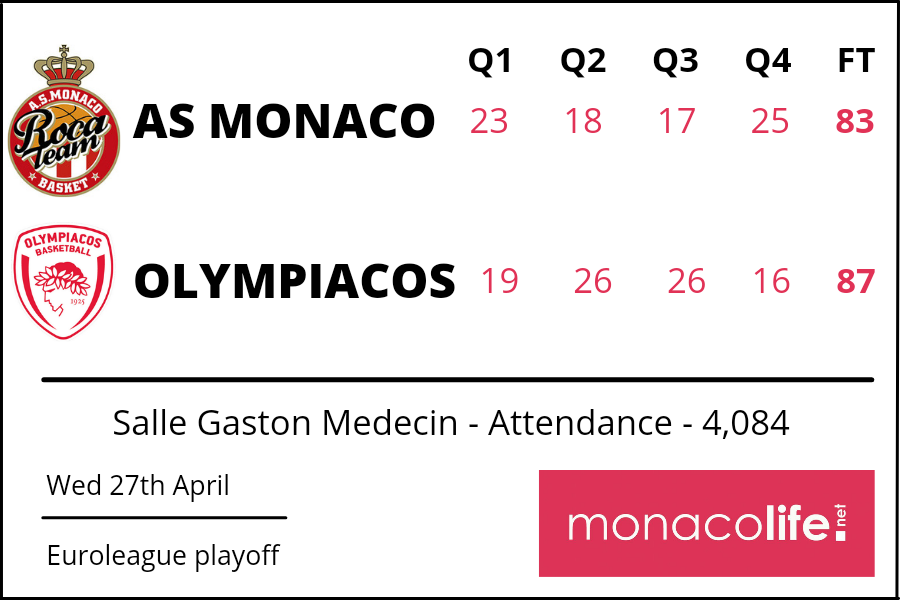 Photo by Luke Entwistle, Monaco Life