AS Monaco Basketball responded to their first-leg defeat at the hands of Olympiacos with an emphatic victory in Greece (72-96) on Friday, whilst qualification for the domestic play-offs was also confirmed.
The Roca Team drew level with Olympiacos in their best-of-five play-off tie with an emphatic victory on Friday. Having been constrained to their lowest scoring tally in years in the first leg in the Peace and Friendship stadium in Greece, Sasa Obradovic called for a response from his players.
And what a response he got. The Serbian coach called on his players to "manage our emotions better," and to "avoid falling in the atmosphere around us." Falling behind in the first-quarter (16-10) it would have been easy to fold under the pressure.
The opposite transpired. An incredible second-quarter (12-30) built a healthy 12-point lead going into the break. Needing to control the match in the second-half, the more senior members of the squad needed to make their experience count.
The man for the big moment, Mike James, heeded the call and stepped up to the plate in the second-half. Having scored only two points in the opening two-quarters, he registered 21 in the next two as Monaco not only maintained, but grew their lead.
A stellar response from a mentally resilient Roca Team means they head back to the Principality for Wednesday's game all-tied, Obradovic's side now able to put their home advantage to good use.
Obradovic reflected post-match on the mentality shift that allowed Monaco to level the tie. "We adjusted to the atmosphere and played with more purpose… I hope we're mentally prepared for the third game, which will be crucial."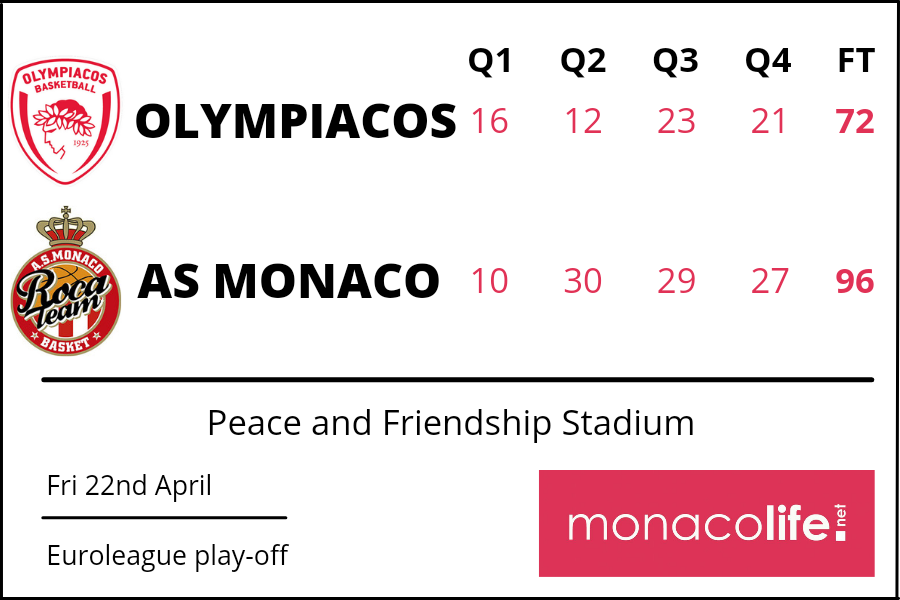 Domestic play-off qualification secured
Before welcoming the Greeks back to the Salle Gaston Medecin, Monaco had a Betclic fixture against Fos-sur-Mer to navigate on Sunday afternoon. With qualification for the domestic play-offs already sealed pre-match, Monaco nonetheless did a professional job in ensuring a morale-boosting win before Wednesday night's fixture (93-66).
James and Will Thomas were amongst the big names rested for the fixture, but in their absence, their replacements made short work of a Fos-sur-Mer side that sit second-from-bottom of the Betclic table.
Dwayne Bacon (21) and Donta Hall (17) featured prominently on Friday and did the same on Sunday. Their efficiency and attacking flair proved too much for their opponents, who struggled to keep pace in the opening two-quarters.
Monaco did, however, only head back to the dressing room with a five-point lead. A more resilient defensive effort in the second-half helped the Principality side to grow a healthy gap that they were never going to concede. The Roca Team eventually ran out 93-66 winners.
With the lack of training in Monaco's packed schedule, the match was a good opportunity to give court time to some of their supporting acts, whilst ensuring a positive dynamic ahead of another important week.
"It is good preparation ahead of a crucial week against Olympiacos. Currently, training sessions are very limited, so I'm very happy with what we showed today against Fos."
All attention can now turn back to the Euroleague play-off, as Monaco look to take the lead against their formidable Greek opponents in Wednesday's match at the Salle Gaston Medecin. Victory would take them one step closer to booking their ticket to Belgrade next month.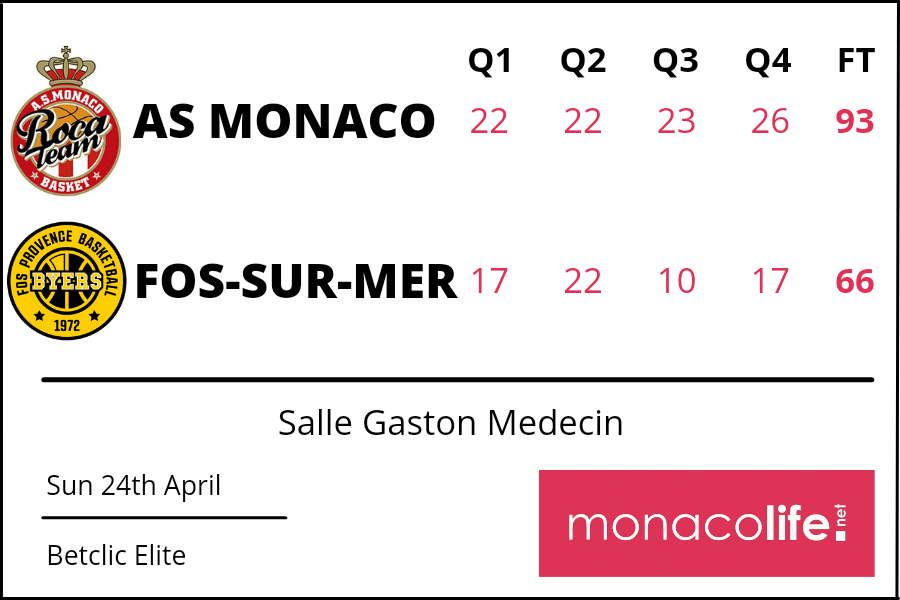 Photo source: AS Monaco