In a major coup for Monaco, Hauser & Wirth is showing 'The World We Make' by one of the world's most exciting contemporary portraitists, Amy Sherald, whose mission to reinsert African Americans into the art historical canon is winning praise the world over.  
On the back of a wildly successful major exhibition at Hauser & Wirth London, Amy Sherald is enjoying her first solo show in Europe, kicking off with a selection of new and monumental works at Hauser & Wirth Monaco entitled 'The World We Make'.
From now until 15th April, the gallery, located in One Monte-Carlo, is featuring a selection of Sherald's works created specifically for this European showing.
"Amy talks about when she first went to a museum, she didn't see any subjects that looked like her. So, her goal is for kids like her to walk into a museum, to see her portraits and see themselves represented in a really important public space like a museum," explains the gallery's Alice Haguenauer. "We had a great response in London, and hopefully now in Monaco."
Amy Sherald is famous for presenting her portraits of Black Americans in a way that confronts the tradition of social portraiture, a tradition that for too long has excluded the black men, women, families and artists whose lives have been inextricably linked to the social and political narratives.
She rose to fame during the Black Lives Matter movement, but not for the obvious reason. Rather than politicising her work, Sherald portrays her subjects in peaceful moments, as a snapshot of their daily lives; they maintain a sense of privacy and mystery, drawing the viewers' attention to their lives, hopes and dreams.
"Black artists feel that they have to insert something political into their work and make a statement about being black, whereas with Amy Sherald, these subjects just command their own space," says Haguenauer.
Sherald's work is truly intriguing. She humanises the black experience by depicting her subjects in both historically recognisable and everyday settings, like the painting 'For love, and for country' (2022). It is a recreation of the iconic photograph 'V-J Day in Times Square' (1945) by Alfred Elsenstaedt showing a US Navy sailor kissing a woman in Times Square, New York City, as Imperial Japan surrendered in World War II. But in Sherald's work, both the sailor and the woman are represented as black men, reminding us of the discrimination against non-heterosexual people within the US Military in recent history, and the way black soldiers were treated when they returned from the war.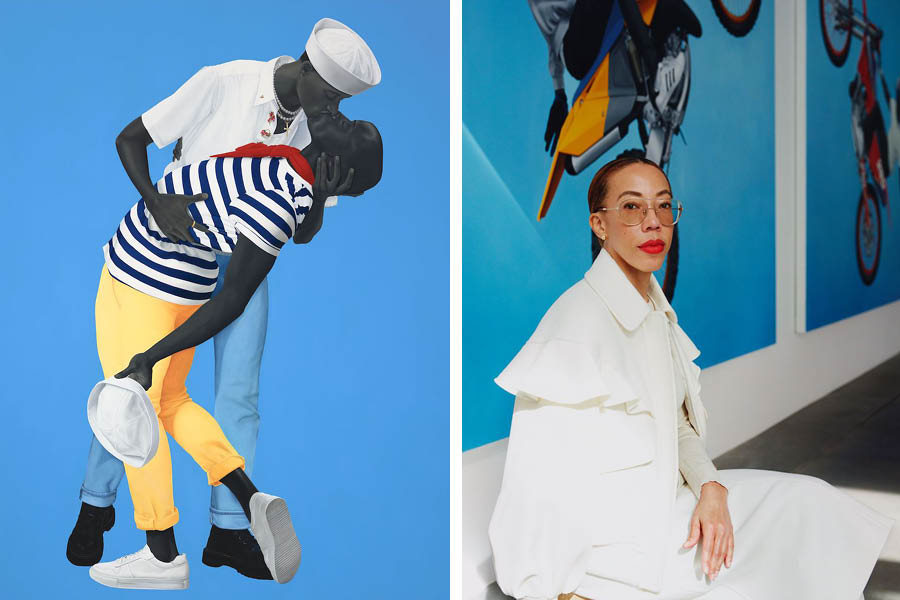 In other works, Amy Sherald, a 49-year-old African American artist born in Georgia, United States, plays with traditional American symbology through the portrayal of vehicles, such as motorbikes and tractors, with the peaceful juxtaposition of man to comment on the typical traits of masculinity. In a large-scale diptych entitled 'Deliverance' (2022), Amy Sherald, inspired by the bike culture in Baltimore where she lived, reflects on the freedom of riding. It shows two bikers in mid-air, suspended in time, a space free from oppression.
For this, her first European solo show, Amy Sherald specifically had in mind the history of European portraiture and art, so you can see these subtle references in her works. 'Deliverance' (pictured above) is reminiscent of an equestrian portrait, but the noble white man posing gallantly on the back of a horse is replaced by a black man straddling a motorbike. Every detail is shared with the viewer, right down to the reflection of Sherald's studio in one of the rider's helmets.
As Sherald says, "The works reflect a desire to record life as I see it and as I feel it. My eyes search for people who are and who have the kind of light that provides the present and the future with hope."
The painting 'Kingdom' (2022), showing a young child at the top of a slide, both asks us to look positively at future generations whilst reminding us of the transient nature of childhood and the vulnerabilities inherent to it.
Amy Sherald's subjects are normally strangers, but a milestone in her career came in 2018 when she was commissioned to paint a portrait of former First Lady Michelle Obama. That iconic piece of history now hangs in the Smithsonian National Portrait Gallery. Michelle Obama herself said, as someone who did not come from the sort of family that had members sit for portraits, that she sought out Sherald to translate what being the first black first lady meant to her.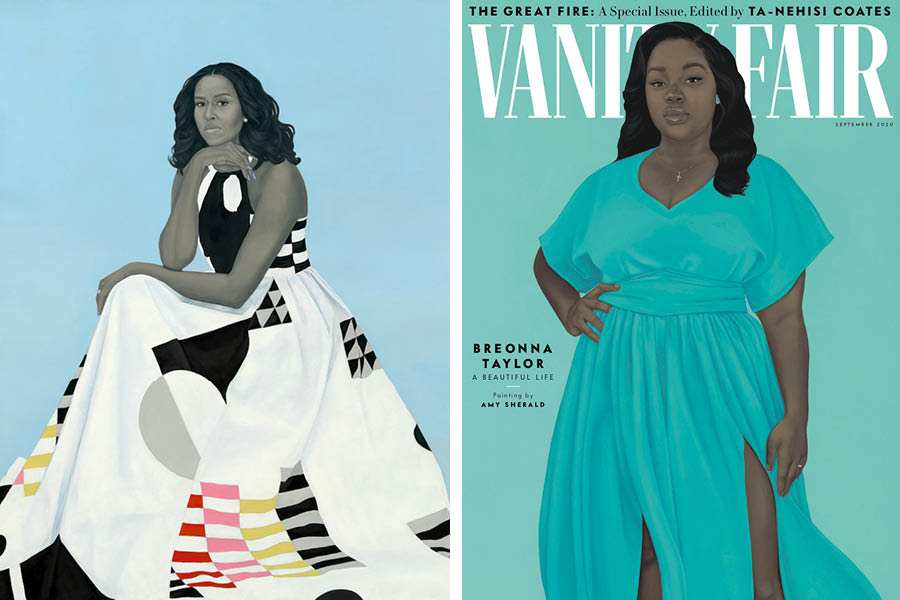 The artist was also commissioned to paint a portrait of Breonna Taylor, the African American woman who was brutally killed by police in the United States in 2020, which was used for the September 2020 cover of Vanity Fair. Sherald's work became a springboard for conversation around the killing of innocent black people by police, but not because Breonna Taylor was politicised in this portrait. The posthumous depicts the 26-year-old standing tall in a flowing turquoise gown while wearing the engagement ring that her boyfriend never got to give her.
Amy Sherald always paints her subjects in the same taupe variant of grayscale to remove the discourse around skin colour and draw the viewers' attention to the composition of the painting, its meaning, and the individuality of the subject, attacking the notion of obsession with skin colour.
"Their faces are still the first things you look at, even though they're muted or grey, and it's because they're surrounded by that colour," she explains in a monograph published by Hauser & Wirth to accompany this travelling exhibition. "You're drawn to their eyes, and you're able to have a one-on-one dialogue with this person that you don't know. They are there to meet your gaze, and not just to be passive. Some portraits are just passive, you're there, and you're just looking at the subject, but my subject's here to meet you. To be present with you in that moment."
As the name of her exhibition suggests, Amy Sherald is asking the public to rethink 'The World We Make'.
She is offering a new perspective, a different world, in which African Americans are seen, heard and understood as individuals, separate to the social and political chaos that may surround them.
Her portraits now hang in more than 20 of America's most important art institutions and, after European museums purchased all of the works in her recent London show, Amy Sherald is now set to upturn the art scene here.
The artist, who had a heart transplant at the age of 39, says that she believes now is her time.
"I'm living this moment: I wake up every day, and I have to make sure that my work continues to speak to generations. I need to make things that are going to resonate in that way. But I also truly believe in who I am as a human. I believe in my power. I believe in timing. I believe that this is my 'now', and that nothing can go wrong now. I understand that as a fact."
Sign up for the Monaco Life newsletter. For the latest news, follow us on Facebook, Twitter, and Instagram. 
Photo above: Amy Sherald 'Deliverance' 2022, oil on linen, overall: 275.4 x 631.1 x 6.4 cm, © Amy Sherald Courtesy the artist and Hauser & Wirth, photo by Alex Delfann