Fashion Designer Alessandra Vicedomini shares her experience at the Hotel Royal Evian Resort, a magical palace designed to restore your body and reconnect your mind, in an idyllic natural setting.
Is it safe to dream again after all the restrictions of the pandemic? Can we leave our golden cages for a glamorous long-weekend getaway?
The answer is 'yes', and it is that time of the year again when our body screams for restorataion and our mind needs a complete reset. Our eyes have been deprived of all kinds of variety and beauty. We are ready to play with new colourful filters and smile again, mask-free.
A stunning invitation to join the Royal Hotel Evian Resort summer opening arrives in the mail the old fashion way, handwritten. It still makes me shiver when I take my carved 19th century letter-opener to disclose the content. It is a 'yes' from me without hesitation.
The many Covid restrictions forced us to decline everything for too long, and to be impulsive feels pretty nice and empowering these days.
So, here I am landing in the Swiss Alps, driving towards the world's most well-known pure water source region, Evian-les-Bains in France.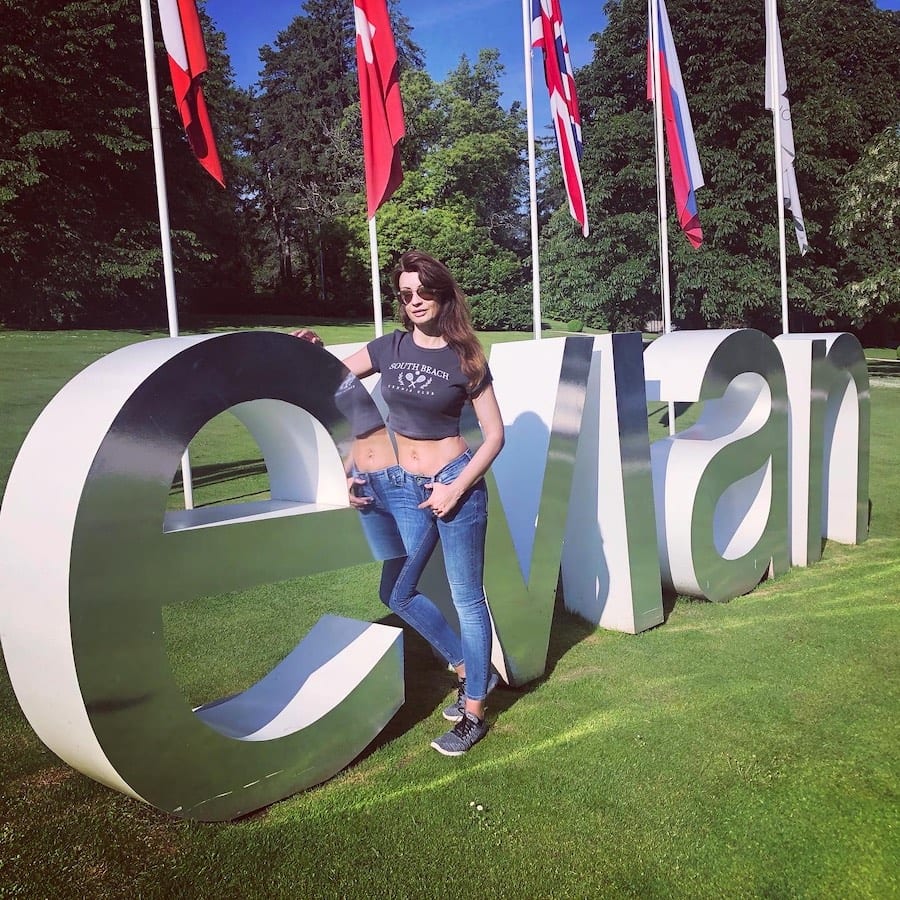 Water is one of the primary vital elements, it is "the" life source, an irreplaceable magnet for a health freak like me. Evian natural mineral water is a balanced combination of bicarbonate, calcium and magnesium and it is known to be weakly mineralised, pollution and clay-free, a true miracle of nature which gently protects skin PH. Evian is the most glamorous water brand, yet so naturally beneficial for our system.
Boasting a delightful location on the Leman lakefront with regal proportions, the Resort spreads over 245 acres, providing guests with a luxurious experience of relaxation. The wide selection of services include many ultra-chic veranda and terrace restaurants, one of which is the famous Michelin-starred Les Fresques. Chef Patrice Vander's menu is dictated by the seasons, and his ingredients and aromatic herbs are grown directly on the estate.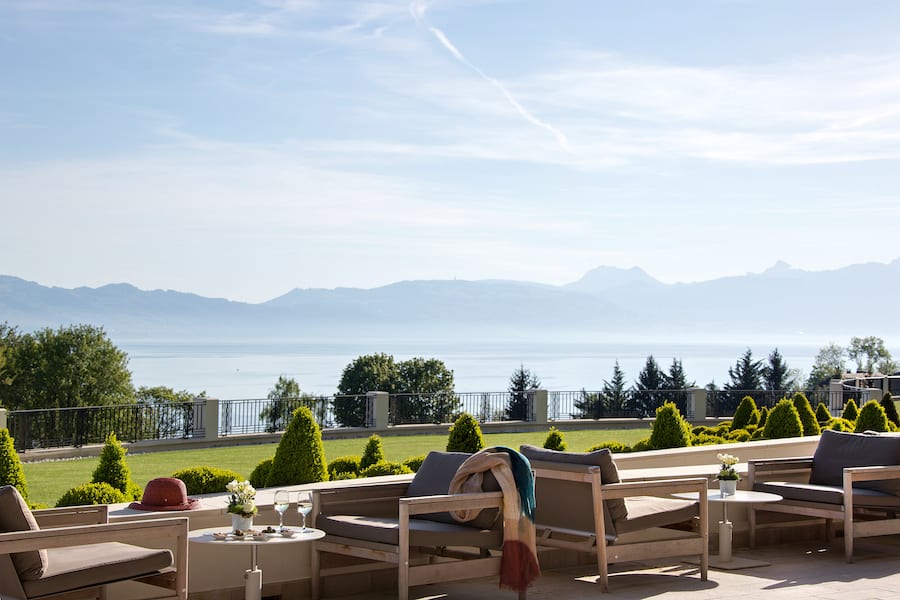 Hidden together in this elegant resort, in which ultimate privacy reigns and you are blissfully unaware of the number of guests, are two golf courses with a professional academy, tennis and new-built padel courts, an impeccably organised kids club, game rooms, posh indoor and outdoor pools, a very well-equipped spacious gym and a very, very special spa. This newly remodelled spa operates exclusively on the Biologique Recherche Methodology, a visionary Paris based skincare brand born from medical researchers and biologists. My personal experience, performed by the utterly unique therapist Véronique who customised a facial plan to fit all the needs of my skin, left me speechless. After one hour of deep technical face massage with the cutting-edge P50 range, I looked many years younger! The epidermis is given a prime role as it communicates with our tissues' deeper structure, and the replumping and glowing effect is immediate and long lasting.


Talking about unparalleled experiences, I was totally mesmerised by the idyllic Grange Au Lac, a theatre in the middle of the estate. Apparently, the aim was to challenge the Menhuin in Gstaad, building the structure in the same in wood. I can confirm that they definitely succeeded. It is a spectacular "tent" that went through major ecological challenges without digging into the rock to protect the Evian sources in a record time of eight months.
Have you ever heard of a concert hall entirely built from pine and cedar by architect Patrick Bouchain and Acoustic Yaying Gu, with a forest of aspen trees at the back of the stage, and Murano glass chandeliers? It is a must-go. You must find an excuse to visit one of the four major musical events of the year, playing host to the world's most acclaimed jazz and classical artists. I was fortunate enough to enjoy André Manoukian's duet with Robin McKelle amidst the sensational wooden aromas. It was elegant, magical and soulful.


Owned by the renowned Danone Group, the Hotel Royal is a stunner and the landscape is epic. The sensory immersion with earth and pure air empowers and revitalises as soon as I approach. The moment I enter the gates, I already feel that this won't be a simple weekend in a palace, but a unique customised experience. General Director Laurent Boussin welcomes me with the most interesting inside stories.
The establishment was built in honour of King Edward VII in the early 1900s and has drawn renowned personalities from all over the world until 2014, when it underwent a complete renovation. The smart concept epitomises the charm of traditional French style, with sumptuous interiors intertwined with modern details, which led the Royal Hotel being granted the sought-after Palace label status in 2018. "We had to go through so many procedures that culminated in a stressful two-hour interview with an 'Illuminati' elite commission made up of influential writers, architects and various artists," Laurent Boussin tells me proudly.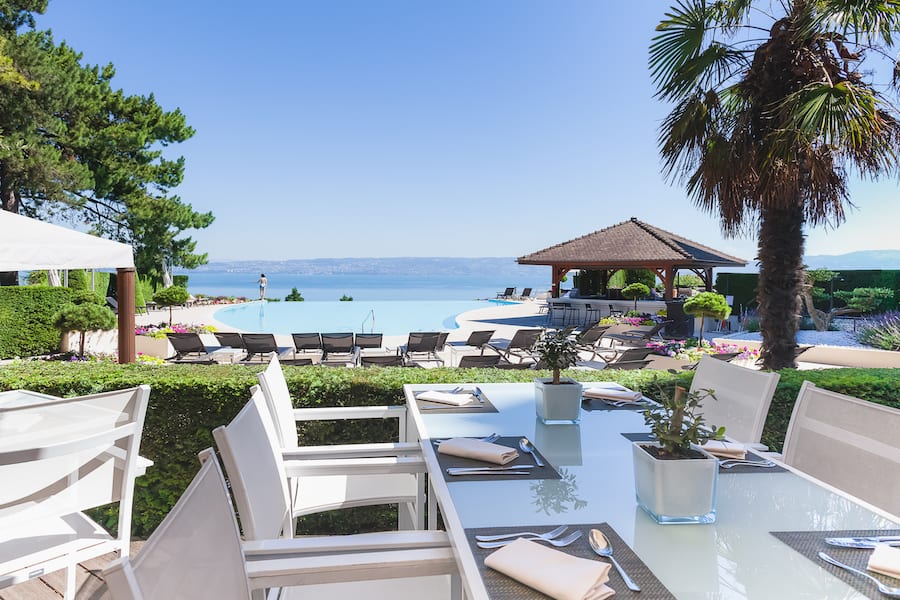 I have rarely encountered such a majestic jewel that combines history, impeccable service, and everything you can dream of in one unique location. Whether alone or with family, on a sporty or romantic mission, all expectations are fulfilled, and more.
And what about the nights at the Casino located directly on the waterfront promenade? You will also be tempted by the stunning in-house multi-brand boutique.
I will be forever thankful to the Danone Group and the great team at the Hotel Royal Evian Resort for spoiling me with real luxury and gifting me with a total feeling of peaceful reconnection with nature. They have so much to offer and explore that you risk experiencing a serious cases of FOMO (fear of missing out), so I am already planning my next trip.

See the gallery for more pictures of the Hotel Royal Evian Resort…