The celebration of Michelin star chefs continues in Monaco with renowned British Chef Jason Atherton joining Le Grill's Dominique Lory for a spectacular pairing under the literal stars on the top floor of the Hôtel de Paris.
For this, the third edition of Festival des Etoilés (Festival of the Starred) organised by the Monte-Carlo Société des Bains de Mer, Michelin-starred Chef Dominique Lory invited Jason Atherton to join him for the "Four Hands" gastronomic event.
The British chef has established a globally renowned restaurant group called 'The Social Company', with a portfolio of restaurants that includes the Michelin-starred City Social and "the defining restaurant of the decade", Berners Tavern in London.
Jason has also opened critically-acclaimed restaurants in Shanghai, Dubai, Mykonos and St. Moritz, written four cookbooks, appeared on several TV programmes, and is an ambassador for a number of brands including Moët & Chandon.
Amongst all of this, he enthusiastically agreed to pair up with Dominique Lory at the Hôtel de Paris in Monaco for a two-night gastronomic festival on 13th and 14th October.
"I've been friends with Chef Alain Ducasse for 15 years now, and have visited Monaco for the past 10 summers, so I've gotten to know Chef Dominique very well," Jason told Monaco Life. "When he asked if I would join him for a festival that celebrates Michelin-starred chefs in Monaco, I didn't have to think twice.
"I think it's just lovely to be able to cook as friends, because the pressure of cooking in your own restaurant is different than in a collaboration like this, which is a little bit more joyful, more celebratory."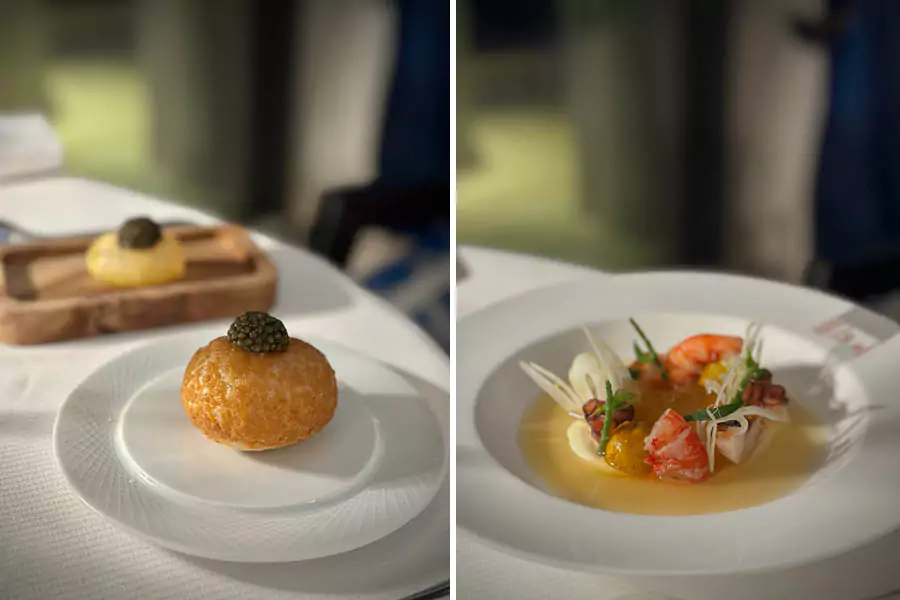 The seven-course menu was indeed a celebration of the Mediterranean and an opportunity for Jason to work with produce he would not normally use in seasonal London. The British chef prepared the guests' palate with a seaweed choux filled with beef tartare topped with caviar, which Dominique followed with his signature gamberoni, red mullet and rock octopus, served with a chilled bouillabaisse.
Jason pumped up the flavour factor in the third course with roasted scallop and Normandy razor clams on a parsley sauce, while Dominique's sautéed wild mushrooms with pollen delivered some welcome autumnal overtones.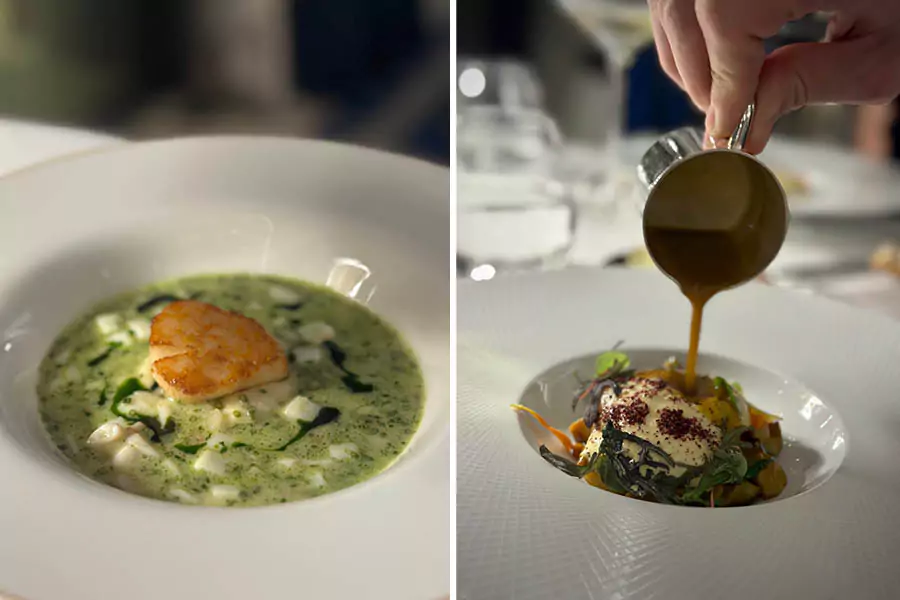 The mains concluded with a bang in Jason's wood-fired aged fillet of beef, finished on 'Le Grill', with a deliciously rich miso butterscotch and an unexpected yet totally appreciated shaving of fresh white alba truffle.
For dessert, Jason's fig ice cream with verjus granita was the perfect palate cleanser for a soufflé finale, of which the Hôtel de Paris is famous, made with Menton lemons.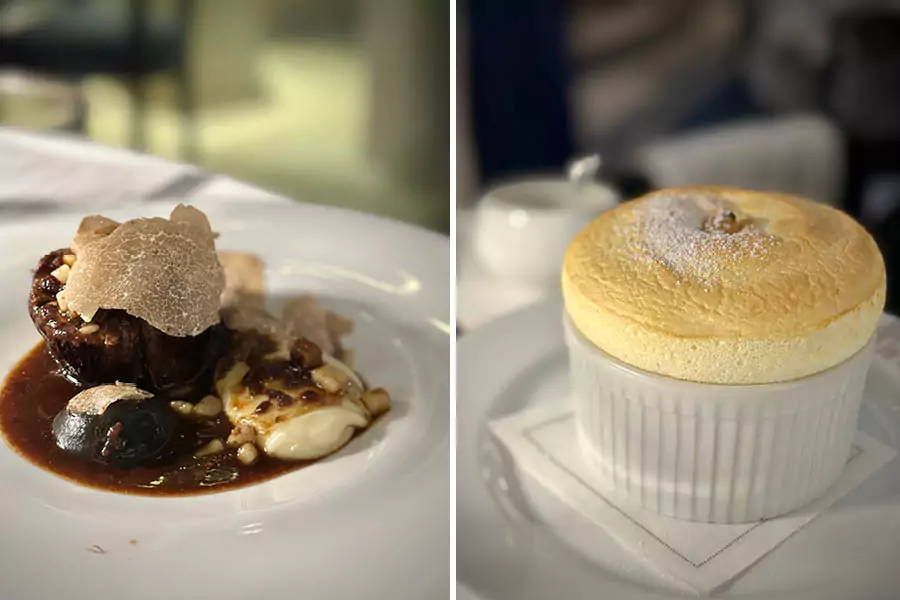 An opportunity to meet and talk with the chefs
The Festival des Etoilés is not only a celebration of creativity on the plate, but of the Michelin-starred chefs themselves. These are the rockstars of the culinary world, and a highlight is having the chefs present their dishes personally to you at your table, and describe how they've prepared it and why. It's always a treat to have the charmingly shy Chef Dominique Lory, armed with his crisp white gloves, shaving precious white alba truffle over my plate.
The Michelin-starred chef will be delivering his signature seafood dish at the Festival des Etoilés finale, which takes place on Saturday 11th November.
"It's a pleasure for me because I am cooking with Alain Ducasse, Marcel Ravin and Yannick Alléno," Dominique Lory told Monaco Life. "And this year, exceptionally, the dinner will be held in the Salle Empire of the Hôtel de Paris, which we have not had for a year and a half because the Café de Paris was installed there during works. So, it will be an opportunity to relaunch the banquet hall for this event."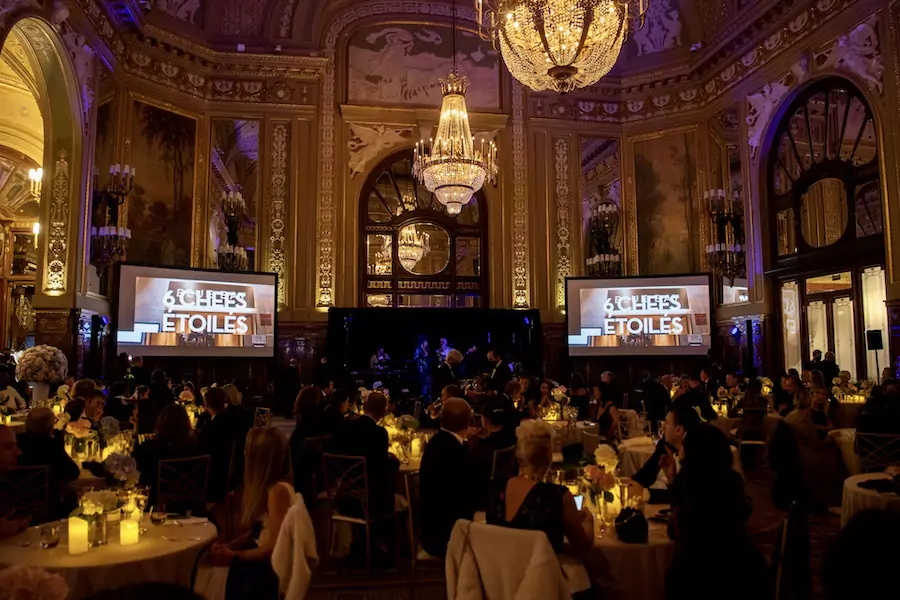 A once-a-year showering of stars
The Festival des Etoilés began at the end of September with two-Michelin starred Chef Marcel Ravin and three-Michelin-starred Chef Julien Royer pairing up at Blue Bay in the Monte-Carlo Bay Hotel & Resort.
After Dominique Lory and Jason Atherton's pairing at Le Grill comes Emmanuel Pilon, Chef at Le Louis XV – Alain Ducasse of the Hôtel de Paris, and Amaury Bouhours, Chef at Le Meurice Alain Ducasse in Paris, who will be hosting two exceptional dinners with Dom Pérignon Champagne pairings in the presence of Alain Ducasse on Friday 27th and Saturday 28th October.
Then, on Friday 3rd November, multi-Michelin-starred Chef and Master of Modern Cuisine Yannick Alléno will join forces with Sven Wassmer for an unforgettable evening at the Pavyllon Monte-Carlo of the Hôtel Hermitage. Wassmer reached the pinnacle of his career at the Memories restaurant at the Swiss Alps Grand Resort Bad Ragaz, with three stars in the Michelin Guide, making him one of the youngest chefs in the world to achieve this distinction.
For bookings, click here.
Make sure you're never left out of the conversation.
Sign up for the Monaco Life newsletter, and follow us on Facebook, Twitter, Instagram and LinkedIn.   
Photos by Monaco Life