A new operational management centre for the fire brigade and a new armed speedboat for the maritime police will help both entities in their fights to keep the Principality safe.
Two new tools are now, or will soon be, at the disposal of the Monaco fire brigade and the maritime police.
The fire brigade has been kitted out with its new Centre for the Management of Events and the Conduct of Rescue Operations (CGECOS) which is being described as a "technical tool for the use of Monaco's firefighters allowing management of emergency requests in the Principality 24 hours a day, seven days a week."
The centre links management to those in the field in conjunction with various partners such as remote alarms at the Town Hall, silent alarms for certain establishments, the Integrated Mobility Management Centre of the Foresight Department, Town Planning and Mobility, the Centre for Supervision and Operational Command of Public Safety, and the Departmental Fire and Rescue Service of the Alpes Maritimes.
It has new functions such as mapping, drones and video feedback and is able to adapt and evolve to local needs. It also allows the use of on-board computing for vehicles using connected tablets and has a mobile app for all staff to be able to keep on top of things such as their weekly schedules, holidays, administrative alerts and interventions conducted by the fire brigade.
Firefighters are now in the position to benefit the population not only of Monaco but of the neighbouring French municipalities, as well.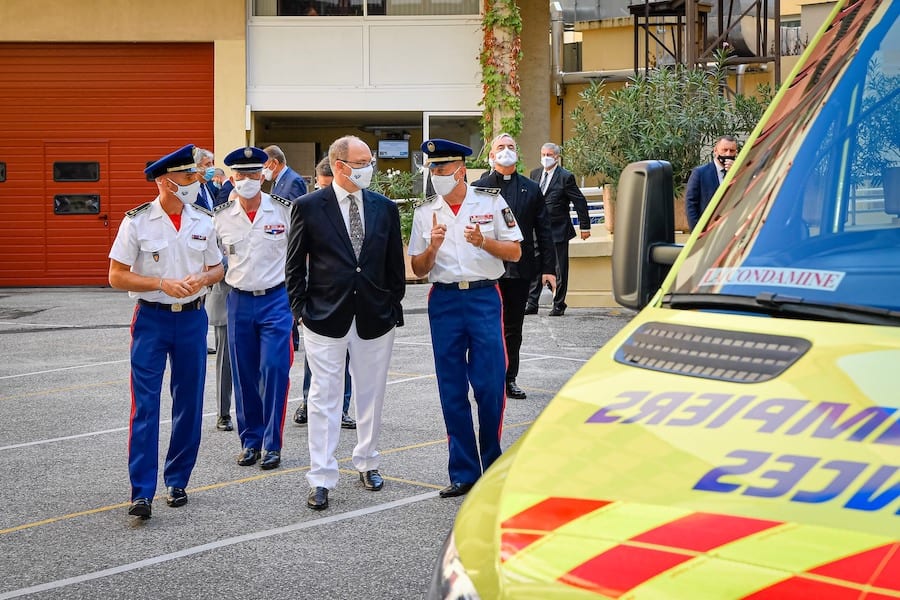 Meanwhile, the Maritime Police, who are celebrating their 60th anniversary, also have a new toy, but they will have to wait until early December before they get receipt of it. They will be getting a new armoured boat that can reach Ventimiglia in just 17 minutes and is equipped with a machine gun on its bow.
The boat is a symbol of Monaco's broadened operational capacity as well as a sign that they are serious about defending their shores.
"As part of the Public Security 2020 project, the supervisory authorities felt that it was time for the maritime police to renew its nautical resources, and in particular this boat in terms of intervention, which is devoted to rescue at sea and will be in the category of customs coastguard stars," revealed the Director of Maritime and Airport Police (DPMA) Isabelle Castelli at a meeting at the police station recently with Minister of State Pierre Dartout, according to Monaco Matin.
The boat is under construction at a shipyard in Viareggio, Italy and has impressive stats. The ship is 24 metres long and 5.6 metres wide and imposing looking enough to scare off any would-be trouble-makers as well as rescue those who find themselves in need of assistance on the sea.
The boat has a gyroscopic stabiliser, which means the boat can remain still during rescue operations, lessening the chance that responders or victims will be injured in rescues, as well as a firefighting system with a massive 4,500 litre per minute flow. It also boasts a crane with the ability to take up to 400kgs, a diver's platform, and a towing capacity of 60 tonnes.
As for tech, the ship will have radars, autopilot, an echo sounder, a night vision camera and a satellite link.

Photo: CGECOS – ©Direction de la Communication – Stéphane Danna