AS Monaco Basketball narrowly beat Bayern Munich 78-83 in an empty Audi Dome on Thursday. A 26-point haul from an on-form Mike James proved the difference.
The hall echoed with the sounds of squeaking trainers and bouncing basketballs, Germany's latest Covid restrictions preventing anyone attending what was a tight contest in Bavaria. The important win puts them level on wins with the German side in the Euroleague, whilst it reignites hopes that they could yet clinch the all-important eight place that would see them qualify for next year's competition.
James started imperiously and didn't relent. His eight points in the opening 10 minutes, combined with some good work from Donatas Motiejunas, gave AS Monaco a slender first-quarter lead.
The game remained close in the second quarter, both teams matching each other blow for blow. James' spectacular, on-the-buzzer three-pointer on the stroke of half-time sent Monaco into the dressing room with a healthy, but far from comfortable, five point lead.
Bayern quickly set about reducing the meagre deficit and five unreplied points from Deshaun Thomas restored parity soon after the break. There was no stopping James, however; the American point guard continued to impress registering points and assists almost at will.
Having narrowly edged each quarter, Monaco went into the fourth with an eight-point lead. Bayern applied the pressure early-on and incrementally reduced the gap between the sides. But that pressure dissipated when James registered yet another three-pointer to extend their lead back to over seven with just over a minute on the clock.
The lack of fans meant the game ended in muted fashion, but there is no underestimating the importance of the win. Roca team coach Sasa Obradovic said after the match, "This victory means a lot for us, for our confidence and for having faith in our game. We have really improved defensively, but there is still a margin for progression."
The progress being shown can be attributed in part to the extended break that Monaco have recently had. The side's two previous Euroleague matches have been postponed due to Covid cases, leaving Obradovic extra time to drill his players.
The Serbian manager will be hoping to build on their progress when they visit Nanterre in the Betclic Elite on Saturday.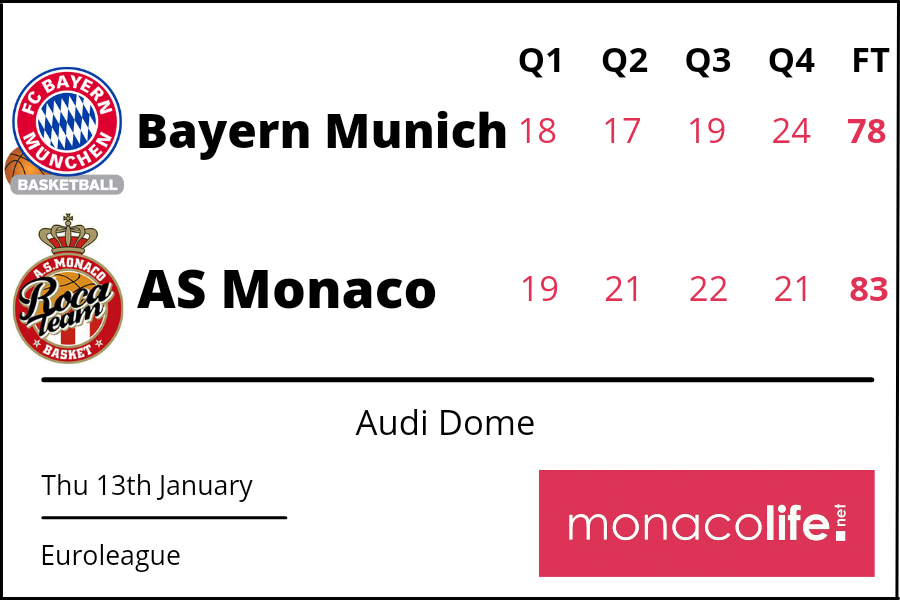 Photo source: AS Monaco Basketball