Representatives from Lebanon, Switzerland, Belgium and the Republic of Benin have just been accredited as ambassadors by the government of Monaco.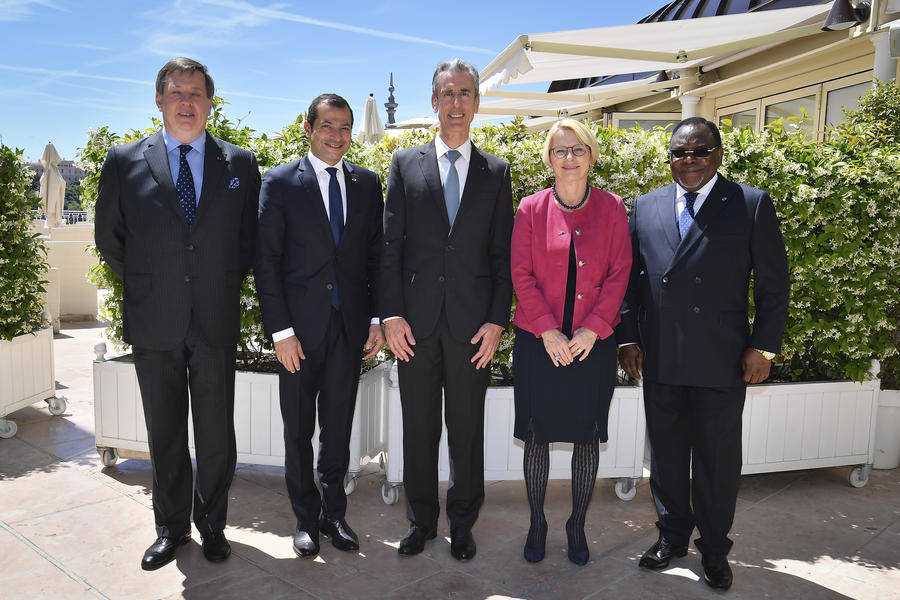 Minister of External Relations and Cooperation Gilles Tonelli welcomed at the Hermitage Hotel on Tuesday 14th May Ambassador of Lebanon Rami Adwan, Ambassador of Switzerland Livia Leu Agosti, Ambassador of Belgium François de Kerchove of Exaerde, and Auguste C. Alavo, Ambassador of the Republic of Benin. During the ceremony, the diplomats presented their Letters of Credence to Prince Albert II.
Adwan joined the Lebanese Ministry of Foreign Affairs and Emigrants (MAEE) in 2003, where he held the positions of Deputy Head of Missions at the Lebanese Embassies in Romania and the Netherlands and Head of Department at the Political Affairs Division. In 2014, he was appointed Director of the Cabinet of the MAEE. Mr Adwan has also been Advisor to the Minister for Administrative Affairs at the Lebanese Ministry of Energy and Water.
Livia Leu Agosti joined the Swiss Federal Department of Foreign Affairs in 1989, then assumed the position of Deputy Chief of the Political Division II, Americas, Head of the same Division for Africa / Middle East and Head of Mission in Tehran with the title of Ambassador. In 2013, she was appointed delegate of the Federal Council for Trade Agreements and Bilateral Economic Relations Benefit Centre.
François de Kerchove of Exaerde began his diplomatic career in 1991, and was appointed Counselor at the Asian Foreign Office in 2001. After a year as Director General of the Egmont Institute, he joined the Belgian Embassy in his capacity as Minister-Counselor. He was successively promoted Director of International Security Policy at the MFA in 2009, then Ambassador to the EU Political and Security Committee.
During his diplomatic career, initiated in 1975, Auguste C. Alavo became Director of the Asia and Oceania Department in 1987. In 1990 he was promoted to Ambassador and represented his country in China and the Ivory Coast. He then served as Director of the State Protocol, Representative of Benin to the African Development Bank of the Entente Council and Ambassador General of Foreign Affairs.