They document their lives and passions online, and with that comes a new way to showcase Monaco. Olga Lavric and Milana Chigridow are digital influencers, giving their hundreds of thousands of followers a unique glimpse of what life looks like in the fabled Principality.
It's the perfect destination to post about. Famous architectural masterpieces, luxury superyachts in the harbour, and all those fast cars. Of course, we're talking about Monaco.
The Principality is a favourite when it comes to social media. On Instagram alone, there's more than seven million posts with the hashtag "monaco". But if on the one side there are occasional vacation posts by the hoards of visitors each year, on the other there's a community of influencers who work all year around to share all-things-Monaco.
Five years ago, Olga Lavric found herself with no job and a suggestion from her husband: "You are following a lot of fashion/beauty bloggers. Why not start your personal blog?". At first, she was indecisive, not knowing how her work situation would evolve, but then she knew she had to take the risk. "In the end I said: 'Why not? Better to try than to regret later'. Now I'm more than happy to do what I really love. For me this is a dream that came true," Olga tells Monaco Life.
Olga's job goes from answering emails to organising photo shoots, preparing outfits, editing photos and videos or attending events. Apart from that, she drinks her coffee in the morning and spends time with her family and friends, just like everyone else. "I have a normal life as everyone else does, with little exceptions," she explains.
https://www.instagram.com/p/CRZZDOylm17/?utm_source=ig_web_copy_link
But she does not have a regular job. Being an influencer, or content creator as some people prefer to call it, is far from the typical career path. Even though it's becoming more common, some people still don't know what it is that Olga and so many around the world do for a living. "For example, my parents are far away from the digital world, they opened their accounts on Facebook and Instagram only because of me, to see my photos. In the beginning it was hard to explain to them what I'm doing," says Olga, who has 343,000 Instagram followers.
The easiest way she could explain was to say that her job involves doing publicity for some brands on social media and that she's receiving products to then test and post about with her personal review. Olga considers this the simplest way to explain to someone who doesn't know a lot about the digital world what an influencer is.
But technically, it is a little more specific. Influence marketing, as it's known, is different from other forms of marketing because of the target. In this situation, the main focus is on a specific group of followers, with similar interests, and not everyone. Meaning, a beauty brand who has a billboard in a street may reach the desired public or not, depending on who walks that street. But if the brand chooses to work with a beauty influencer, they automatically know that that person's followers are interested in the topic, making all of them potential consumers.
When it comes to Monaco, Olga says that many brands are keen to collaborate with influencers in the Principality. "Of course, the brands are interested in working with influencers from Monaco. Here you can create very cool content. The place is amazing. We have breath taking views, fabulous architecture, beautiful nature, turquoise sea and white beaches, luxury hotels, luxury cars in the background, so the photo shoots are always spectacular," she says.
Supporting local business
Swedish-born Milana Chigridow is currently living between Monaco and Paris and has 138,000 followers. The 26-year-old first came to the Principality to do a master's degree in Luxury Management at the University of Monaco and is now working "with various brands within the luxury segment as a content creator and social media consultant," Milana tells Monaco Life.
On Instagram, her career started over a decade ago when the platform had just launched. "I always had this profession in between my studies, and I find it a valuable portfolio for me to lean on when I present myself. I was 16 at the time so it is my first and only career so far," she explains.
And the way she does that is close to magical: "I like to imagine the world as the books I read and the movies I see."
https://www.instagram.com/p/CQAqkEXph_C/?utm_source=ig_web_copy_link
Milana chooses to share the ordinary things in life, believing that "people don't want to see something extravagant or showy, that they can't relate to." Her content is simple and familiar. She uses her Instagram account as her diary, a place where all her memories are saved, which results in a combination of places, people, food and architecture.
According to Milana, every place in Monaco is good when it comes to creating content, especially for people with a creative mind. "Personally, I like the old town, and also the polished buildings around the Casino. The view from the Exotic Garden is also spectacular," she says.
Olga also has some tips when it comes to the best places to create content in Monaco. "Around the Monte-Carlo Casino, Hôtel de Paris, Hôtel Hermitage and Metropole. Also, an option is up at the Prince's Palace where you have breath taking panoramas. On the one side you have the view of Fontvieille, on the other side the view of Port Hercules. The little streets in the old city also are a good place to find cool content."
When it comes to the social media market, it looks like there's a lot of space available, even with so many visitors. "I'd say there are not so many local influencers which is an advantage, for me at least," says Milana. She believes that "tourist influencers are not essential to Monegasque business owners, it's better to work with local talents." She says the ones who live in Monaco already have a community of followers who are also from the Principality, so "strategically it's better to use them for advertising than someone who is big and international".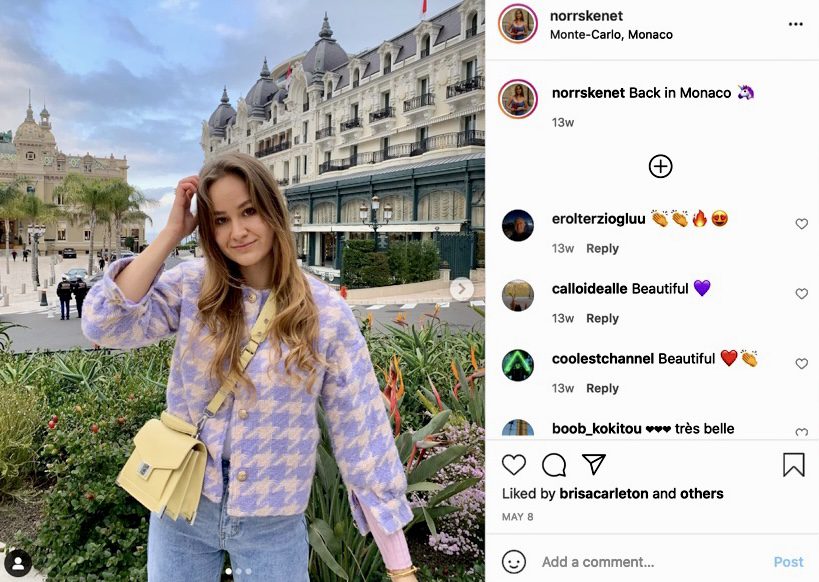 When it comes to partnerships, the Swedish influencer believes the big potential is in promoting hotels and restaurants. "People who wish to experience this want to see what is in store for them, therefore using influencers to share their brand story through posts and videos is a huge advantage."
Her academic path combined with all the knowledge that she has gained from working as an influencer for so many years has given Milana the right recipe to know how to deal with brand partnerships. Talking about the luxury market that Monaco is known for, the influencer has her own way to do it. "Showcasing real luxury should focus on the feeling and the ambiance a client will achieve," she reveals. "A clever influencer will transmit this message in a more 'warm' and less corporate way than a commercial post made by a company. Influencers add the human touch to the luxury aspect."
But Milana also has space for smaller businesses, since she believes that "they have the opportunity to grow a lot through word of mouth, more so than big brands". MOCO Society is one example of a partnership she has done, with the brand sharing its products with her for free in return for exposure. But in Monaco, Milana thinks that "every new startup can earn big awareness by targeting the local influencers".
Even though this career looks accessible to everyone, it requires a good amount of dedication, creativity and work. Seeing Milana's daily routine, it can get a bit busy. The day starts with a look around Instagram, then she starts planning her timings for the day when it comes to posts. After that, it's time to snap some pictures. No, not some, all of them. "I also snap photos of almost everything I do and therefore update on stories. Sometimes I have more material than time to post."
In the middle she answers emails, comments and propositions. The love she has for the business side of it keeps her away from finding an agency to do that work. She also finds time to work on a consultancy basis for several brands.
But the fun side of Instagram for Milana is "creating a diary that everyone has access to", something that she likes to call a "come to life book", that is always available for people to read and be a part of.