Renowned fabric designer Maison Pierre Frey has teamed up with Fashion For Homes to open its first furniture showroom in Monaco.
It is the exciting, but not wholly unexpected, coming together of two family businesses – the Moghadams, famous for the Persian and couture carpets passionately curated by Alexander Moghadam and extended to broader interior design fabrics by his son Kamyar, and Maison Pierre Frey, renowned in the world of fabric upholstery for three generations.
On 15th June at Fashion For Homes, Kamyar Moghadam welcomed Vincent Frey to the showroom on Boulevard des Moulins to share with the media and loyal clientele the exciting collaboration.
Fashion For Homes has been designed to showcase its 15,000 fabric samples on offer; from floor to ceiling, from the elevator to the toilet, the entire showroom is a canvas for the best in fabric design.
After featuring Pierre Frey fabrics for the past two years, Kamyar Moghadam decided to kick it up a gear and showcase Pierre Frey's new range of furniture, which also now fills the showroom.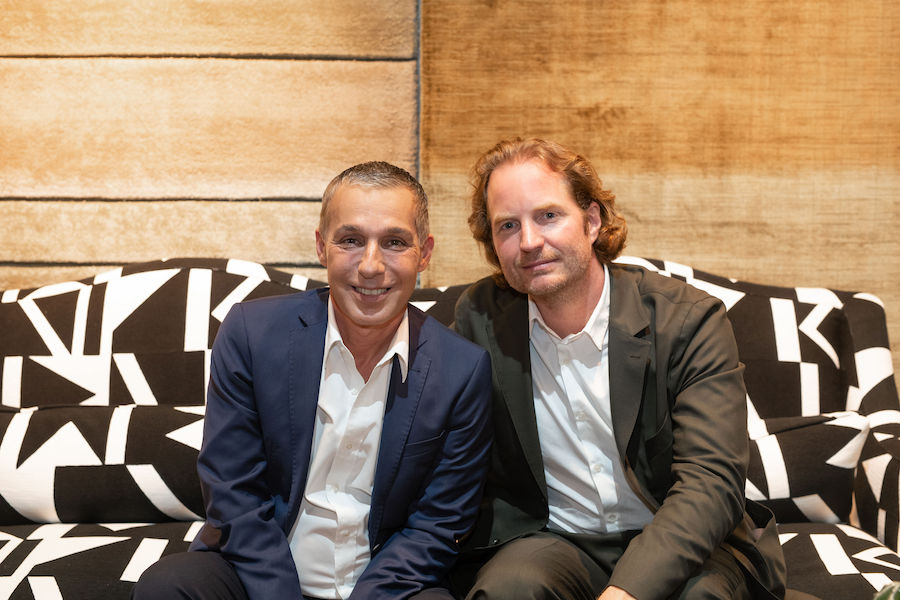 "Our family has worked in Monaco for 50 years, so we have to perform in terms of excellence in service and quality," Kamyar Moghadam tells Monaco Life. "Maison Pierre Frey is a very specific brand that you can't get anywhere else in Monaco, because everyone here is all about Italian design. But we are very haute couture, and a little French, so it is wonderful to have a French brand, made in France, beautifully crafted, in our showroom."
Created in Paris in 1935 by designer Pierre Frey, the family-owned company today designs and manufactures fabrics, wallpapers, carpets, rugs and – most recently – furniture. It is now run by Pierre Frey's son Patrick, who is in charge of creative design, and his sons Pierre, Vincent and Matthieu Frey, who run the business.
"We decided that the only way we would do furniture is if we could control and manufacture it ourselves," revealed Vincent Frey. "We wanted to have our own French artisanal furniture makers, our own atelier just outside of Paris where we could find local knowledge and expertise, and source the wood locally. So, that's exactly what we did."
Maison Pierre Frey recruits different designers for different furniture projects. This time, they have secured the creative designs of Wanellato/Bortotto, Gesa Hansen, Charles Tassin, Charlotte Juillard, Gonçalo Campos, Sandra Benhamou, Guillaume Delvigne, Constance Guisset, Christophe Delcourt, and Sam Baron.
"For us, it was important… I guess it is a particularity for luxury companies run by a family, that we didn't want to make furniture that you feel like changing in five years; it is something that your family will live with for years and years, hopefully generations," said Frey. "When you are bored with it, you can just reupholster it with another fabric, but these are made to last, and that's why we make them in solid wood, which is also why they are sustainable."
And the style?
"Everything we do is eclectic," concludes Frey. "Every model comes from an encounter between a creative designer and us. We don't limit ourselves, it could be super modern or super classic. Just like our fabrics."
Top photo credit Alain Duprat