The first Monaco International Meeting of Historic Fiat 500s took place on Saturday in the Port and was deemed a huge success with more than a thousand people visiting the event.
Organised by Club Fiat Monte-Carlo, the 1st Monaco International Meeting of Historic Fiat 500s went off without a hitch on Saturday. Nearly 50 cars were on hand and about 1,500 visitors, including Prince Albert II, came to the port to check out the cars on display.
Fiat owners from all over Europe made the journey and there were some truly rare and special models for enthusiasts to see. A pair of Fiat 600 Multiplas, courtesy of Jollyfiat MC, were on display, as was a 500 Abarth Maletta, a car which has done the circuit at the Historic Rallaye Monte-Carlo on several occasions.
The cars took to the streets of the Principality and paraded through the city giving everyone an eyeful as they made their way to their final destination in the port. Biker "angels" helped them navigate the streets safely, taking them past the Place du Palais and the Casino.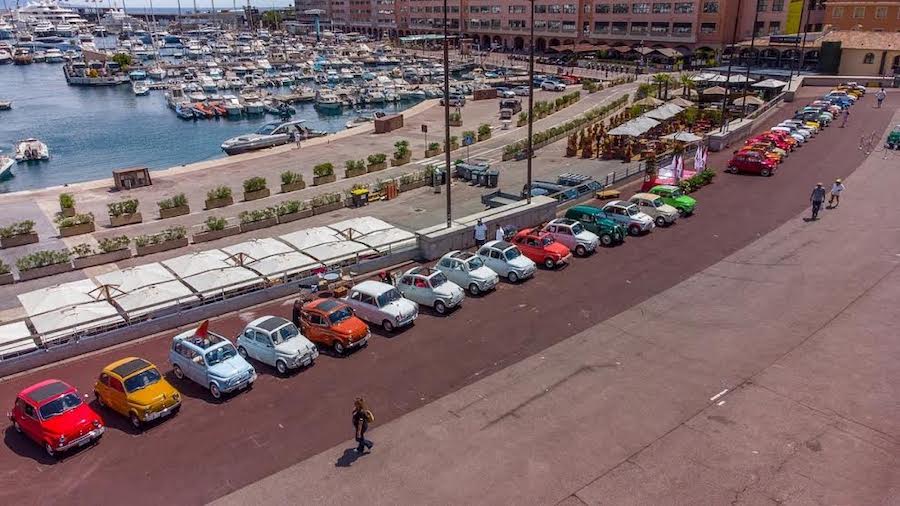 "It was a challenge, but the members of the club did an exceptional job, so for a 'first' the presence of HSH Prince Albert was definitely the seal of gratitude for all the work accomplished," said Massimo Peleson, president of the Fiat 500 Monte-Carlo Club. "It was also confirmed by the visit of Stéphane Valeri, President of the Monaco National Council, and of the Italian Ambassador to the Principality of Monaco, Giulio Alaimo. The highlight was certainly the parade through the streets of the Principality, something that had never taken place in Monaco. At one point, we had around 40 cars on the legendary Formula 1 circuit. It seems to me that F1 couldn't do better."
Prizes were awarded to participants who made exceptional efforts. Elodie Verrando won the Elegance Prize for her 500L which she adorned completely with flowers, Guido Pererra won the prize for coming from the farthest distance, all the way from Milan, in his 500 Lombardi, and the oldest car went to Nicotemo Pezzella in his magnificent 1938 500B Topolino.
The club's success this year has ensured a repeat performance next summer where Monaco will again be the host.


Top photo by Club Fiat Monte-Carlo