On Saturday 18th March, hundreds of women of all nationalities and ages will complete the Rallye Aïcha des Gazelles in Morocco. Two teams will have navigated their way with the help of KF, a new bespoke watch brand recently launched in Monaco.
The Rallye Aïcha des Gazelles, now in its 30th year and supported by the Prince Albert II of Monaco Foundation, has brought together more than 350 women, aged 18 to 65 and from more than 30 different nationalities, in the heart of the Moroccan desert for a unique international human adventure.
After departing Nice and Monaco on 4th March, the rally drivers will arrive at their final destination on 18th March. With no speed or GPS requirements, the women will have relied solely on old-style off-road navigation and pure determination.
Relying on their crews and precision will be the keys to their success: two terms that echo Haute Horlogerie. It is not surprising then that KF Masterpieces this year decided to support two female crews: 106 and 108. The house has specially developed a timepiece that the teams are using to help them navigate their way through the 32nd edition of the Rallye Aïcha des Gazelles du Maroc.
"For several days, with only themselves to rely on, all of these women will show solidarity. A value intrinsic to watchmaking, for which only respect for everyone's work makes it possible to achieve an optimum result," Claire Froté, Head of KF Marketing and Communication, told Monaco Life during a recent press launch at Club 39 in Monaco.
The watches, designed with an orange wristband in the official colours of the rally, can be used by the teams for "old school" navigation, allowing participants to calculate their position coordinates.
Once the rally is completed, the watches will be auctioned – in all their wear and tear – and the money raised will go towards the teams' chosen charities. In this case, Sigrid and Sonia are raising money for the charity that they created themselves, Pour Eux Pour Elles, an association that aims to support people with serious illnesses, as well as their loved ones, and provide them with support and well-being on a daily basis. The association was created after Sonia survived a ruptured aneurysm.
For these women, the motivation is above all a personal challenge: "We don't know what awaits us, it's an adventure, but we're ready," said Sonia. "And it is only for me, first and foremost. As a woman we always think of others, our families, our children, so it is rare that we actually do something completely for ourselves."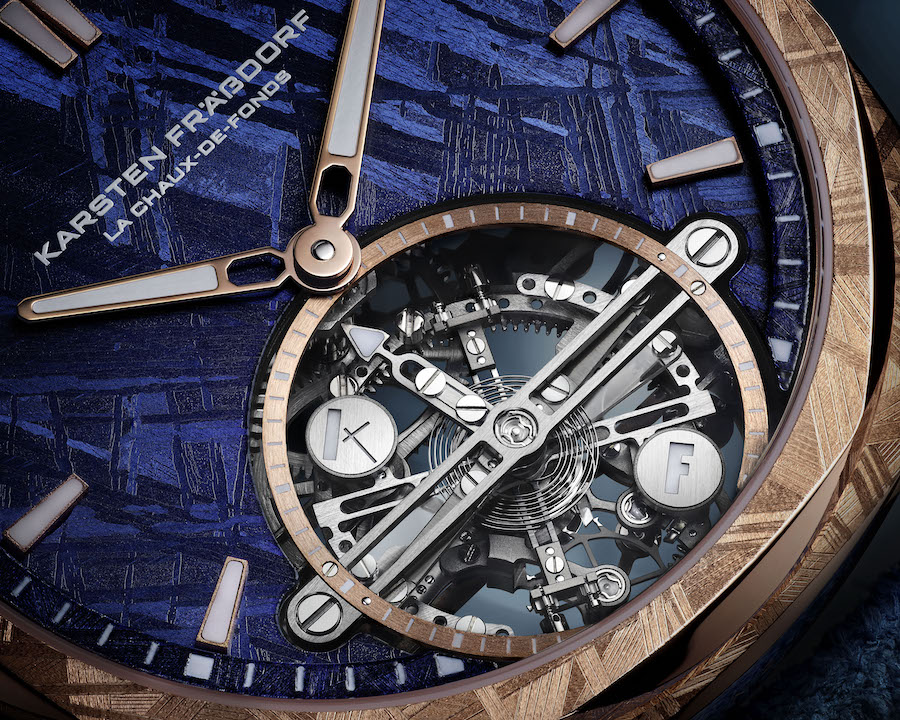 Who is KF?
KF was founded in 2016 by master watchmaker Karsten Frässdorf, who has established a strong reputation in repairing and restoring watches. According to the CEO of KF, Elmar van Dijk, Karsten Frässdorf saw an opportunity to innovate the watchmaking landscape and run firmly against the tide.
"There is a niche out there and what is important for all of us is the perseverance, the audacity to go in and give it a try. We are really innovating the watchmaking space with bespoke watches for our clients, that we can customise entirely to their wishes."
KF has a resolutely contemporary style, distinguished by authentic expertise inspired by chronometry (precision timekeeing).
The time pieces are designed and created in KF's workshop in La Chaux-de-Fonds, a cradle of watchmaking and a city featured on the UNESCO World Heritage List for its watchmaking town planning.
Here, clients are invited into the creative process of designing their unique time pieces.
"It's an experience not only to wear a KF, it's the experience of defining what you want with the designer and the watchmaker," says Froté.
With its atelier located just over the border in Switzerland, and its time pieces positioned in the high price segment, residents of Monaco are precisely the clientele that KF envision wearing their prestigious time pieces. Its unique partnership with Club 39, a private sports club in Larvotto, defines its strategic positioning in the Principality and the market to which is aimed.
"Monaco is a very mature market because it is a centre of luxury," says Froté. "So, we focus our offer on tailor made pieces, for clients who want to be free of all the conventional status symbols. They want to have something different, something that is part of them, something that defines them, and in that perspective, Monaco is extraordinary because people are not afraid to try something different, they are very open minded, and very mature in terms of their approach to luxury."
Photo above by Monaco Life