Princess Stephanie and son Louis Ducruet have gratefully accepted an enormous 'Doggy John Monaco' sculpture, which is expected to fetch an impressive sum when it goes up for action in benefit of the Fight AIDS Monaco charity.
When passing by the Casino terraces this summer, it will be impossible to miss the nearly two-and-half-metre high red and white French bulldog sculpture sitting in the middle of Monte-Carlo.
The work is part of the famous 'Doggy John' collection by Parisian artist Julien Marinetti and was made especially for Fight AIDS Monaco to be sold with the proceeds going to the charity. The estimated value of the piece is a half million euros.
"It's a real breath of fresh air for Fight Aids Monaco," said Louis Ducruet. "We still need donations, especially this year when fundraising could not take place due to Covid."
Fight AIDS Monaco was created in 2004 by Princess Stephanie to help those living with HIV and AIDS, as well as to raise awareness about prevention and testing.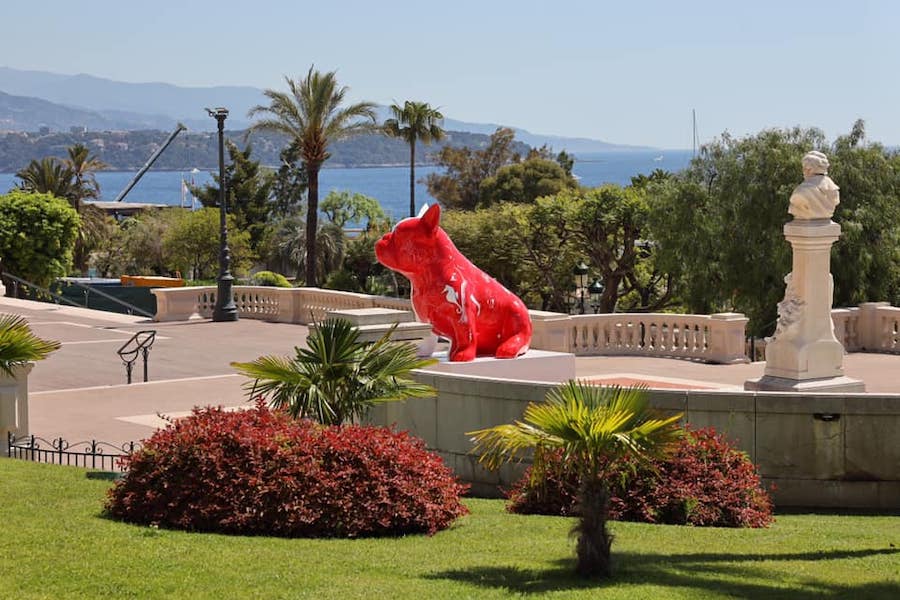 The huge bulldog, painted in the colours of the Principality and autographed by Princess Stephanie, will be on display all summer, giving art lovers and potential buyers the chance to see it up close.
The artist comes from the Saint-Germain-des Près neighbourhood of Paris, which is an up-and-coming hub for art and handicrafts. He studied sculpture and drawing at the Academie de la Grande Chaumière and has built his career on the animal sculptures he is now famous for. His most popular is the bronze-made 'Doggy John', which he has recreated in multiple colours and styles.
Marinetti's generosity comes from a personal place, as the artist has lost friends to the disease. "I was 10 or 11 years old when AIDS started and I have seen a lot of friends die from this horrible disease," he said.
Now, some lucky recipient will be able to own a Doggy John and know that they will be contributing to an incredibly good cause.


Photos by Frederic Nebinger, Prince's Palace