With the commemoration day of the Principality's patron saint coming up, Monaco Life presents the roster of events as well as how you can get involved.  
Sainte Devote, the fourth century martyr who later became patron saint of both Monaco and Corsica, is celebrated in the Principality on 26th and 27th January.  
Her story is rather a gruesome one, with the legend saying she was tortured and killed for her Christian faith on her native island of Corsica. It was reported that her mouth was crushed and she was dragged through brambles and over rocks. Eventually, she was either put to the rack or stoned to death.  
After her passing, it was ordered that she be burnt to prevent veneration, but her body was saved by fellow Christians and placed in a boat headed for Africa. The boat was blown off course by a storm and landed instead in Monaco.  
A chapel was built in her honour in the hollow of the Vallon des Gaumates, where it still stands today. It is said that flowers bloom before their seasonal time on 27th January, her official saint's day.  
This year in Monaco, her day is marked with special tributes. In the early evening of 26th January, the public are invited to gather on the Albert 1er embankment to watch the ceremonial arrival of the boat, as well as to see the relics associated with the young saint. A procession will then begin, taking the crowd to the Sainte Devote Chapel, where a holy sacrament is performed, before the boat is lit on fire by Prince Albert II and the Princely family in her memory. A drone display is then scheduled above the Palace of Monaco and can be witnessed from the secure area on Port Hercule.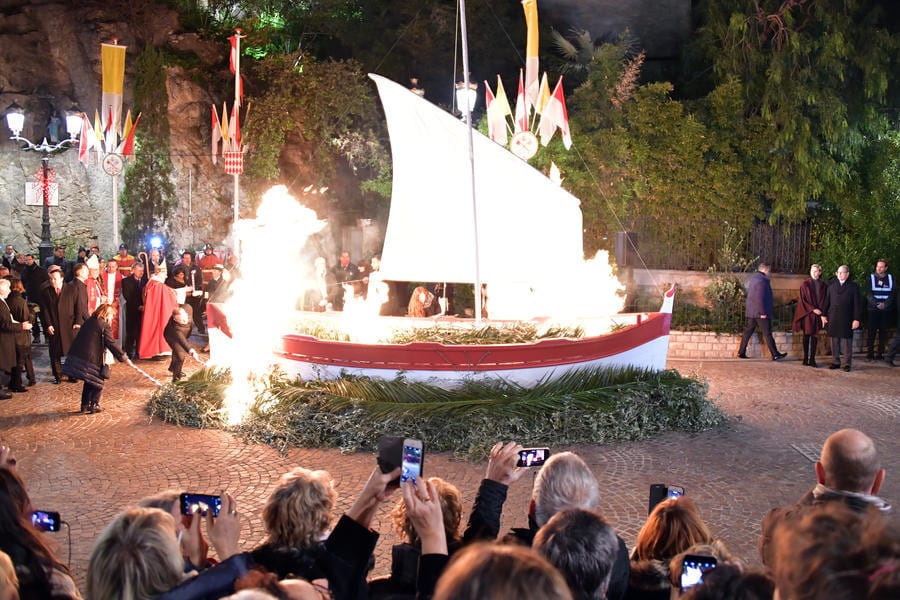 The next morning, the relics will be taken to the Cathedral and a high mass celebrated, led by Archbishop of Monaco Dominique-Marie David. After the service, another procession will take place, this time around Monaco Ville, while the archbishop blesses the palace, the town and the sea.  
At 4pm on 27th January, the Direction des Affaires Culturelles de Monaco has organised a concert featuring the traditional organ played by Silvano Rodi at the Eglise Sainte Dévote. Entry is free although space may be limited.
For more information, please click here.  
Sign up for the Monaco Life newsletter. For the latest news, follow us on Facebook, Twitter, and Instagram.
Photo source: Monaco Communications Department. This article was originally published on 16th January.