Monaco citizens and residents can now apply for the Principality's version of the 'Health pass' to be used throughout Monaco and the EU, with an operational date set for 5th July. Here's how it works.
Minister of State Pierre Dartout outlined the aim of Monaco's health pass at a press conference on Thursday, saying, "We made a commitment on one point, among others, that Monegasques and residents would have the health pass at the beginning of July. The objective was to allow Monegasque nationals and residents to travel under the same conditions as all other Europeans even though Monaco is not part of the European Union."
The Prince's Government will distribute two types of Health Pass: the Monaco Safe Pass, which is valid in Monaco and France, and the European Health Pass, which will be acknowledged by European Union countries and those with agreements with France and the EU such as Switzerland.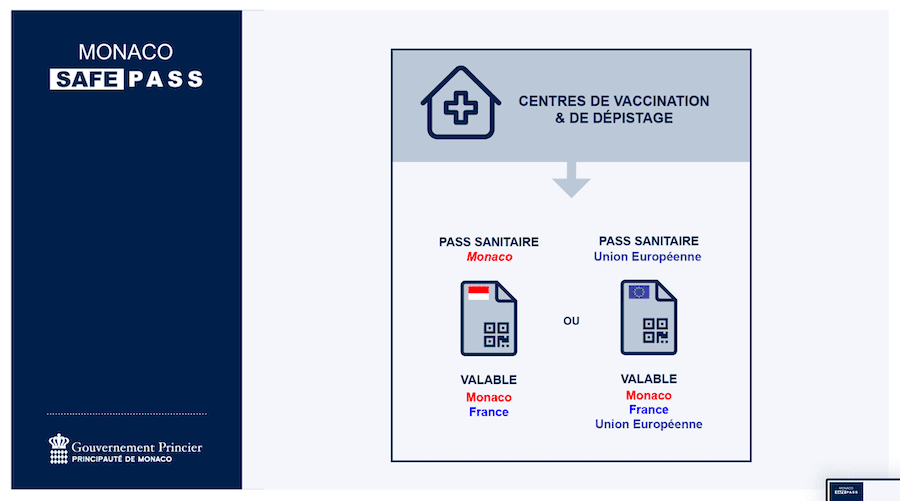 The pass will be in the form of a QR code which can either be photographed, issued on paper or in digital version. It can be used by Monegasque citizens and residents who are fully vaccinated, have received a negative PCR test or have recently recovered from the virus.
Vaccinated or recently recovered people will be able to apply for the pass online at covid.mc from Friday 25th June and it will be emailed out from 5th July.
Those vaccinated after 5th July will receive a sms alerting them that their pass is available. It will be sent via email, or can be collected in paper version from a counter at the Rainier III Auditorium – the new vaccination centre.
A traffic light system will also be in play – showing green for people whose vaccination was completed more than 14 days previously, have a negative PCR test of less than 48 hours, or a certificate of recovery of between 15 days and less than six months.
According to the government, Monaco has been working on developing the pass since March, but were delayed due to a lag time in the European Union. Now the EU has finalised its pass system, Monaco has been able to adapt and is ready for a roll out to the public.
"It was a digital challenge, but today we are going to offer you a system that will make it possible to facilitate, very concretely, the movement of Monegasques and residents," said Frédéric Genta, the Interministerial Delegate in Charge of the Digital Transition.

Photo by Michael Alesi / Government Communication Department