All week long, emails falsely claiming that recipients are threatened with "criminal proceedings for acts of a sexual nature" have been hitting inboxes of those connected to the Principality. Here's what to watch out for.  
On 18th May, the Monegasque government sent out an official communiqué warning residents of a scam email circulating the Principality. 
"This is a malicious attempted phishing campaign with the purpose of defrauding potential victims who would respond to the message," reads the communiqué. "This false summons refers to alleged "criminal proceedings for acts of a sexual nature" brought against the recipient of the message." 
Monaco Life has now seen a copy of the email, which tells the recipient that their name figures on a list of those implicated in criminal proceedings, with particular reference to paedophilia, pornographic images and videos of minors, exhibitionism and online masturbation.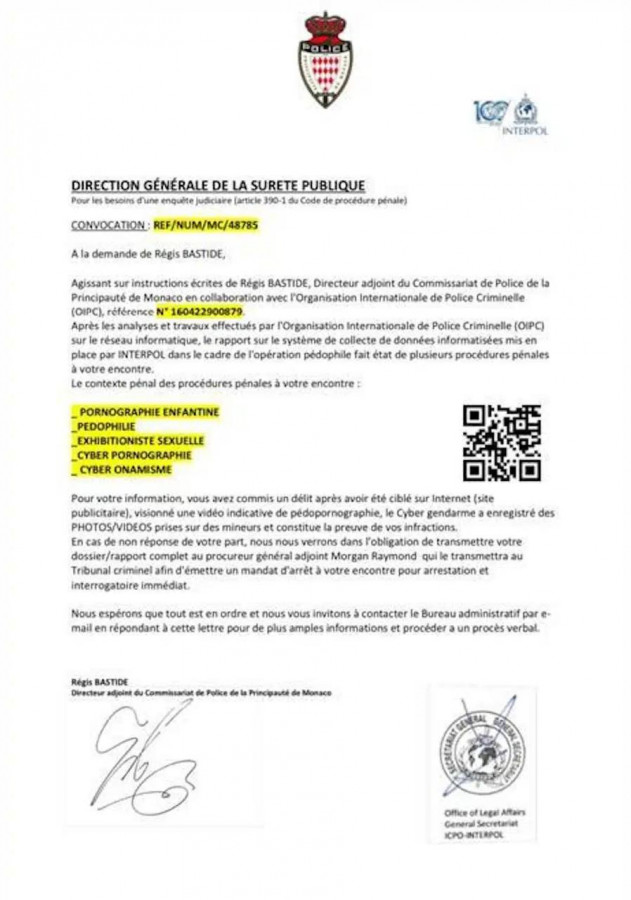 The fraudulent email requests that the recipient reads an attached PDF document and replies to the email "as soon as possible".  
Though clumsily written, the email features a logo similar to that of Monaco's Police Department in the header as well as an Interpol seal and a QR code. It also lists a fake summons number and reference code, and uses the name and title of Régis Bastide, Monaco's Police Commissioner, to add more false credit to the email.  
Those with a keen eye will notice the unofficial email address from where the email has been sent. In the case of the email seen by Monaco Life, the address is: messagerie.police.gouv.mc@gmail.com.  
As per the government-issued statement regarding the scam, "the only email addresses used by government services are of the following type: xxxx@gouv.mc." 
What to do if you receive the email
As reported previously by Monaco Life, the advice of the government is to: avoid opening the PDF, not respond to the sender, immediately inform Monaco's cyber department of the email via cyber@gouv.mc, and to then delete the original fraudulent email.  
Read more:
Sign up for the Monaco Life newsletter. For the latest news, follow us on Facebook, Twitter, and Instagram.
Photo source: Mad Artz Graphics