A phenomenal second-half performance from AS Monaco Basketball against Armani Milan on Thursday (63-72) leaves the side on the brink of achieving the unthinkable. A place in the play-offs beckons.
The decision to sack Zvezdan Mitrovic and bring in former coach Sasa Obradovic mid-season seemed a risky one. With Monaco now knocking at the door of the play-offs, a feat that seemed unimaginable in the closing stages of Mitrovic's reign, that move has undoubtedly paid dividends.
Should Alba Berlin lose on Friday against Anadolu Efes, the Roca Team's qualification will be assured. Regardless of what happens in that match, Monaco can be reasonably confident that they have done enough to secure that play-off position.
In defeating Milan away from home, they secured their sixth win in seven Euroleague fixtures, whilst in all competitions, they now have 13 wins in their last 15 outings. Momentum will be with the side going into the crunch part of the season.
Despite a difficult first-half, in which Monaco narrowly lost both quarters, they never lost sight of their opposition. Defences reigned for large swathes of the match, but an energetic Italian offence allowed the home side to steadily construct an advantage, which at one point grew to 10 points.
Monaco then began to fight back. A spirited Q3 performance completely changed the direction of the match, as Monaco registered 18 points with their opponents registering just one. Donta Hall (16), who has gone from a peripheral figure to a key-man in recent weeks, was once again prominent. His dunks not only a solid source of points, but also a symbol of Monaco's dominance in that quarter (6-20), with Mike James (19) an integral part in facilitating opportunities within the key.
Monaco managed their lead in the final quarter to run-out 63-72 winners, to the delight of the revelling Monegasque crowd, many of whom had made the trip by bus to support their side.
Post-match, Obradovic said, "I am really very happy, the guys did a marvellous job in defence and accomplished some big things in attack." And on the side's play-off aspirations he added, "We deserve to qualify."
Monaco next comes up against Orleans at the Salle Gaston Medecin in the Betclic Elite. Their next, and final, match of the Euroleague season is against Berlin Alba next Friday, by which point Monaco may have already qualified.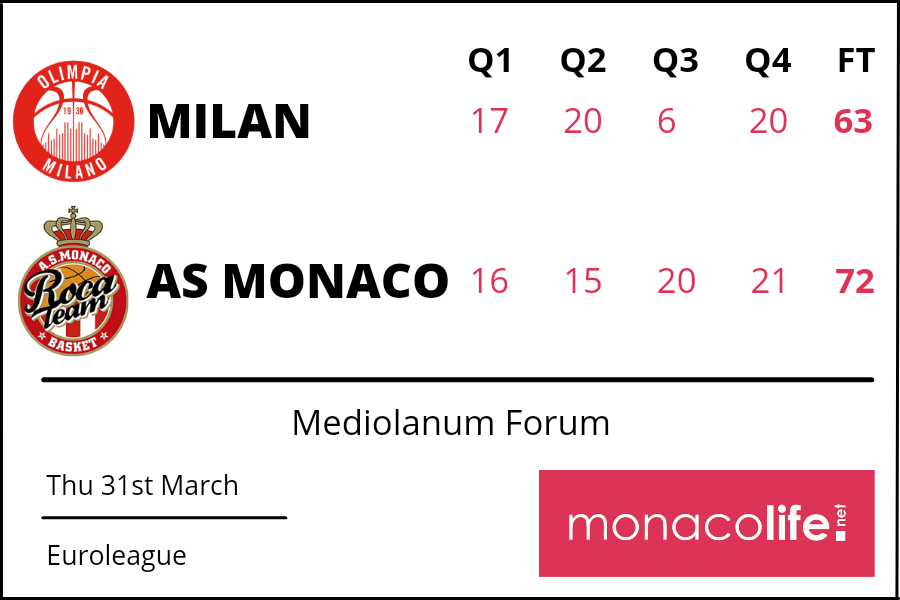 Photo source: AS Monaco Basketball