Monaco Life, in partnership with the Princess Grace Foundation-USA, is proud to present a monthly series highlighting the lives and artistic work of the Princess Grace Foundation-USA's illustrious Award winners.
In this month's exclusive interview, Princess Grace Foundation-USA's Director of Programming Diana Kemppainen catches up with Princess Grace Award winner Amie Siegel to discuss her origins as an artist, and her epic new work, Bloodlines, on display at the National Galleries of Scotland.
Amie is an acclaimed artist who works in film, video, photography, sculpture, painting and installation. Her work is held in public collections across the globe including The Metropolitan Museum of Art, New York; Tate Modern, London; the Museum of Modern Art, New York; the Kunstmuseum Stuttgart, Germany; and the Solomon R. Guggenheim Museum, New York.
Her latest work, Bloodlines, is a large-scale film installation in which she explores ideas of class and labour, and the relationship between private and public realms. Siegel follows the movement of paintings by English artist Georges Stubbs (1724-1806), from their homes in aristocratic country estates and public institutions across the UK to a Stubbs exhibition in a public gallery, and their subsequent return.
Firstly, can tell us what drew you to the arts or made you want to be an artist?
Amie Siegel: I was always drawing and painting from a very early age, but with a real seriousness. I was lucky in that my parents took me to art museums and talked about art with me, as well as theater, film and fashion. I grew up in Chicago, which is such a striking environment to be looking at and trying to understand as a visual child – the modernist skyscrapers cutting into that huge body of water, Lake Michigan.
We had a subscription to Steppenwolf Theatre, a small 30-person theater, and seeing all those productions, assessing the scenography, the writing, the dialogue, sitting in the dark for hours trying to grasp what was going on and how and why… even when I was very young, I think it made a huge impression on me.
Art very quickly became the thing I cared most about, along with reading and watching films, such that everything else seemed like it would be almost perverse for me to pursue as an adult. I carried that into my adult life for many years, everything else in my world was just utterly subordinate to making things. But, of course, this came from the feeling you get in the process of creating – that you're onto something and just trying not to lose the thread but hold onto the thing, to keep it alive and shape it into a work, it's just the best feeling. Everything is at stake, but you're aware of it, trying to keep it afloat and develop it, until it can settle into an artwork.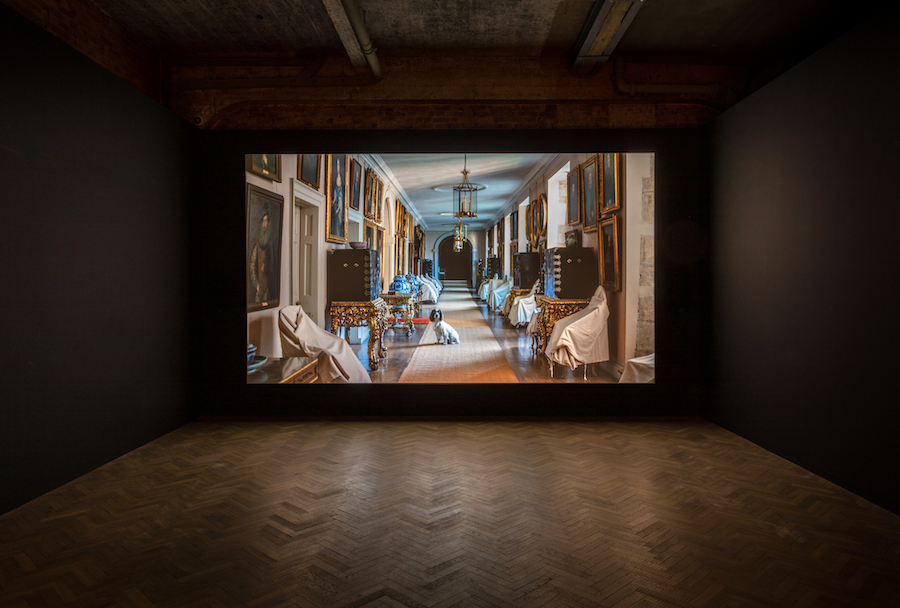 Your work encompasses many mediums. You work in film, video, photography, painting, sculpture, and installation. How do you choose which medium(s) to work with?
Usually, the project (and medium) chooses me. There should be a clear reason for working within a particular medium or materials, and usually it is a conceptual one. I am often following the journey of objects in my work.
In the instance of Bloodlines, it is paintings. But it has also been archeological artifacts, design objects, even marble, in prior works. Film becomes a gathering place to both assemble and represent the subtle details of an object but also to perform its movements. I actually don't think of my film works as movies per se but as larger gestures of collage, where something (an object, chair, or painting) is cut out from its background and placed into a new context, and that journey or insertion into a new place speaks volumes about the differences between where an object lived before (how it was used, looked at, or valued) and where it reappears. That shift can tell us about how we care for objects, how we humans construct their values, or perpetuate the values we deem they represent.
Value, culture ownership, and image-making are recurring themes throughout your work. Tell us about Bloodlines, your new installation currently at the National Galleries of Scotland?
Bloodlines was filmed in numerous private estates throughout England and Scotland, as well as in public institutions, and follows the movement of paintings by the English artist George Stubbs (1724-1806) – he painted the British aristocracy: their families, most famously their horses, but also their dogs, hunts, shoots and their 'exotic' animal menageries. The film follows the paintings from the private stately homes where they reside and often were originally commissioned, to their exhibition in a public art museum, and subsequent return.
Through these movements, the film creates an intimate look into the world of elite cultural property, questioning the ownership of heritage and distinctions between private and public realms. As the film unfolds, people, property, animals and objects move between the real and the represented, creating a mirror of human, equine and artistic bloodlines. In creating a portrait of the places where these portraits reside, the labour and leisure within them, and the contemporary version of their subjects, the film thus depicts systems of class and inherited wealth, while subtly suggesting colonialism's role in establishing and perpetuating these structures.
Bloodlines was supported in part by a Special Project grant from the Princess Grace Foundation. What did that support mean for this work?
The Special Project grant allowed the work to begin! I had the idea for Bloodlines, but time was passing, and the events I wanted to film were going to happen with or without me. Thankfully, the timing of the grant and its crucial support made it possible to catch the collection of the Stubbs paintings from the various stately homes across England and Scotland, which makes up the first 1/3 of the film.
Support from the Princess Grace Foundation is so meaningful and unique because it doesn't stop when you receive that initial support as a student, it can continue throughout those critical years when you're first out in the world as an artist and beyond. That is incredibly rare. I have received many wonderful grants and fellowships over the years, but only the Princess Grace Foundation creates a sustained relationship with artists, who can return for help in creating new works throughout their careers.
The support for my work began in 1999 when I was a graduate student at the School of the Art Institute of Chicago. With that initial grant, I made my first film, The Sleepers, one that was shown at museums all over the world, including at the Whitney Museum of American Art in New York.
What do you hope the audience sees in the work?
I like when a work of art provokes viewers to ask questions, rather than stakes out a clear position or easy answer. With Bloodlines, the questions that arise when viewing the work – who owns cultural property, the persistence of the ruling class, how very much like the past (as represented in the Stubbs paintings) the present seems, the overwhelming presence of the colonial world and its hegemonies to this day, whether my piece is representing portraiture or is an act of portraiture itself… These are not answered by the artwork, but are questions raised by the artwork. It's up to the viewer to form their own opinions and answers.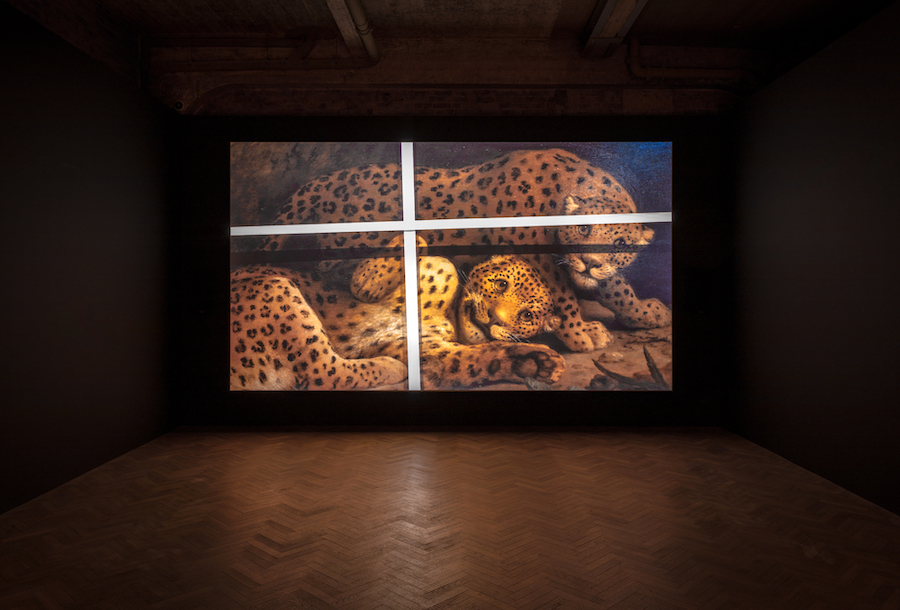 Princess Grace was also an artist that worked with different forms. She's best known as an actress, but later worked with pressed flowers and needlework. If you could have a conversation with her, artist to artist, what might you say?
Oh gosh, I might want to share Laura Mulvey's essay, 'Visual Pleasure in Narrative Cinema' with Princess Grace, which explores the concept of 'The Male Gaze' as played out in Hitchcock's Rear Window, a film in which she starred. I would also be very curious to know what she thinks of Bloodlines, given her own Philadelphia 'Main Line' background and later entrance into royal life – I would imagine that would be a very interesting discussion about status, aristocracy, and privilege! As to her endeavors with pressed flowers and needlework, certainly a mutual studio visit would be in order.
The Princess Grace Foundation-USA is dedicated to upholding the legacy of Her Serene Highness Princess Grace of Monaco (neé Grace Kelly), and elevating extraordinary emerging artists in theatre, dance and film through career-advancing grants. Follow along at @princessgraceus.
Photo credit: © Jason Schmidt, Courtesy Thomas Dane Gallery.