He is a die-hard racing fan that can count more than 50 consecutive Monaco Grand Prix under his belt. We asked writer, author and TV commentator Andrew Frankl to share some of his favourite GP stories from the past five decades.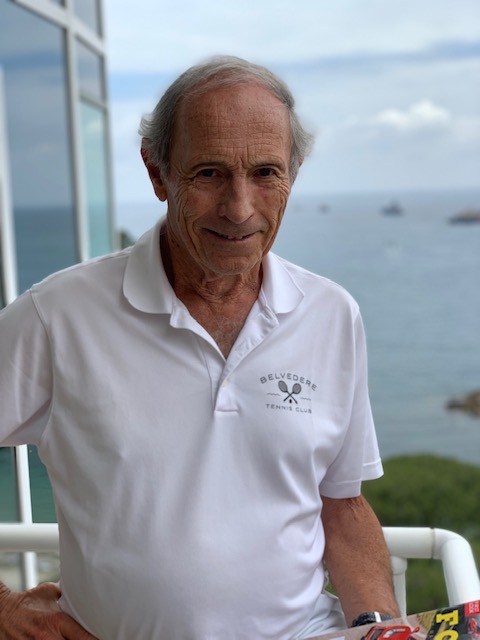 Andrew, you have quite a history with Formula One, can you tell us about that? 
The timing could not have been better. On the Wednesday before the 77th Monaco Grand Prix in the presence of SAS Prince Albert and his wife Princess Charlene, there was a special screening of a brand new documentary on the first 90 years of the most famous race in the world. It certainly brought back a few memories, considering I have been coming here since 1966! Back then, the order of the day was bread, cheese and a bottle of red, as well as sharing one bathroom with eight other people, with the adrenalin flowing.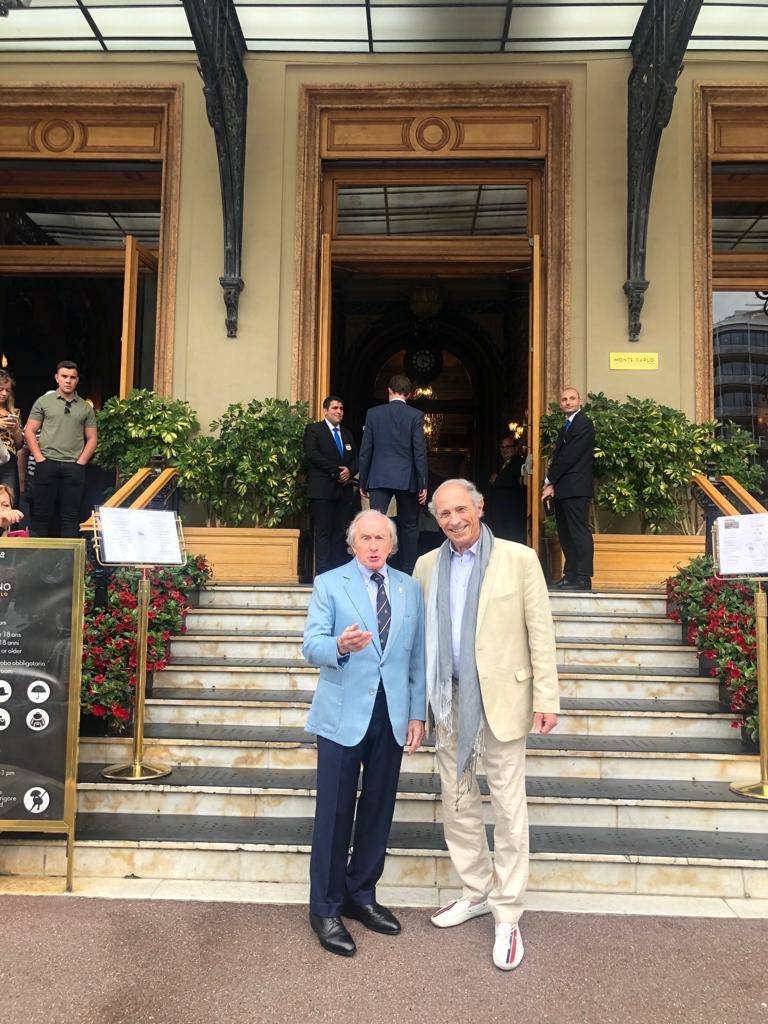 But having escaped from Hungary with guns blazing from the guard towers on the Austro-Hungarian border just 10 years earlier, simply being in Monaco was a miracle. (I participated in the ill-fated Hungarian uprising of 1956 and as I had a gun I had to leave or else…)
The first race I saw was on a tiny black and white TV back in 1961 when Stirling Moss in a Lotus was battling the red Ferraris of Phil Hill and Ritchie Ginther. Certain things have changed, but essentially the track is more or less the same as it was all those years ago, except that legendary station hairpin has changed names at least half a dozen times.
The wonderful thing is that back in 1966 the race was won by Jackie Stewart in a BRM. All these years later, he and I actually went to see the new documentary together on Wednesday!
For many of us, Jackie and his lovely wife Helen were very much part of the Monaco scene, together with his great friend Graham Hill, who went on to win the race five times. Interestingly enough, in 1968 Graham left for the Hotel de Paris as soon as the race was over leaving the trophy with his wife Bette. Which doesn't seem so bad, except some crazy man grabbed the trophy and started running away it! I ran after him and stopped him with a rugby tackle!
After that Bette and I walked up to the Hotel de Paris holding the trophy between us. When we reached the American Bar, Graham was sitting there in his racing suit with two beautiful blondes. I looked at Bette who just shrugged and said, "He worked hard enough, let him have a nice time". She was a great lady, wife and mother to Damon, who like his father became World Champion in 1996.
What are some of your favourite stories or highlights? 
The most amusing story relates to Frenchman Olivier Panis. Arriving to the Principality in a pair of jeans and a t-shirt, "Ollie" started 14th in the pouring rain back in '96. It was raining cats and dogs with several drivers crashing out including Verstappen (Max's father!), Schumacher, Hakkinen, Brundle, basically more than half the grid. So when it was all over Panis won from 14th place!  So far so good… but then an hour after the race I met him at the Meridien Beach Plaza looking all miserable. "What is the matter Ollie, you've just won the race?"
"Well", he said, "I came here in jeans so I can't go to the prize giving to meet the Prince, they won't let me in."
To cut a long story short, I said "follow me!". We were more or less the same size so I was able to give him a dark suit, light blue shirt and a tie. I have never seen anybody so happy in my life.
I tried to help Eddie Irvine with a clean shirt as well a few years later but he insisted on wearing a leather jacket and he DID get turned away.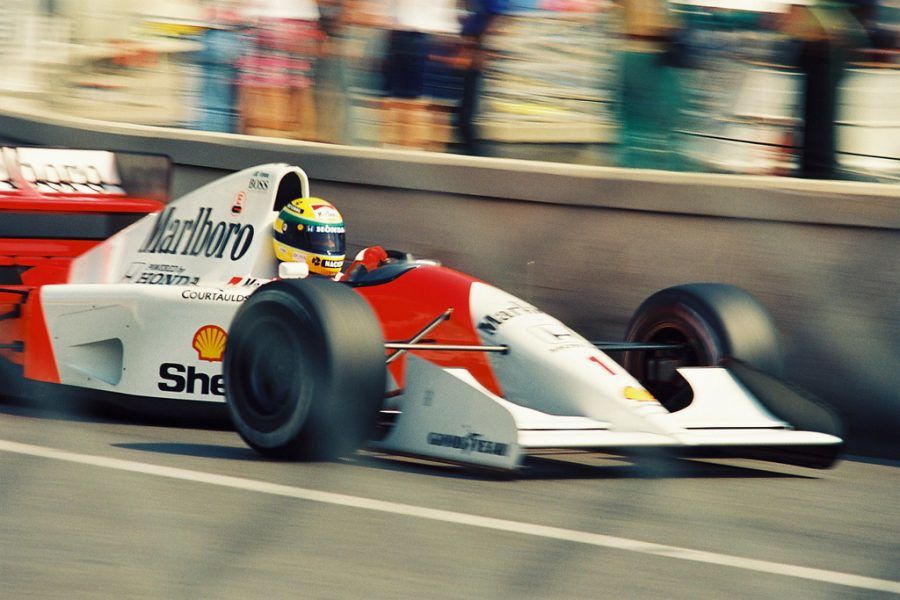 Another lasting memory was seeing Ayrton Senna after the race in 1993. He was having dinner at Rampoldi's with the McLaren team and his beautiful fiancee Adriane Galisteu. He loved the Principality. We worked together many times, in fact a photo dedicated "To Andrew with best wishes" remains my pride and joy to this day. Astonishingly 25 years later, 10,000 people turned up for the service paying their respects to the great Brazilian.
I also had a chance to work with Michael Schumacher, another great champion. He might have been very tough on the race course but was quiet and shy in private. Like all other drivers, winning here in the Principality meant a great deal to him. Monaco was not just another race track.
The cars that the teams have brought out this year are incredible… what is your perspective on how they have changed over the years?
The good news is that they are very strong and it is virtually impossible to suffer an injury. Unlike back in 1967 when Lorenzo Bandini crashed, his car caught fire and the lovable Italian died a few days later. It's hard to imagine that they had straw bales for safety in those days.
Many readers won't agree with me but today's cars are too easy to drive! Don't take my word for it, ask five-times World Champion Lewis Hamilton. Pulling little levers just like in a Renault or a Ford is a far cry from what the Americans call a stick shift, you actually had to change gear manually. Just imagine for a second going down to the hairpin in third, changing down to second, and still managing to go round the corner. To appreciate it you should watch Senna's magical lap from 1988. It is part of Monaco's legend.
Do you have any predictions for this year's Monaco Grand Prix? 
I think Max Verstappen might just do it if he gets a good start. It would be very good for the sport suffering from five consecutive Mercedes 1-2.
I cannot finish without saying goodbye to my old friend Niki Lauda. Max Mosley former boss of the FIA, asked me to look after him in London as he was a bit wet round the ears back in '72. So I showed him the post office, the dry cleaner, the supermarket and more importantly took him home for dinner. English food was really not very good in those days so he really appreciated my wife's Central European cooking. One day he asked me to take him to 235 Kings Road, a nightclub in Chelsea. They were off to party with his great friend and rival-James Hunt!
What now for Andrew Frankl?
After 53 consecutive Monaco Grands Prix I am as excited as ever the minute the plane banks over St. Tropez and heads for Nice airport. Formula One's new owners did an interview with me in which I've said, "I am only 80 years old and intend to carry on for at least  another 10 years."
Of course, the fact that my children Nicholas and Annabelle have their My Yacht Group trackside superyacht here, with their amazing Friday night party – serious fun! – which also highlights the wonderful things that Prince Albert is doing with his Foundation, is a pretty major incentive to be here.
Finally a shameless plug for my new book : Frankly Frankl-life, love, luck and automobiles. It is available on Amazon, although be quick, there are only a few copies left!