Carol Bruton is an artist whose style is entirely her own and inimitable, so it makes perfect sense that this British-Canadian resides on the Riviera, its light deeply affecting and governing the greatest artists of our time from Matisse, Modigliani, Monet, and Kees Van Dongen to Picasso and Francis Bacon. 
Carol Bruton is as fascinating as her artwork. I meet her in her home in Beaulieu and giggle upon realising that she is wearing the perfect metaphor for who she is: timeless pearl earrings and necklace, adidas jogging pants and converse trainers. She is a serene, discreet, rebellious modernist doing her own thing.
Carol Bruton vigilantly guards her privacy through a wall of goodwill and kindness and I am fascinated to see how much that resonates in her work, which I would describe as a soul that meticulously asserts itself through a deep love and connection with the universe. She shares a narrative of her precious experiences with water and being in spirit. While Tracey Emin reveals herself through her crises, her grief, her abortions, the loss of her mother, all documented bravely in figurative angst, Carol Bruton's work refuses a descent into melancholy. She is quietly rebellious (tenacious) in her painting her own inner journey and faith. Her work is devoid of trauma, is unpretentious and free of objectification. We gaze at images free from form and our everyday reality.
The theme of water and all that encumbers it permeates Carol Brutons' work. There is a jewel like preciousness to her pieces, that give way to the feeling of being gently swathed by a giant wave.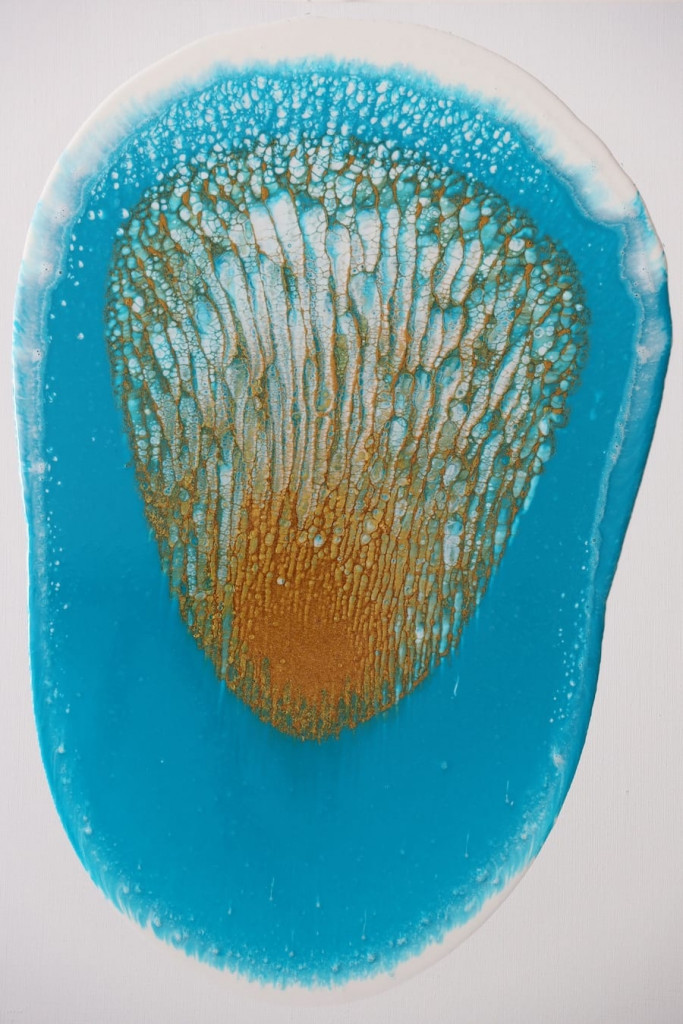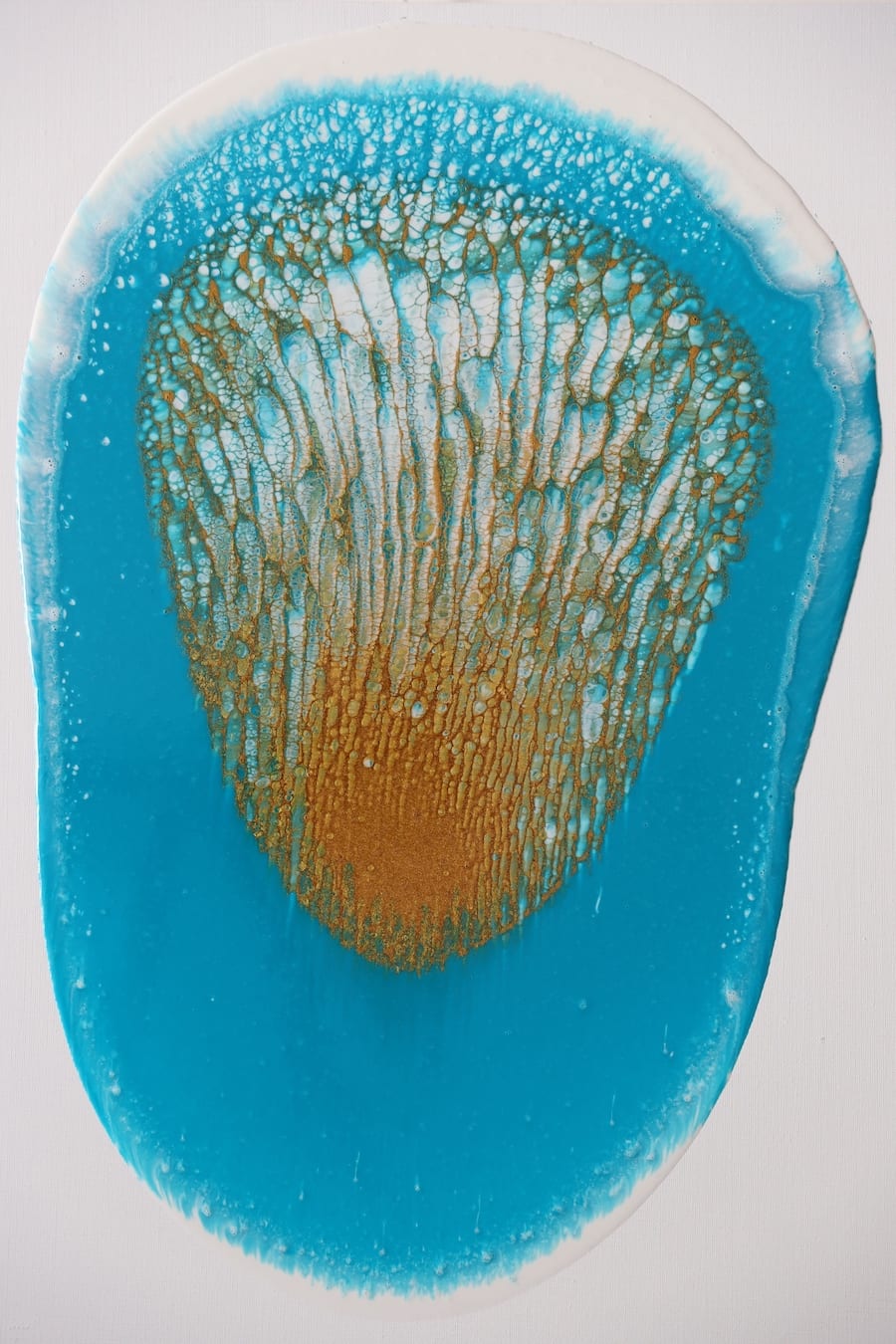 Monaco Life: What quote or motto inspires you? 
Carol Bruton: My favourite quote is by the Algerian-French philosopher, author and journalist Albert Camus, who said: "I had the whole sky in my eyes and it was blue and gold". The idea of bringing hope and richness appeals to me, as do the elements of the universe, the earth and sky of the cosmos. I love orange, blue and gold.
When did you first start to paint? 
I first started painting in the southern coast of Spain between Alicante and Costa del Sol where I grew up in a tiny fishing village. I took a kilogram of cement and started to make paintings of houses with that.
What made you go from painting everyday scenes to complete abstraction?
Instinctively, I knew I was coming to the end of the series, but I had no idea. I was living in Villefranche and I remember seeing this moon just collapse on the ocean; the ocean was black and this orb was just hovering over the horizon. I thought to myself, "How can a human produce something as magical as this?". It took me four years to understand how to manoeuvre the paint so that it looked like it hadn't been produced by a human hand. I started to create my first moons and suns and then the edges of the paintings became immensely important to me because I didn't want to crowd the canvas. I don't like things busy or enclosed, I just like these magical shapes floating on the canvas with the edges clear.
What inspiration do you draw from other artists? 
My source is through a higher power or my angels. I am deeply inspired by the colours artists use, like Anish Kapoor and his absolute simplicity when using a material like aluminium and how he curves his metallic bowls so there are reflections and light bouncing shapes naturally.
Also, Mark Rothko inspires me for his fusion of colours.
Recently I listened to a podcast by David Hockney in Normandy. He is 83 and he was asked what makes him tick. He replied "It's always colours".  It's the same source for many artists.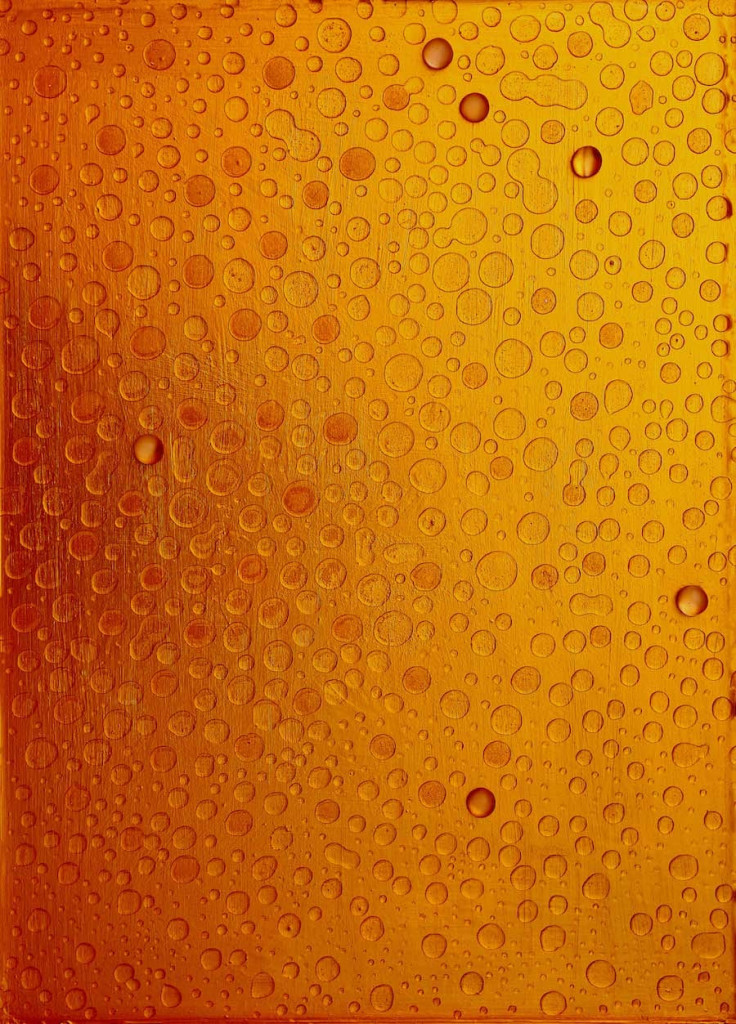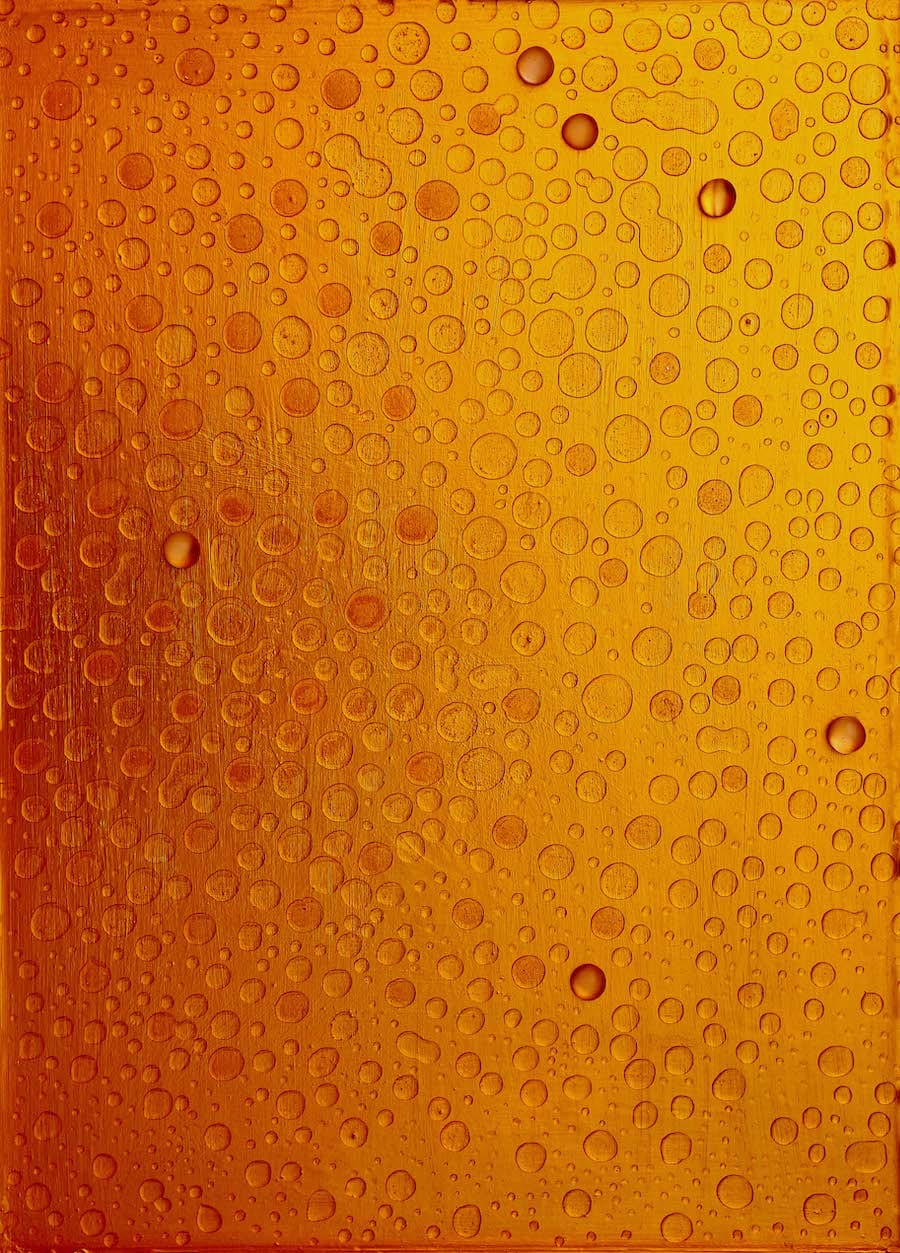 Your creative process is linked to swimming and you swim daily. How was your art affected by the lockdown?
Swimming is really my primary source. It's not necessarily swimming, although I am a pretty strong swimmer. I go under the water, turn on my back and it's what I see floating on the surface of the sea with the reflective elements of the surface that inspires me. Hence many of my shapes are organic, like the Coral Thread Series I exhibited at Banque Havilland in Monaco.
Right in the middle of the lockdown period there was this huge rainbow over the entire bay of Beaulieu, it was like God's arm protecting us, and that inspired me to create a series of 10 paintings of the Rainbow.
How do you start the day?
I get up at 6am and have a coffee. I like to keep to rigid parameters, it's like training to be an athlete. By the end of the day I am more and more human like, I become more connected to my family and their problems and I am more grounded. I am lucky I sleep really well so I can start afresh.
I love champagne and prosecco but I don't drink because it robs me of my sharpness. I am able to start the morning listening. I work from about 7am to 3pm non-stop.
Who is your dream audience?
People who visit the Serpentine Gallery and Gagosian, and anyone who gets goosebumps when they see my work.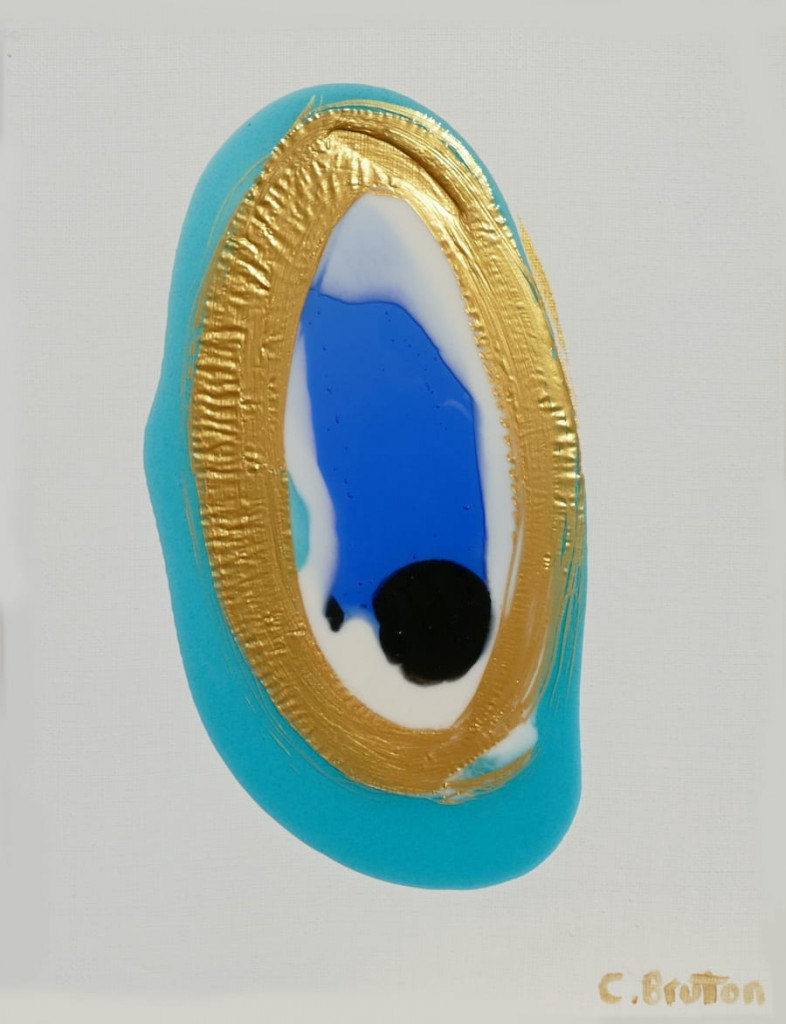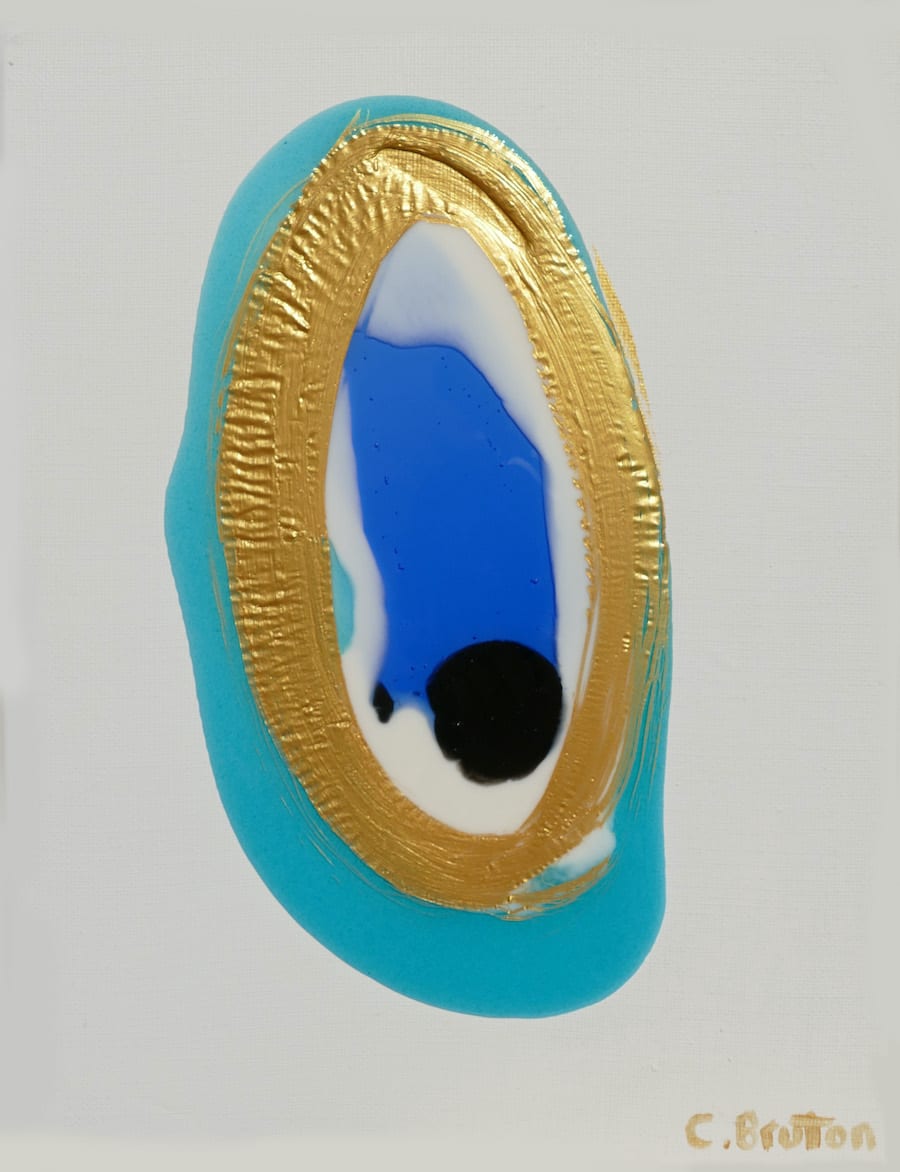 What does your process entail, like in the turquoise and gold threads painting behind you? 
I painted that in October 2019 and it was a very long day. I can only do it in one session, I can't leave it at all because it has its own way of drying. I started painting at 7am and finished at about 10pm. I start with the cream and then add a scion blue – that's a favourite colour of mine. It has to semi dry otherwise the colours merge into each other and I don't want that. Then I move into the centre like the centre of the universe where the energy is – that's where the eye gets drawn and that's where it becomes intense, where all the brush strokes start happening. By the end of the day when it's finished, I am exhausted and feel like I have given my energy, soul and body to the painting.
What advice did you give to your three daughters who remarkably all went to Cambridge? 
I am a pretty hardcore disciplinarian, but long before my divorce I would say to my three girls: "Whatever you do, don't just be a mother or a wife, you've got to have an identity". I drilled that into them at a very early age and they took it very seriously. They themselves took responsibility for their studies.
How would you describe your work?
A journey into the cosmos – to get all the pain and suffering out from the human level into a cosmic peace.
I want to leave the human pain behind and portray that with silence and listening. Nicole Stott went to the moon twice and once told me that my work reminds her of what she saw from the space shuttle, the light, the blue, and how fragile her vision of the earth was, how fragile we look. She saw my work and it reminded her of the earth from space. That was a huge compliment.

Carol Bruton currently has an exhibition at Castelroc restaurant opposite the Palais de Monaco.