Animal advocate Kat Pirelli-Zucchetta journeys to the Oregon Zoo to talk to Bob Lee, elephant manager of the only Bornean pygmy elephant in North America.
Zoos have been adored by children for centuries, serving as a way for people to connect, appreciate and learn about animals that live in the various continents of our planet. Until the development of social media and advanced networks, this was the only way for people to see wildlife.
Not all zoos have had a good reputation, however, and in the old days zoos knew little about caring for the basic needs of captive animals. In North America, this began to transform inthe 1970s and '80s when zoos evolved from menageries of old small cages into expansive facilities for conservation, education and animal welfare.
With a focus on elephants in the late 1950's, the Oregon Zoo was the first to design new facilities that provided elephants with much more freedom than was common at the time. This freedom led to an extraordinary string of successful pregnancies and births through natural breeding, with a total of 28 elephants born at the zoo. This success led the zoo to became known as the 'Elephant Zoo'.
Founded in 1888, the Oregon Zoo remains the oldest of its kind in North America and is considered the best zoo in the entire country, boasting 64 acres of land that is home to 1,800 animals, including 19 endangered species and nine threatened species.
Kat Pirelli-Zucchetta journeyed to America to chat with Oregon Zoo's Senior Elephant Curator Bob Lee, who has worked there for the past 20 years and is at the top of his profession. The Oregon Zoo is a member of AZA – Species Survival Plan and Bob is involved with the preservation and conservation of elephant species worldwide. He collaborates with others to shape the vision for the future of elephants in captive care in America.
Kat Pirelli-Zucchetta: Where did your career as an elephant trainer/caretaker begin?
Bob: I was very introverted, and I really wanted to work with elephants after visiting a zoo back near my hometown and saw the relationship that the staff had with the animals. I thought: "That's just the coolest job in the world!".  So, I wrote to a bunch of zoos and asked how to get a job. They told me to get a degree in something related and gain some experience, and a school in Kansas offered that opportunity. I was able to get my bachelor's degree and hands-on experience through an internship program.
I understand that you and the Oregon Zoo have been providing aid to some orphaned elephants on the island of Borneo in Malaysia. How did you get involved with these elephants?
My introduction to the elephants of Borneo was in November 1999, just a few months after I had arrived at the Oregon Zoo. They had already begun the process of bringing Chendra to this zoo to have an elephant family of her own. She had been found wandering with a gunshot injury to the side of her face which had blinded her in the left eye and they wanted her to have a herd of her own. This zoo had a long history of working with elephants; we have had more births here than any other zoo in North America and have had elephant families living together since the 60's. This was a great opportunity for them to find a good home for Chendra and a great opportunity for us to have a new member in our herd. So, I met JB Dausip, who coordinates elephant rescue and relocation in Borneo with the Sabah Wildlife Department, and he came to Oregon from Borneo with Chendra, and that is really where the relationship started.
Bornean Elephants are endangered with less than 1,200 alive today. They are a subspecies of Asian Elephants and are the smallest elephants in the world, only found on the Island of Borneo.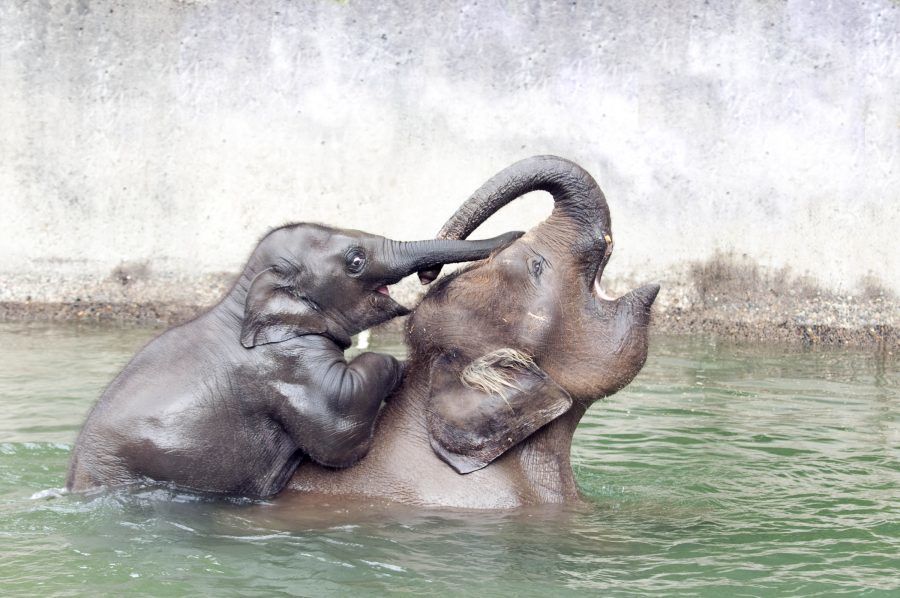 Has the Oregon Zoo rescued other wild elephants?
Most of the Oregon Zoo's elephants were born in captivity, so Chendra is the only rescued wild elephant that we have had. If you go back to the late 50's and 60's, it wasn't a matter of rescuing it was just a matter of acquiring, so they were very different circumstances. Chendra is a unique case.
I understand that the reason elephants are captive in Borneo is primarily because of human-elephant conflict, which leads to the elephants becoming displaced, injured or orphaned. But do you know when Sabah had its first elephant in captivity?
There is not a long history of captive care, but there are great stories about the relationships that the local people have had with elephants and how they would co-exist very peacefully, just shooing the elephants away to keep distance between humans and elephants. But I don't know when the first one came into captivity.
Would you import other Bornean elephants to perhaps start a breeding program for them specifically?
We don't have definitive plans exclusively for Bornean elephants. We are always interested in providing a home for elephants in need, so it has to match with both sides. Currently we are not pursuing anything, but that doesn't mean we wouldn't be in the future.
What involvement does the Oregon Zoo have with the Elephant Rescued Calf Care Facility at Sepilok in Sabah, Borneo?
We visited Sepilok several times and we wanted to promote the work that they do, because the human-elephant conflict there has caused several baby elephants to be relocated to the facility. When they needed formula, we raised funds to send that over. When there is a need, we try to support them as much as we can.
We've talked to them about captive management, but I want to emphasise that we are listening and learning about what they need as much as helping them. Originally, us going over to Borneo was to just listen to what the needs were. They identified that one of the needs was funding for staff who could focus exclusively on the elephants. So, myself and my partner Sharon Glazier came back and put in for a grant which funded two fulltime elephant care positions.
They work with everything from macaques, to pythons to elephants so they don't have the time to focus on those animals exclusively. We have supported funds to send rangers to attend workshops in South East Asia. Hopefully later this year we are going to have two people from Borneo come to the Oregon Zoo to visit and see what we do. We learn from them and we also like to show them what we do, and see if there's something they can take back with them and implement in Borneo with their captive elephants.
We also aim to prevent other elephants from ending up in captive care. We work with Dr. Farina Othman, who promotes co-existence between local people and Bornean elephants, to help develop educational materials that she uses in the palm oil plantations and in schools, talking about the human-elephant conflict. We have pocket guides in English and Malay that the locals can use as a quick reference with pictures, for example, of a happy elephant.
Then there is a frowny face and a mad face and guidance on what to do in each of those situations, which most importantly is to shut off the engines and just let them pass by if possible, and who to call if they need help.
Another problem is that as the herds are being pushed out of conflict areas, the calves are not able to keep up because of very difficult terrain. The last time we were in Borneo they found a calf and tried to find its herd rather than take it into captive care. They are working very hard to prevent these situations, so we are assisting Farina on her educational needs. We are trying to help on the captive side as well, making sure they have the best welfare possible.
Is the Bornean elephant species more in danger of becoming extinct now than 10 years ago, and what do you feel is the number one problem?
The number one problem is going to be human-elephant conflict. The fact that we are sharing space and that it is tighter and tighter, there is more of a battle for resources and the animals are always going to lose. The numbers are indicating that they are dropping rapidly. They are now seeing poaching for ivory which is unusual in Borneo, as well as the skinning of elephants which is a dangerous new direction.  It is certainly getting more dire for them.
Do you feel optimistic for the future of Bornean elephants?
I'm optimistic in how much interest there is in saving the elephants from the various palm oil plantation stakeholders, and the work that is being conducted between NGO's and people in the field. It's not as contentious as I would have imagined before going there. Palm oil plantations provide jobs and help build schools, roads and hospitals. If they are not growing palm oil it's going to be something else, so it's not a matter of not using palm oil because the fields will revert to jungle tomorrow. We want to work together and learn about programs with plantation owners who are just fencing off new trees and not blocking off entire plantations, effectively making corridors.  That was very exciting, together with all of the re-forestation work.
Overall, I think there are some exciting developments and I can see not only outsiders coming in but the locals protecting these animals from the inside and that is a positive move in the right direction.
After my interview with Bob he had organised a tour for me with Elephant Curator Shawn Finnell, who introduced me to the elephants and took me on a tour of one of the most state of the art, modern elephant enclosures in the world. This amazing facility was completed in 2015 after a $57 million construction. Every aspect of this six acre area called 'Elephant Lands' was designed to not only raise the bar for elephant welfare in captive care worldwide but to provide the best life possible for the zoo's five elephants.
It has the world's largest indoor space and provides the elephants with many choices including timed feeders to encourage natural foraging, a large swimming pond, plenty of room for exercise and enough space to allow the elephants to interact with each other as they choose. I was truly impressed and confident that Chendra is in the right place.
Since this interview I have learned that Chendra, at 26 years of age, is now pregnant and will deliver her calf in late 2020. This came as a surprise to the zoo, because they had only recently seen her engaging in breeding activity. Congratulations to Chendra!