Daniela Boutsen could never have imagined the life she would come to lead when she was growing up as a young girl in West Berlin, her path restricted by the Berlin Wall and the general financial restraints of the time. Travelling was a yearly treat for her family, and it was almost never taken by plane.
Now, she calls the luxurious Principality of Monaco her home, travels in private jets are as common as car trips, and she heads a successful design company listing royalty, heads of state and the world's elite among her clientele.
But every step of the way, Daniela Boutsen has been in complete control of her destiny, carefully carving out a path with the perfection and precision that her German heritage affords her.
To understand where Daniela Boutsen has arrived today, it is important to know where she has come from. Her love for arts de la table was born during an internship at one of Germany's oldest porcelain makers, Königliche Porzellan Manufaktur in Berlin. It was here where this young professional dancer could apply her talent for art and keen interest in business, learning everything from purchasing and marketing to porcelain production and decoration.
At the age of 21, Daniela founded her first company – an events agency providing staff for major trade shows. The first client she landed was Volkswagen, an icon of post war West Germany and the world's largest automaker.
"I was so nervous, they were all so old and grey, smoking cigarettes," Daniela says of her first meeting with the group. "I wore glasses not because I had trouble with my vision but just so I could look older."
She need not worry because within three years, Daniela had established the second largest agency in Germany. When she was contracted by Audi for a race car meeting, she met champion Belgium racing driver Thierry Boutsen. Her life was set on an unexpected new path.
"I had no clue who he was when we were introduced," she smiles. "It took me a while to figure out that he was in Berlin with his private jet – it was inconceivable in my little world that you could even have a private jet. And the fact he was living in Monaco, I thought 'Where is Monaco?'"
Monaco, as Daniela came to realise eight months later, was a far cry from the reunified German capital where she had strived to become a strong, independent young woman. "It was a bit challenging, because Monaco was all new for me, it was not my world. Today, I appreciate seeing a growing female entrepreneurial spirit here, but 25 years ago that was not the case," shares Daniela.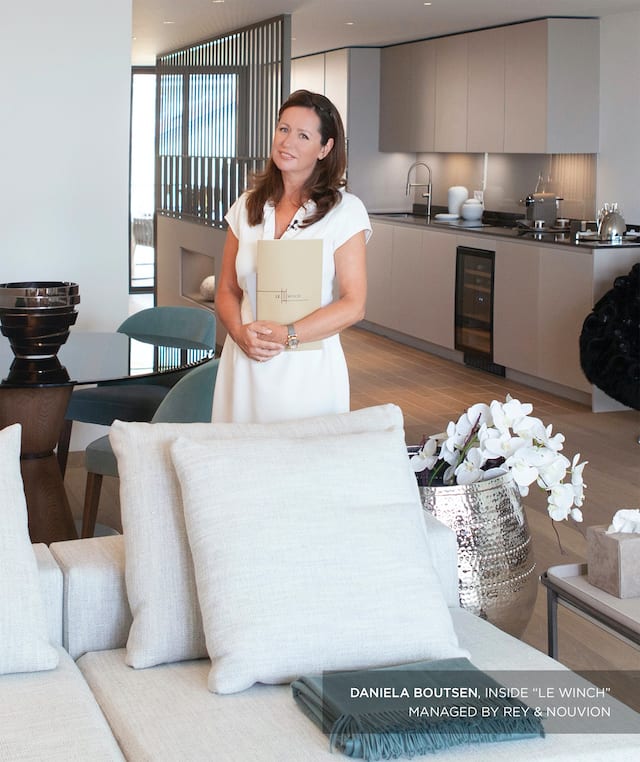 When Thierry Boutsen suffered a serious accident during the 24 Hours of Le Mans in 1999, he put the brakes on his racing career and focussed on his other passion – aviation. Recruited by friends like HH Frentzen, Michael Schumacher, Keke and Nico Rosberg to help buy and sell their private jets, and with a degree in engineering under his belt, Thierry created Boutsen Aviation with his wife. She was responsible for the backend while Thierry's knowledge and charm were suited to the frontend.
They have since had four children, sold 380 airplanes and have the honour of being classified as the official private jet supplier of the Palace, first for Prince Rainier III of Monaco and now for Prince Albert II.
When Daniela was asked by a client to decorate two new Airbus through Boutsen Aviation, she was handed an opportunity to return to the world of design and arts de la table, to where it all began in that historic porcelain warehouse in Berlin.
"As I knew a lot about aviation and aircraft safety, I began to build my own company around my expertise in aviation and design," says Daniela.
As a specialist in her field, Daniela's business quickly expanded and she soon found herself decorating large new-build aircraft for the rich and famous. "Around 80% to 85% of my clients are heads of state, royal family members, or High Net Worth Individuals. There are very few design companies who are specialised in aviation. I even wrote my own engineering software for calculations etc, so it was really tailor made to aviation."


After gaining solid experience in aviation, Daniela made the relatively "easy" slide to yachting, where her technical expertise and precision were greatly appreciated. "A yacht for a client is more their private jewel, while airplanes are their business tool. They are also more generous with their yachts and there are less technical restrictions in yachting. It is the same client profile but a different approach."
Daniela moved from "loose" decoration to "fixed" decoration, then to deco refits. Over the past two years, she and her team have worked on everything from a 32-metre boat to an 80-metre yacht, a market that she enjoys because it is "short and intense". They have just finished a major refit of the 68-metre Oceanco yacht My Luna B managed by KK Superyachts, in Port Hercules, bringing the unique artistic interior up to date while maintaining the integrity of the design.
Daniela's team has grown to include a decoration and a design department. In addition to the headquarters and showroom in Monaco, they have a store at Nice Côte d'Azur airport inside the Business Aviation Terminal and a logistics centre for in-house quality control on all of their merchandise.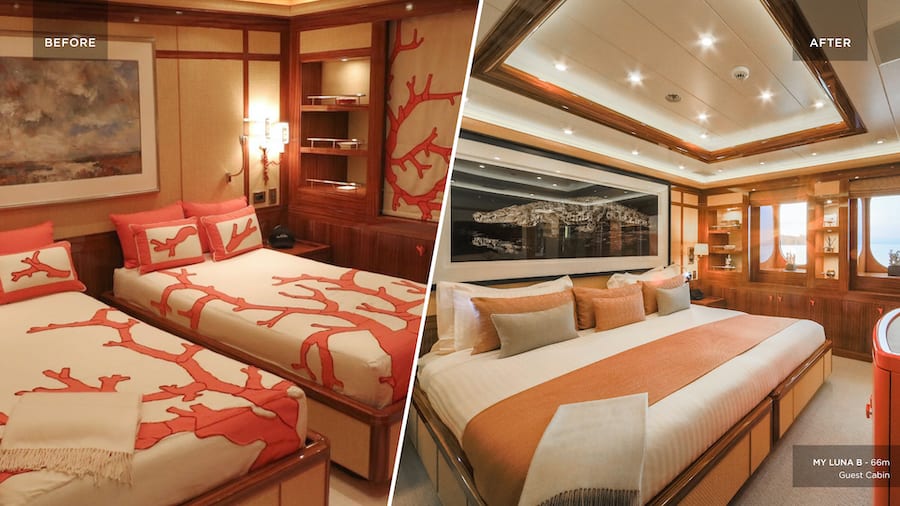 But still, the incredibly entrepreneurial, deeply committed Daniela Boutsen continues to expand her company. "Last year, we also started working on residential projects. I like to say that we are a nice hybrid between design and decoration. We can have full, 360° involvement in the entire process. We start with a white sheet of paper and follow through until a flower is put in a vase in the bathroom. Or, you can simply buy glassware from our showroom," reveals the designer.
So, where does her inspiration come from? "My inspiration comes from artists like Wassily Kandinsky, who was great at explaining that a blank white sheet of paper is not just a blank white sheet of paper; there are proportions, dimensions, shadows…"
Most recently, Daniela's blank white sheet of paper was a brand new 250 sqm showroom apartment at Le Winch complex on boulevard Albert 1er opposite Port Hercules. The subsequent tour I received (stay tuned for this story) revealed Daniela's keen artistic eye and ability to combine opulence and simplicity, modernity and comfort.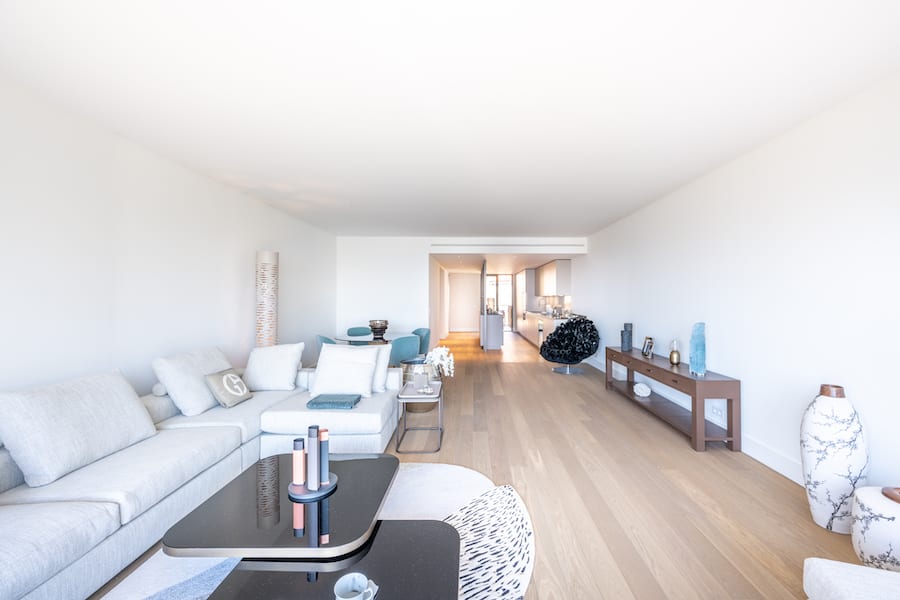 For someone who clearly has her finger on the pulse of design, I am intrigued to know what she considers to be the hot new design trends. "We are seeing a lot of new technologies involved in design now," answers Daniela. "Design and technology were once separate, but they are much more integrated and it is becoming more important for clients. For example, all the technology we saw in aviation and yachts is now going into houses. It is quite an interesting process."
Durable, sustainable materials are also becoming more important, Daniela tells me, as society considers its ecological footprint and responsibility to the planet. "I ask my team to look for sustainable materials, so we can propose wood for example that is sourced from sustainable cultivation practices. I see a lot of products coming onto the market and I see a mentality change happening, and I want to be a part of it."
So, what's next for Boutsen Design? "I would like to do hotels next… that is next level" she smiles.
It appears as though Daniela Boutsen still has a few more chapters left to write in her story.

Top photo: Daniela Boutsen on My Luna B