Monaco Life catches up with Alan Walsh at his new gallery in Monaco, where the worlds of vintage racing and Riviera glamour intersperse to bring brightness back into an uncertain world.
With his wife Emily and giant poodle Alfred, Alan burst onto the Monaco art scene in June, his bold Pop Art/Art Deco screen prints illuminating from the new gallery space on Rue Grimaldi.
Alan had planned to showcase his racing-themed selection during this year's Grand Prix, but then the coronavirus hit and Monaco's main event was cancelled. Still, the artworks serve as a relevant link between this UK-born artist and Monaco's long history with motor racing.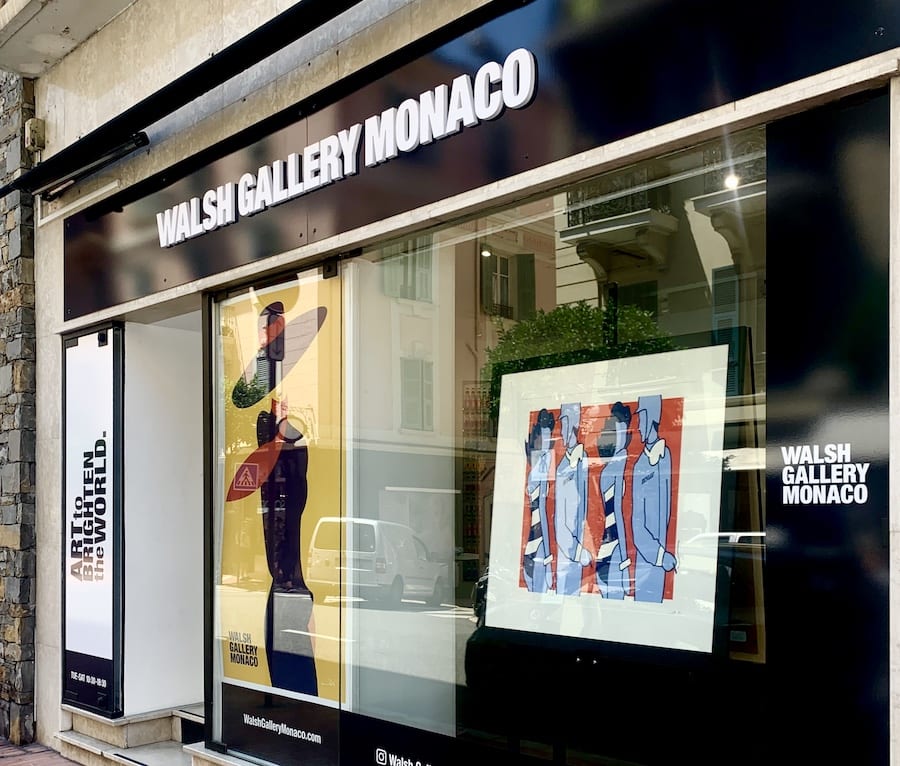 Monaco Life: You have some very clear themes in your work here – glamour and racing. Where did the inspiration for these come from?
Alan Walsh: My father was a race car engineer, so I grew up in racing. When mum finished work on a Friday afternoon, we would drive to a circuit that dad was racing at, and to entertain me there were pencils and pens in the back of the car, as well as magazines – racing and fashion magazines, like Vogue.
My mother would also drag me around shopping and I would always go and look at the watches and jewellery. So, I also have an attachment to shopping and fashion.
But I didn't ever want to be a fashion illustrator or anything like that, I wanted to create a combination of fashion and racing.
So that's where my influences come from, and the same things still inspire me today.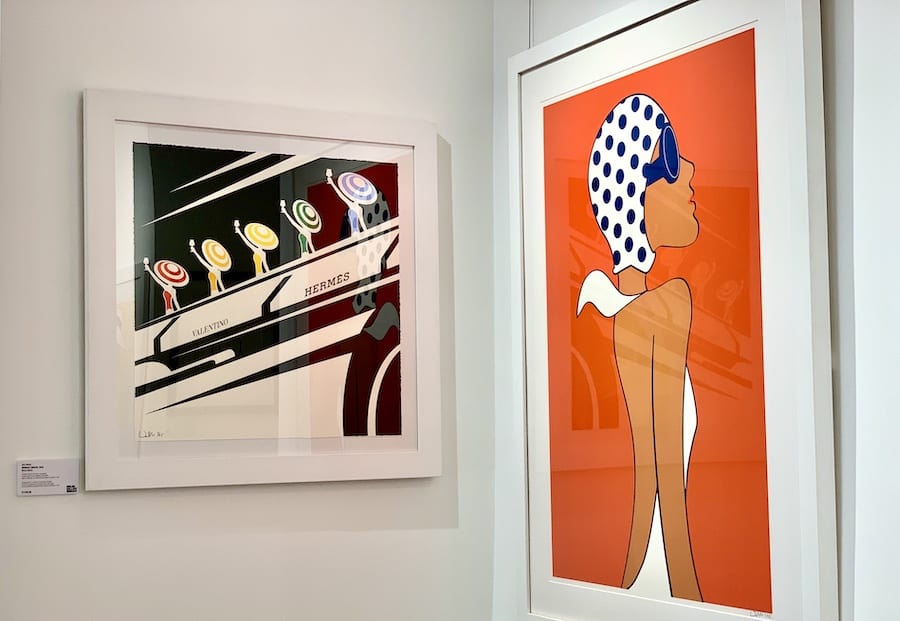 How do you describe your art?
What inspired me as a child is Andy Warhol's Pop Art. I was also influenced by the advertising surrounding racing, a lot of it was French alcohol advertising, like Martini. There were a lot French illustrators doing that at the time. So, my influences were a mixture of Art Deco advertising and Pop Art. That's why I use Pop Art colours with Art Deco illustrations.
I get ideas from a lot of old magazines and books, which my wife and I collect. I love ripping apart old magazines and creating mood boards. Also, the French Riviera has always inspired me – the colours of the sky and the sunsets, the lovely pinks, yellows and blues. Just being here for me is inspirational. I don't have to go through magazines as much now as I did, for example, when I lived in Australia. There is so much inspiration here, my brain can't keep up.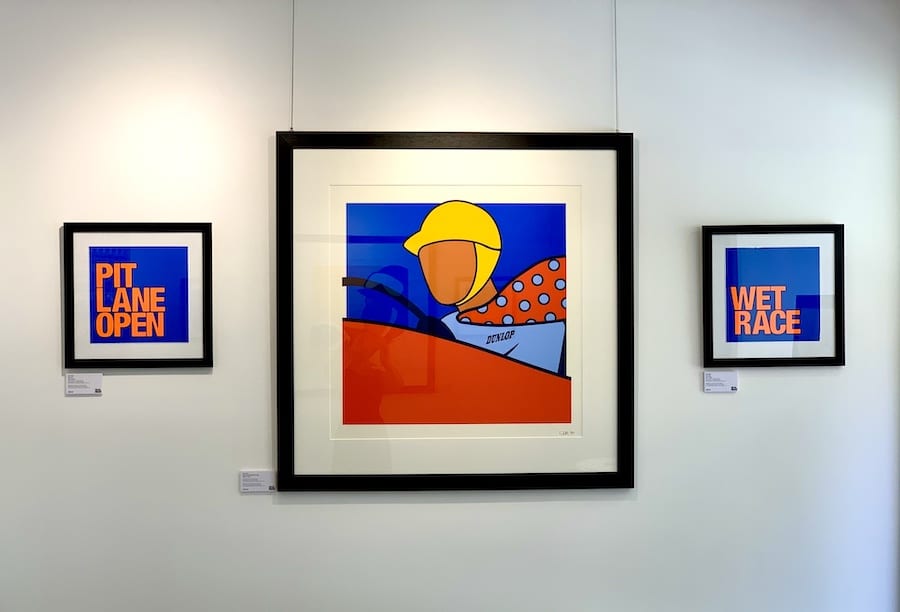 What's been the reaction since you opened the gallery in June?
It is an exceptional year so with regards to targets, we have had to be a bit more realistic. But the first weeks have been great. Our very first customer was from Paris and brought a picture, so it proves that people are travelling again, while many others are local customers. I also have buyers from London and America who have seen us on Instagram.
The Monaco Grand Prix was going to be our big moment but its cancellation has also given us time to find our feet with things like couriers and logistics, so when we do get hit next year with three GPs and the Monaco Yacht Show, we will be ready.
I believe that people are looking to have their lives brightened up again. So many people have said to us that one of the things they learned during lockdown is that they need more art on their walls, after living in the same house for a few months straight or looking at the same picture. My work is all positive colours, bringing brightness to the world again.
Why did you decide to establish a gallery in Monaco?
In 2014, I set a goal of setting up a gallery in the French Riviera, in the place that has inspired me since I was a child.
I spent 16 years in Australia and while I was there, I collaborated with Formula One Monaco Grand Prix winner Daniel Ricciardo and Blue Coast Brewing to launch Ricciardo's No. 3 lager. That's when we started coming here to see where we were going to live. We eventually made the move in August 2019 and we decided on the Principality because I had this connection with Monaco through motor sports. Plus, it is more international here than the French Riviera.
We chose this particular space because we didn't just want a gallery, but an experience. I have a studio out the back where people can watch me making a picture, have a glass of wine with friends, and have the possibility of buying it. We want to do events, for example, with a guest speaker from motor racing, and create a motor racing themed picture, which people can take home. So, we want to make a unique experience, and this space allows us to do that. Plus, it is right in the centre of Monaco.
It has taken me three galleries to get here. I even slept on a pile of screen printed t'shirts in the first one because I couldn't afford a gallery and an apartment.
But Emily and I have come a long way together. We work well as a team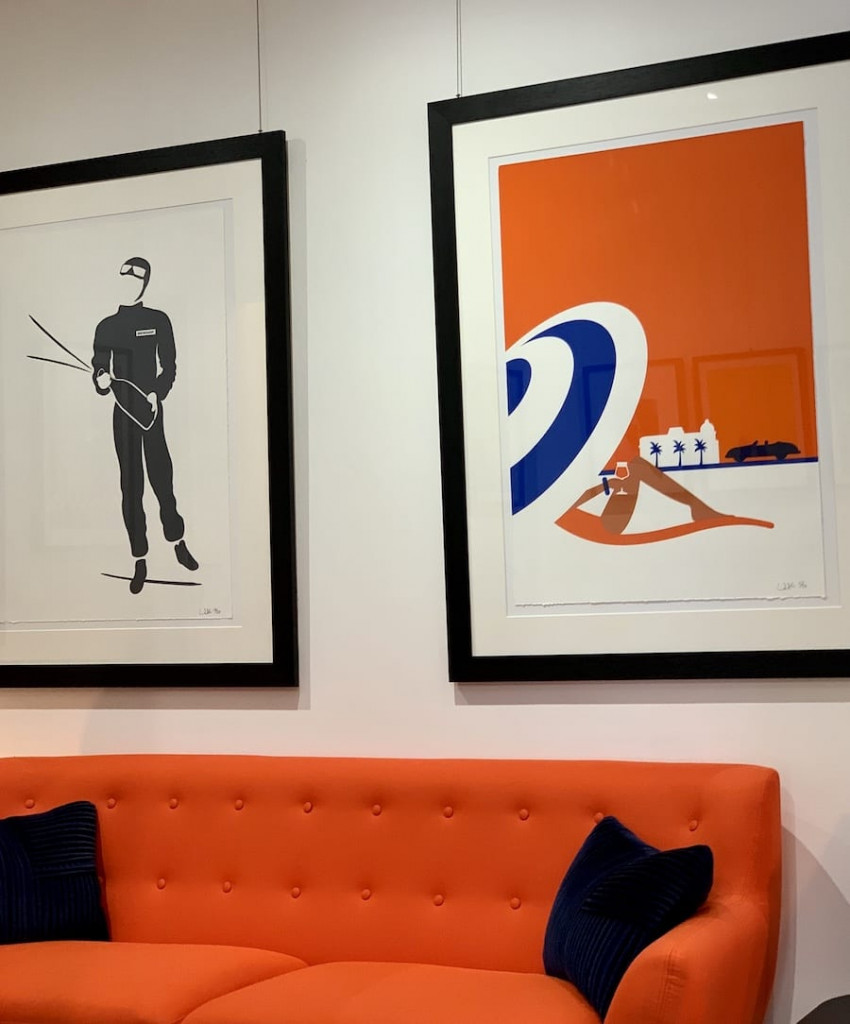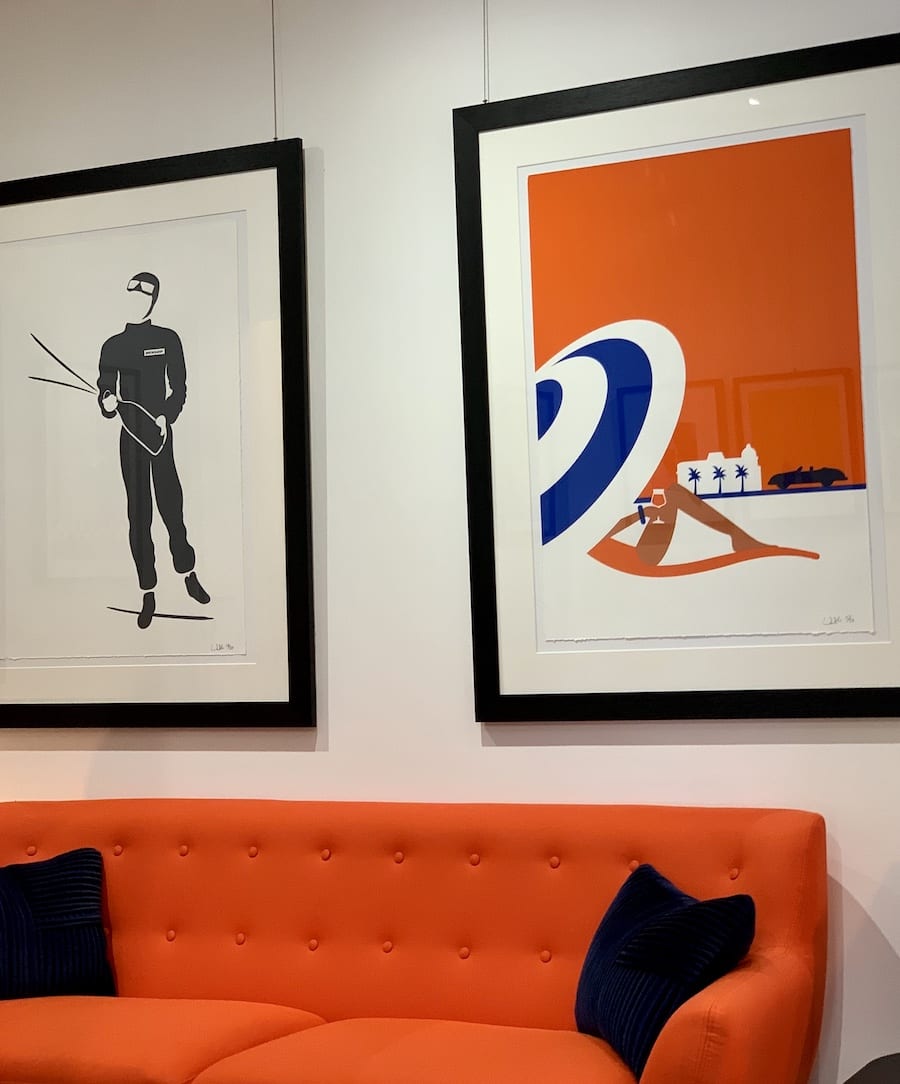 Where do you see your future?
For the next few years I just want to focus on Monaco, because the last few years I have spread myself so thinly over so many different projects. I also have a partnership with the Hotel Martinez in Cannes, so that's this base covered. Some collaborations with other brands would be nice, but I'm keen to just keep this gallery for now. We love this area and we want to be here long term.
What other themes can we expect to see in your gallery?
Over the past weeks, I have seen Port Hercule filling with yachts; I see the trails behind those boats and think "That will make a nice picture…"
I would also like to do some cycling pictures, a collaboration with someone local.
So, GP, boats, and cycling – all of these things interest us and they are part of the Riviera and Monaco. It makes sense to stick to subjects that are relevant to Monaco because this is where we are, and we love it here.